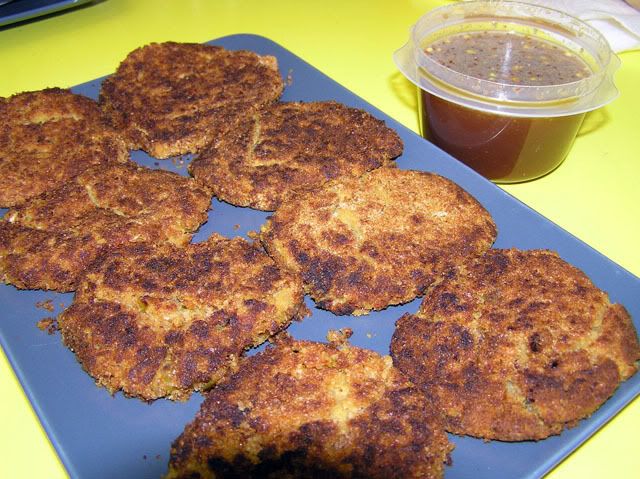 I think I have found something new to add to the list of foods I make over and over again. "Moroccan Chickpea Patties"!!! These wonders come from page 97 of Vive le Vegan, delicious and creative courtesy of Dreena. If you are like me and have never made these before and have owned the cookbook since it practically came out, make them very soon because you are missing out. I cannot wait to make them again! I served these with the recommended Ginger Dipping Sauce. So good...

I have had my eye on this recipe but passed it by many times due to the ingredient called fennel bulb, but if it weren't for the
fennel incident
, I would possibly never have tried these. After I decided to throw away all that nasty potato leek soup as described in the post below, I still had a fennel in the fridge that was lonely and yearning for my attention. I decided to email Dreena and asked for her suggestions for some non-oven fennel recipes. Among others, she suggested the Moroccan Chickpea Patties from one of my favorite cookbooks, and my tastebuds will never be the same again. I cannot give away too much, but just be prepared for some ginger, cinnamon, cumin and fennel = amazing.
Next up is some lentil-quinoa stew. Specifically, red lentil. I made this once or twice before but I believe I based it on a recipe or a few recipes combined. This time I just used what sounded good. I have a real recipe to provide (I'm on a roll, huh?!).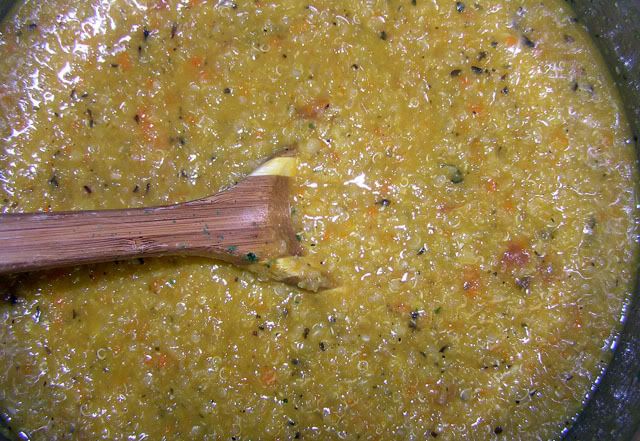 Leslie's Special Lentil Quinoa Stew
*yields aprox. 3 quarts (probably serves 6, I served 3 super-hungry people and have leftovers for 2 more)
1T olive oil
1 med-large onion, diced
2 celery stalks, chopped
3 carrots, chopped
3 garlic cloves, minced
5c total liquid (H2O, veg broth, etc)
1c red lentils, sorted and rinsed
1/2c quinoa, rinsed for 2 minutes
1t basil, dried
1t oregano, dried
1t sea salt
1t black pepper
2t salsa (or if you actually have real tomatoes use 1)
1/2t cilantro, dried, or 1/4c loose fresh
2T apple cider vinegar
Method: In a large stockpot on medium heat saute onions in olive oil until translucent, about 5 minutes. Add the rest of the veggies and spices and stir. Turn heat up to medium-high and add the water (or equiv), lentils and quinoa. Stir. Cover. Bring to a boil and lower the heat. Simmer for 25 minutes, stirring occasionally. With an immersion blender (or in 1/2 batches, carefully), puree only 1/2 of the soup. This step isn't necessary, but blends everything nicely (highly recommended). Turn off the heat and let it chill. Finally, add the salsa (or equiv), cilantro and apple cider vinegar. Stir and serve.
I bought my first sweet potato. I plan on making a soup from Nava Atlas' soup book which I love (more on that in another post). And an organic pumpkin. And 2 russets but those aren't exciting. I do have exciting purple creamer potoatoes in the pantry keepin' cool (yeah right) and dark. The stem came off the pumpkin, but I really don't know what to do with it since it needs to be un-baked. I am really more excited about looking at it than eating it. I'm not really a pumpkin-eating person. I do love the seeds though.
Yum. Need I say more?! Yes...
This is totally my new favorite ice cream flavor. I am super-happy that it finally made it over to AZ and I am even happier that I know
someone
who loves it just as much. This ice cream has also changed a few things in my ice-cream-standards world and it has moved up and kicked cookies and creme out of the #1 spot (for now?). I have mixed feelings about admitting this (as if I am really *admitting* anything), but I am on my second pint of Turtle Trails in barely over 24 hours. That's how freakin' good this is and I don't really say freakin so you must know how amazing this is... Imagine... thick, creamy swirls of caramel, not skimped at all, swirling around creamy vanilla with--- get this--- chocolate coated candied pecans and the candied part is made of beet sugar. All organic too. I can't get over how good this is.
At first my main reason for talking about the ice cream was the following (I got held up in describing how amazing it is): I knew this was coming one day soon, but it has slowly arrived... safety seals! I am so happy about this. For those who don't know, I've read books, been through microbiology labs, and I am picky, so I get concerned of my ice cream tops lifting off so simply. Ray eats StoneyField Farm organic (dairy but non-egg) ice cream and it has a plastic seal like yogurts have. This is hard to see in the photo, but it is a safety seal that uses minimal (I think?) plastic and is just around the outside of the lid. I feel so much better about eating ice cream now... I didn't even think it could get better. It has! The only 2 flavors I've seen so far that are safety sealed are the Turtle Trails and Cookies n Creme pint size. I am so happy about the new advances in the [soy] ice cream world.