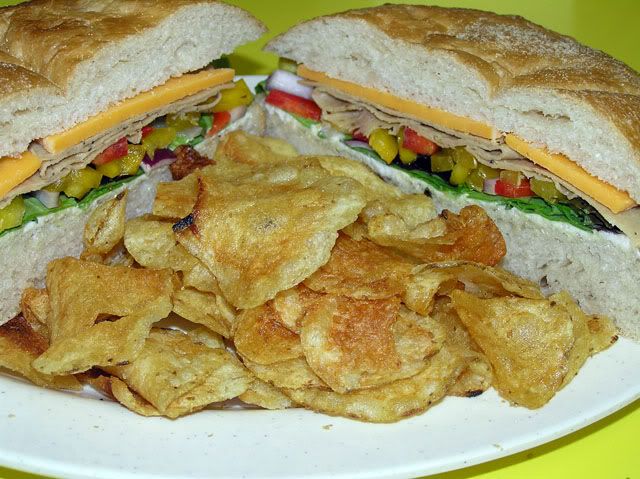 Now don't fall out of your chair... this is Ray's tofurky sandwich. I still refuse to even try a bite, but I still think it's way better than eating a real dead turkey. This Tofurky is new to us, not by acknowledgement but by actually buying it and Ray tasting it. It all started when we went to Green, a 100% vegan organic restaurant (one of the few around here) and discovered they are now hosting daily specials and a Pesto Tofurky Sandwich was the first one. Ray was super-excited and I just stick to my usual artichoke dip and jerk tofu salad, cliche, even for a vegan place. He thought the sandwich was great, especially because it was more than just a veggie sandwich but not a real-meat sandwich (his "last" bite of meat was in February... yes, I'm shocked!).

A few days later the Tofurky was still on his mind and he decided to buy some at the store (the peppered one, that's what Green had) as well as a big-ass roll and some veggies for topping. We have organic Veganaise, which I don't like either, never liked real mayo, and Ray likes it better than real mayo, so it works. He built this sandwich all by himself (thank goodness, as I just simply cut a piece of ice cream pie and had that for lunch yesterday, again) and it was ready in no time. He did a wonderful job, may I mention at stacking the layers so nicely.

And yes, the cheese you see is from a cow. He buys super-small blocks of "good cheese" every so often. On the tofurky sandwhich at Green there was faux cheese, it was a pepper-jack-something, but Ray has 5-year Wisconsin Cheddar and he was raving about it for the sandwich. It's all complete with peppers and lettuce and red onion. And isn't it nice to see a "meat-filled" sandwich that is still mostly veggies? So many sandwiches I see are just filled with meat and cheese or cheese sauce or some crap, and maybe a sprig of iceberg lettuce and a crappy tomato. In this case, there's a great variety and it is not overstuffed by one main ingredient. He ate the whole thing (it was huge!) and still has many slices left over for another time. He is trying to get me to taste even just one bite of one slice, but I feel like I am 5 years old again, throwing a fit, although this time it's not fitting about dead animals being eaten. It's about eating something that is claimed to taste just like a turkey tastes and I don't care to know that, chew it, digest it, nor even try to comprehend why I would want to eat something (vegan) that is supposed to be what the flesh of turkey tastes like. We've been through this before, I'll stop here. No thanks for me, but this is a pretty sandwich, right? And nothing dead.