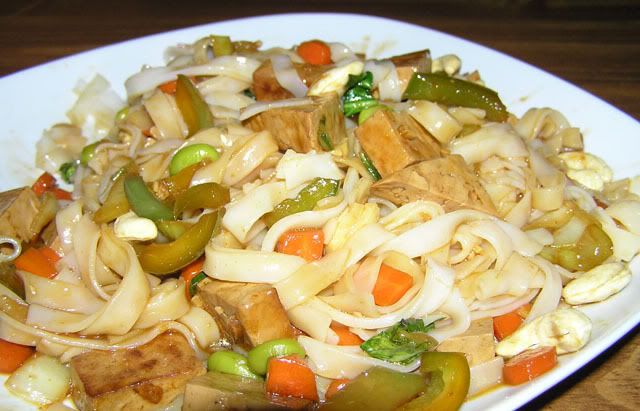 I am posting this to tide you all over (and myself) while I upload my huge backlog of photos to share with you all. For now, here is some more un-baked goodness I've had sitting as a draft for a long while. A simple, quick, standby for a lazy night. I got some baby bok choy at the co-op (now you have reference to when I made this since the co-op's been gone since late Feb) and knew it had to be thrown into a stir-fry. I love how the greens not offer nutrition and color, it also adds a nice combo of textures, both silky smooth from the leafys and that nice little crunch from the stems. And I love how cute and little they are, especially as you peel down...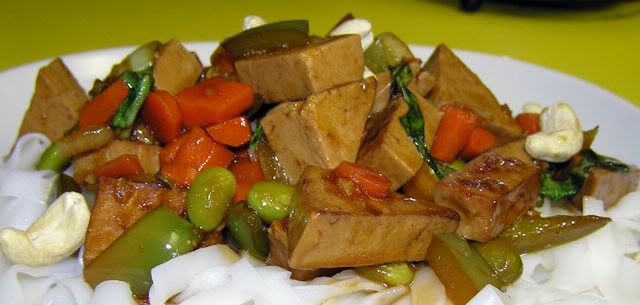 I can't remember exactly what is in this, but I do advise you to follow the recipe for the sauce on my recipes page, the "Best Spicy Stir-fry" one. Now if you are super-lazy like I was that night, most of your ingrdients should be pre-cut in bags (organic of course) in the freezer. I simply cut the tofu earlier in the day and marinated it in the sauce until I was ready to cook. If you are super lazy, skip the marinated step altogether. Now that the tofu is ready to go, pull out your ingredients. I first start with taking out a pot and boiling the rice noodles. You don't have to start with this since they are so quick, you can actually end with this step, but I like to know they are done and I just let them sit while I'm cooking. Plus, rice noodles are made in a matter of three or four minutes, rather than almost an hour like grain rice, hence the laziness...
Back to the ingredients... In my case, the only necessary chopping/cutting was half an onion, a few cloves of garlic, carrots (you can see I cut them lazy-large) and the baby bok choy. The rest is simple, just pull out whatever you have suitable in the freezer and dump in in a heated wok with olive oil. I like to keep tri-colored bell peppers in the freezer especially for times when organic bells are $6 a pound fresh! I also keep edamame (a great snack) and cashews of course. Dump it all in the wok and heat on high or med-high until everything is nice and browned and steaming hot. Pour it over the noodles and consume.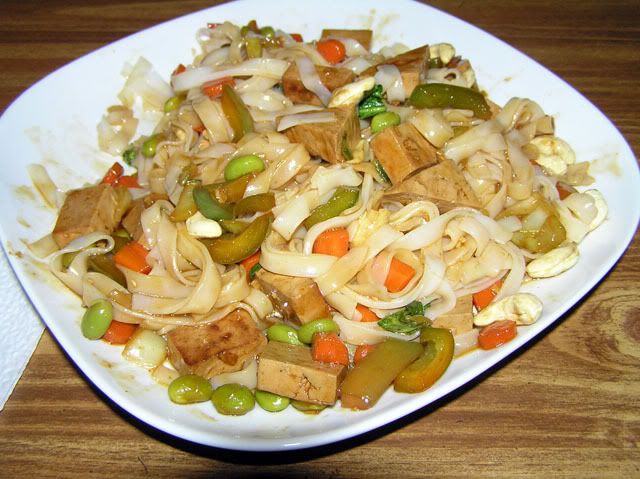 This looks a lot "blander" and beige than it really is... the spicy sauce really ties it all together, you just can't really see it. There you have it, a lazy stir-fry. I will post more drool-worthy stuff soon, stay tuned.