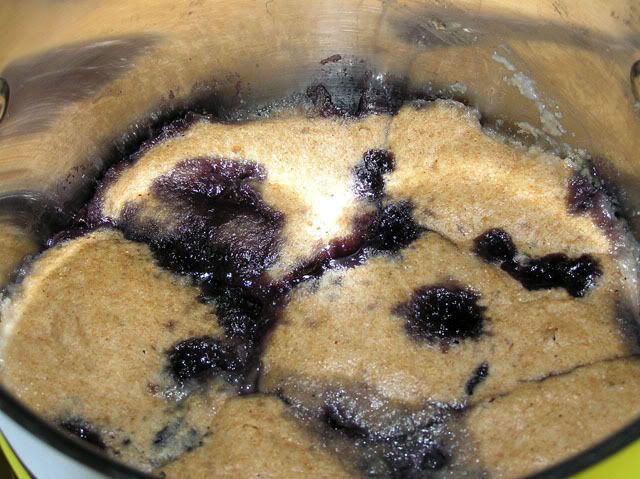 I recently faux-baked some apple crisp and it came out wonderful. The fake-coming-from-the-oven-smell was exactly what I needed after almost a year with no oven usage. The very next day I decided to faux-bake again, and this time it was the real deal. I'll get to that in a minute... First a non-food rant: I would like to exclaim how happy I am that we (Ray and I) have an electric piano (aka, not a crappy keyboard with a lot of stupid buttons and sounds, yet not a performance piano). It came at an odd moment, I'd been thinking about playing again recently since I was taught to play at an early age. I really miss it in a weird way. Now, don't think I can really play, I can't. I can just read music (to a point) and play mostly with my right hand... Ray, on the other hand is a musician, a music student, a teacher, and a music-student-teacher. He needs the piano for various reasons (as well as his double basses, electric bass, violin, viola, cello next semester, trumpet, and we have even had an oboe, bassoon and french horn here). I love it. I have mastered "Puff the Magic Dragon", a Danish Folk Song, and "Conjunction Junction" and have moved on to the Real Book vol. 4 (I think), therefore I can now play "Autumn Leaves" and I am sort-of working on "So What" and a few other jazz tunes that I probably shouldn't say I can play. But it is really fun. We had to move Killian's condo and his box (see below) and he is surprisingly very happy about that.

Back to the authentic faux-baking. I have been wanting to try a Grunt for a long time. I've never heard of such a thing and I hear these are confused with cobblers, as well as being popular in the New England area (am I right or wrong?). The obvious reason I have wanted to try this for so long is because it looks like it came out of the oven, but didn't. I searched and searched (for months) to find the ultimate grunt recipe. I think I found one, but of course, my own modifications, so this is My Organic Blueberry Grunt. Check out our desserts below. I served these (3 of us) with soy vanilla ice cream and soy whip on top. It was wonderful and I have made it a few times already.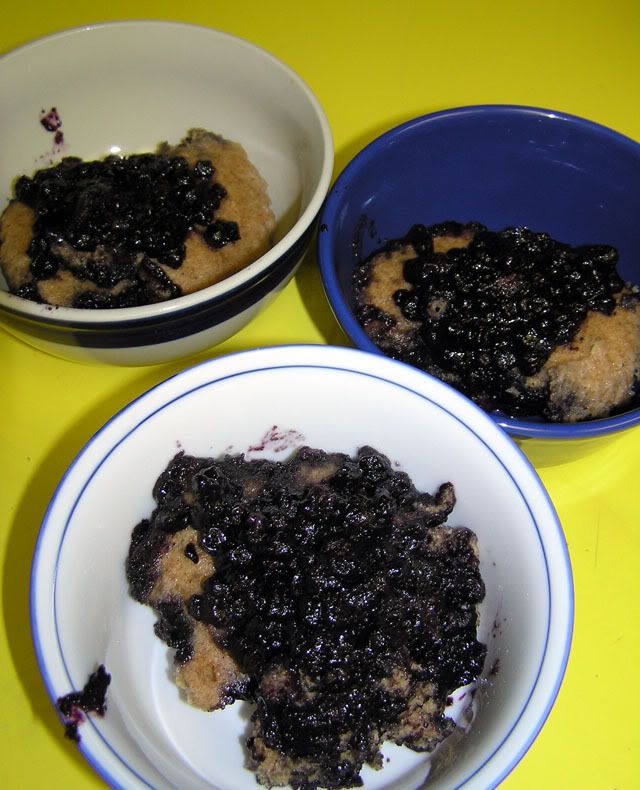 My Organic Blueberry Grunt Recipe
serves 3 to 4 people
2c frozen or fresh blueberries, organic
1/2c. raw sugar
1/2c. spelt flour
1/4c. stone ground whole wheat flour
1t. baking powder
1/8t. sea salt
1/4t. ground cinnamon
1/8t. nutmeg

1/3c.
+ 2T. soymilk
Method:
In a 2 or 3 quart saucepot, combine berries and half of the sugar. Cook over medium heat, stirring often until the berries come to a boil. Meanwhile, in a medium bowl, combine flours, baking powder, sea salt, remaining sugar, cinnamon and nutmeg in a bowl. Add milk, just to moisten. Drop tablespoon-fulls of batter into the boiling blueberries. You can let them touch each other, they will seperate. Cover with a tight fitting lid and lower heat to med-low. Cook without lifting the lid for 15 minutes. To serve, use a large, flat spoon and lift out "cakes" and serve with ice cream. It is also good alone, but always better with ice cream.
And below is one of my favorite things in the world... I can put simmering blueberries with almost anything.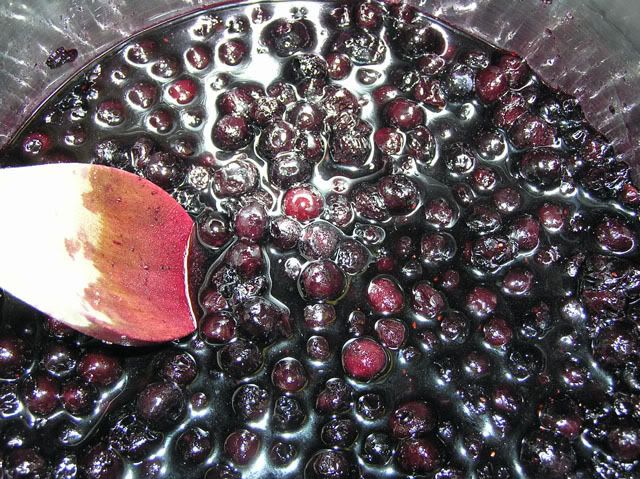 Here is an up-close, yet kinda crappy shot of the inside of the grunt. See how baked it looks?!
Moving on... I really messed up bigtime here. I attempted to make potato leek soup. Come on people, is there one good recipe on the web? *If you have a good recipe for potato leek soup I would be very happy to have it in my home* There aren't many recipes in my cookbooks and the one I found (I think online) called for fennel, leeks and russet potatoes. I thought it was going to be alright, that is, until I had my first experience with raw fennel. And whole fennel. This veggie freaked me out at first. I
should have
read the back of Vive le Vegan where it tells all about fennel, how it tastes and what to do with it, but then again, I may not have bought it then. I got 2 bulbs as the recipe called for, opened one, almost puked, and decided to hold off with the fennel, thinking the soup would be alright without it. Boy, was I wrong. This soup pretty much tasted like bland crap and it was way too creamy for me. I attached a copy of the recipe (that I made up based on many) just in case maybe someone can tell me where I went wrong. Or what I should have added or taken out. Or if this is just crap anyway, and I should move on... I actually ended up throwing the cut fennel away because it went bad during the whole week it stared me in the face every time I opened the fridge. I also threw about 2 quarts of crappy soup down the drain (terrible guilt). Stay tuned within the next few days to see what I did with the other fennel bulb. I had a major delicious success! But what you see below is crap, so don't use the recipe unless you are making it for someone who likes bland, uninteresting foods (or other reasons). Or if you can tweak it for me.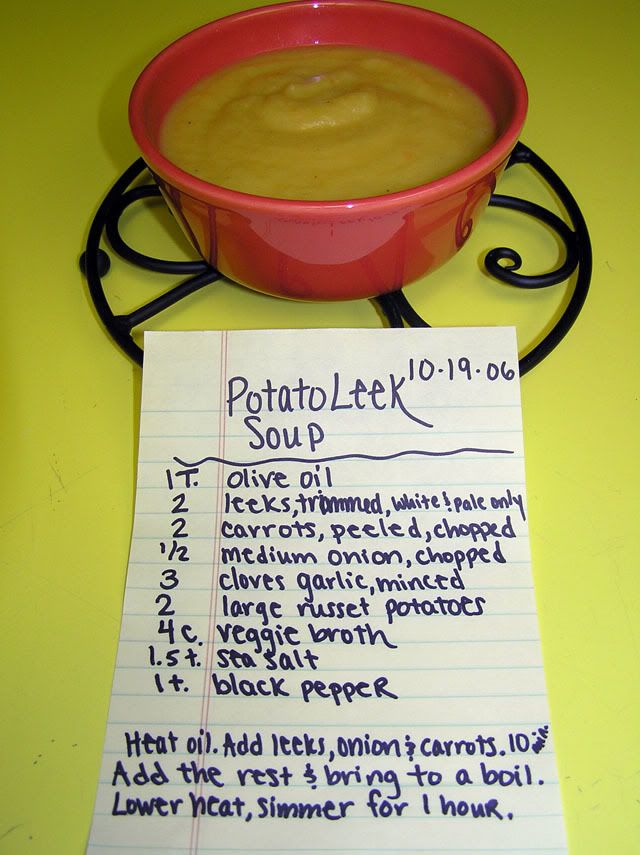 Tofu scramble! I made it but didn't eat it. This falls under the category of "yes it is vegan, but Leslie won't eat it foods" such as faux meats and pre-made faux cheeses. I used to gag at the smell of my mom making scrambled eggs for my brother starting 20 years ago, and I knew this would be ok and not stinky to make. In fact, it smelled good, I just have "issues". Tofu scramble is something Ray has been requesting for a long while. I either had silken tofu or really firm tofu for a long time and never got around to making it. Finally, last Saturday I made
Dreena's wonderful crepe test-recipe for the tenth time or so
and also decided to make tofu scramble on the other burner. In the middle of cooking both at once (I like to pre-make the maple butter cream), a friend of mine / ex-co-worker called and she was going to stop by. There were 3 people eating the tofu scramble and the verdict was positive, yet not with much energy. It was all eaten but probably just because they were hungry and it was there. I made the tofu scramble from VwaV and next time I will experiment with other recipes. I still won't eat it (or try it).
Next up we have some veggie bean and veggie-dyed-alphabet noodle soup. This soup is a random recipe that I made up with scragglers from the co-op sale, and I used way too much fire roasted tomatoes. It was good, Ray rated it an 8, I gave it a 6, but there is lots of room for replacement. I will give the basic recipe, but please feel very free to elaborate and change it up. It was good for a meal, but very tomato-y for me. I made so much (which I am sort-of unhappy about) and we still have that huge-ass bag left in the freezer. I plan on thawing it out, doctoring it up, adding some onions, and seeing how that goes. For now, here is the recipe and it makes almost 6 quarts. Ok, here's a basic recipe, cut it down, change it up...
8.5c water (or veg broth + water)
1/4c dry alphabet noodles
1- 28oz can fire roasted tomatoes, crushed
1 can kidney beans
1 can chickpeas
3 carrots, peeled and diced
2 handfuls chopped green peppers
4 cloves garlic
3 yukon gold potatoes, cut
1/2t basil
1/2t oregano
1/2t thyme
1t sea salt
black pepper to taste
1/2t jalepeno hot sauce
I really wanted to use spinach... I'm now just seeing it around.
Directions: Add everything together. Boil. Cover. Simmer until potatoes are soft. Consume.
Served with a whole wheat bun on Ikea snack sets.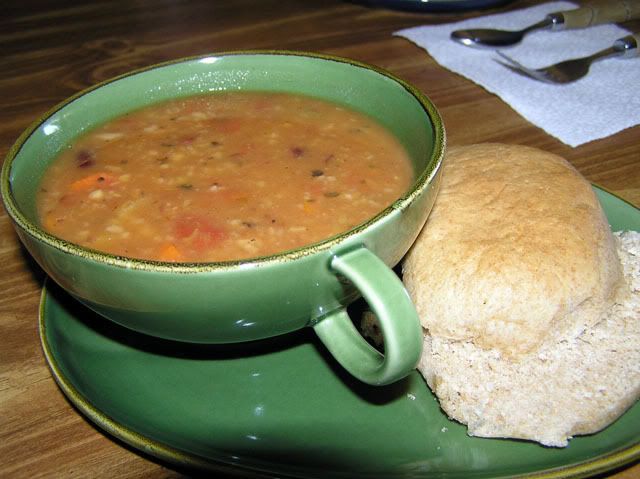 And finally, same deal as last time, faux-baked, but with added blueberries. After taking this photo, the blueberries were extra soft, and turned everything a nice purple hue. Highly recommended.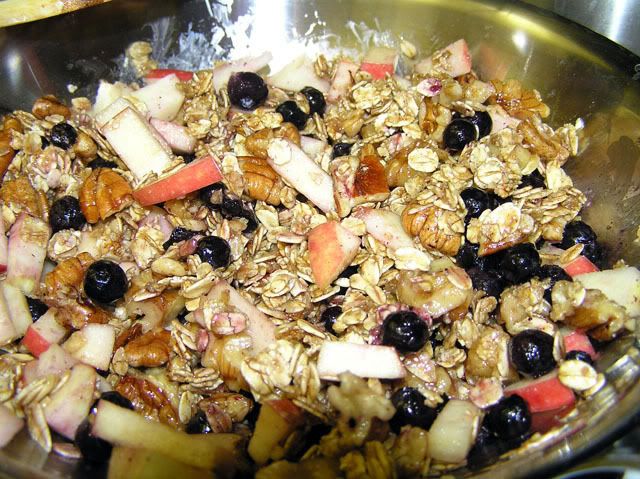 Note: I usually don't post too often (sorry, I'm working on that). I am going to provide you all with a post within the next few days for your personal viewing and eating pleasure. Part of it will be about what I did with the fennel today (plus other stuff). I'm giving the warning so you all don't
fall out of your chair
from me posting frequent posts and real recipes! Stay tuned...