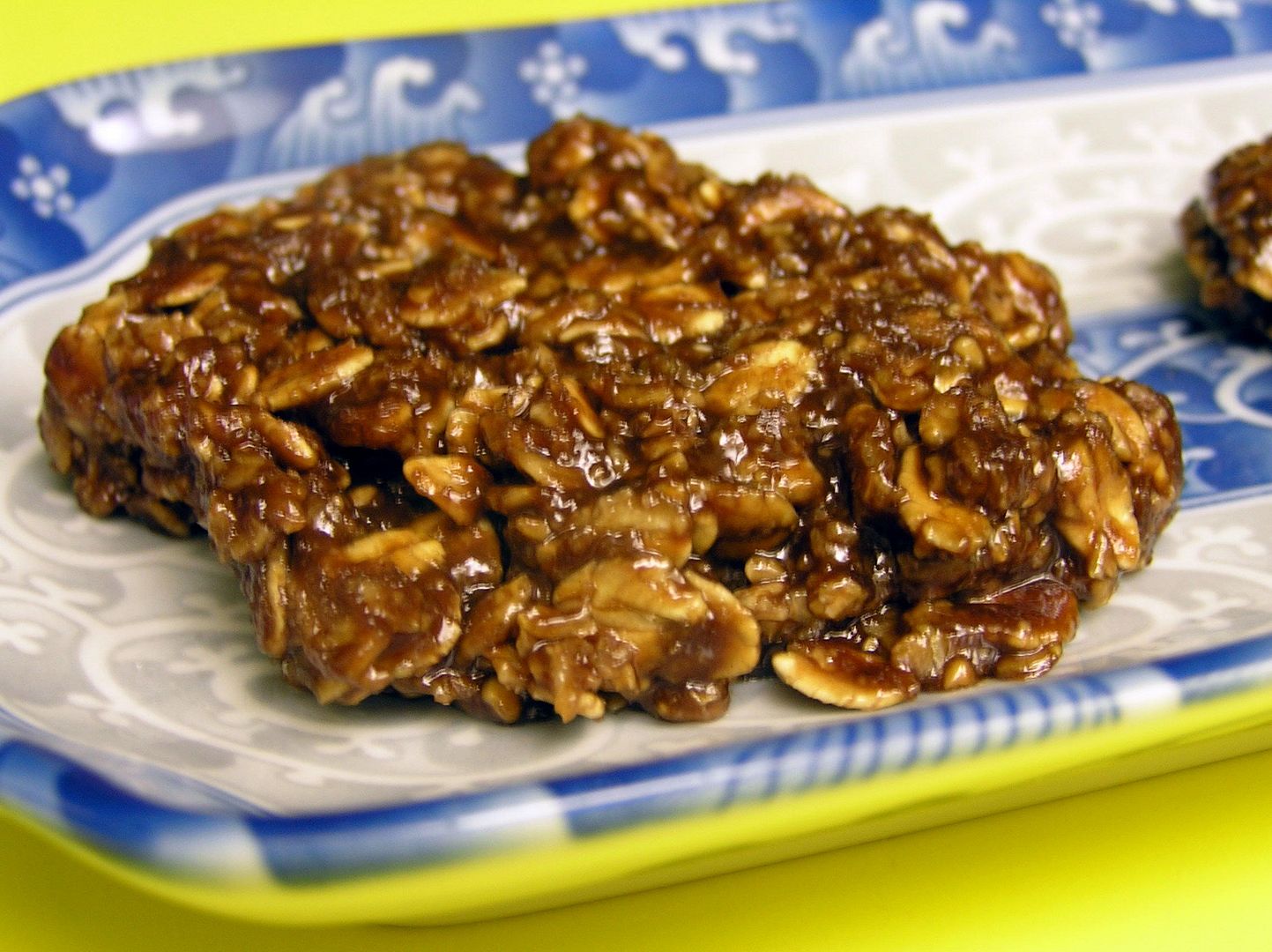 Weird concept, huh? A few weeks ago I stumbled along into the co-op to get a bi/tri-weekly treat. I noticed one lonely chocolate cookie left and decided it would need a home... in my belly!

I looked at the title and it was called Mel's Vegan Boiled Cookies. Hmph. What the hell is a boiled cookie? I asked Franko and he was just as clueless. Well, it's vegan, looks good, was the last one left, and only a buck, so I went for it. It was an interesting concept.

Ingredients (in Mel's cookies):
oats, raw sugar, soymilk, earth balance, peanut butter, cocoa and vanilla with mostly organic ingredients.

This cookie I had was amazing and I knew I had to try it at home especially since I am in a no-baking mode. Plus, oats are about 25 to 30 cents per pound, super-cheap! This past week I have been trying to figure out how to make boiled cookies. I Google-d a lot of recipes and came across one I think from Quaker Oats and it was very similiar, just not a veganized version. I found recipes all over the place, many of them being alike. I thought to myself that I should just go for it (like I always do) and see what happens (not following a recipe). So, in that case, I made up my own recipe.

Here's Leslie's Boiled Cookies...
They came out a bit mushier than the one from the co-op, but I will just add more oats. I actually have a recipe this time because I took notes while experimenting.

Ingredients and Measurements:
3.5 cups oats (I would use about 4 to 4.5 cups next time, which will make it thicker/denser)
1.5 cups agave nectar
1/2 cup soymilk (I like Silk)
4 tablespoons unsweetened cocoa powder
1/2 cup peanut butter
1/2 cup earth balance (or use apple sauce but that's at your own risk)
1/2 teaspoon vanilla
1 tablespoon ground flax seed (for added nutrition)

Yield: 24 large or at least double that in small cookies

Method:
In a large pot, bring earth balance, agave nectar, soymilk and cocoa to a boil. Stir very often. Let it lightly boil (just past a simmer) for 1-2 minutes to make sure everything's mixed. Take the pot off the heat and add peanut butter, flax seed and vanilla. Mix it up well, and the peanut butter will be chunky-looking (a.k.a. awesome-looking). Then stir in the oats. Ta da, that's it people! Five minutes time. Then take desired-sized spoonfuls and plop them onto a cookie tray that is lined with wax paper. Let cookies cool in fridge. Wait patiently. Then eat. Store remaining in an airtight container in the fridge.