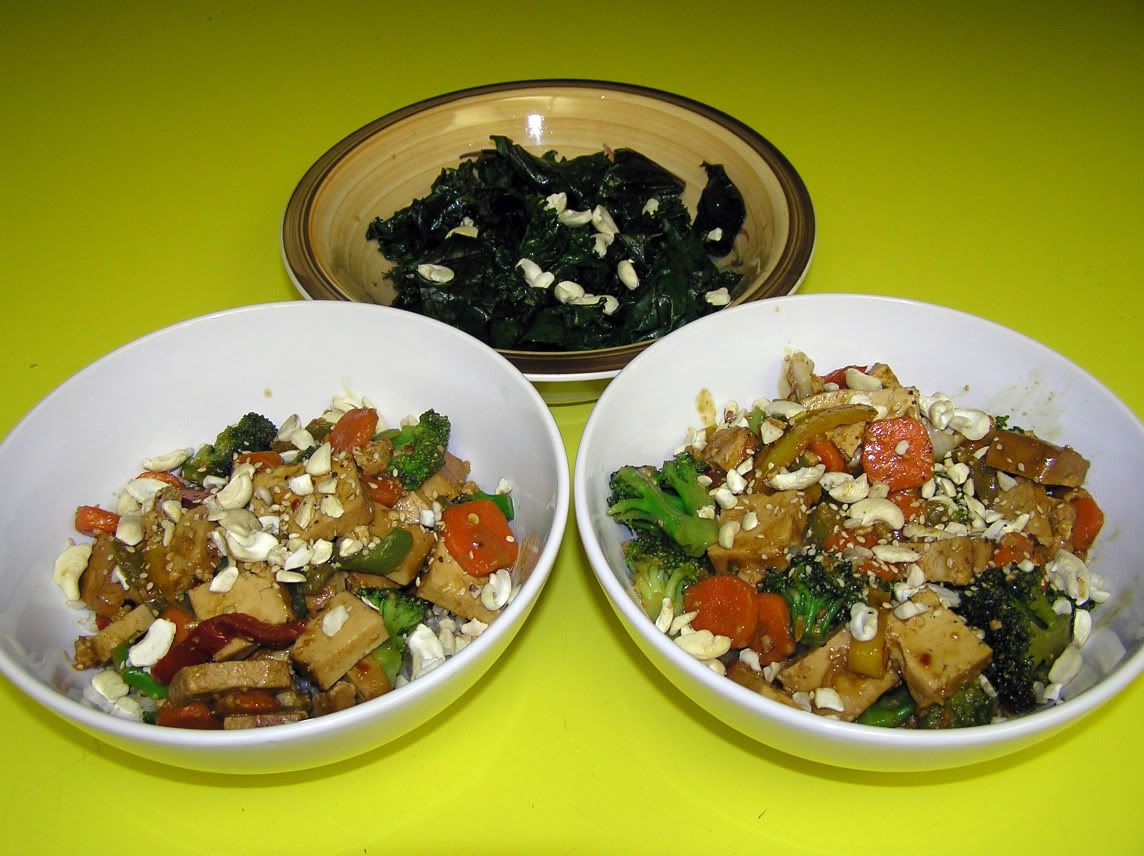 First of all, thank you to all of the wonderful people who left such kind comments regarding the jewelry, I really appreciate it. I will keep everyone posted on whether a website is happening or not. For now, here's food.

I made all this a few days ago and just haven't posted it yet. The kale is long gone (and all the other veggies by that matter) but this was a good dinner and worth posting. You see, I had leftover red (which is really purple) kale and I wanted to incorporate it into a stir-fry. I did just so. I actually decided to steam the kale because I like steamed kale. Simple as that. But I did get way in over my head and added a bunch of stuff (what I do best) into the wok and concocted a wonderful meal. I also steamed the broccoli with the kale but that's because the broccoli was frozen and I was being lazy and I just threw it into the steamer and then it looked soooo bright and "perfect" and green-how-it's-supposed-to-be--green, and I stopped the cooking with cold water. I let the broccoli sit while I made the rest of the stir-fry. I threw it in the wok at the very end for a quick stir. As you can see the one on the right has chunks of onions and has a larger portion. That means it's Ray's bowl.


Steamed kale on the side. I added it to the stir-fry while eating, not cooking.
Steamed Kale Ingredients:
red kale, lemon juice, hint of olive oil, raw cashews, sea salt, black pepper, splash of tamari.

Rest of the Stir-Fry: firm tofu (marinated for a short time in tamari, brown rice vinegar, hoisin suace), brown rice, more tamari, garlic, onion (I just like the flavor, I don't eat the onion chunks, yuck), crushed red pepper, cayenne, broccoli, red-yellow-green bell peppers, raw cashews, about a teaspoon of fresh squeezed peanut butter, fresh lemon juice, gamashio topping. I'm probably forgetting something.

This is just a closer look at the final product. I like stir-fry's because they're super-quick, usually easy and very tasty. You can really add whatever you like to it, just heat it up for a few minutes and toss a few times.
Fin.