I haven't cooked anything super-exciting in a while now. Throwing a bunch of things in a wok and calling it stir-fry has been the most exquisite, if you will, meal. Now that's pretty sad. I will cook some awesome stuff once again within a few weeks, but last night I was in my pajamas pretty early and didn't want to do much about dinner. So instead of throwing a bunch of things in a wok or pot and heating them, I decided to grab a bunch of stuff from the freezer and throw it in a blender.

In the middle of the 3rd quarter of the Suns vs. Lakers game (5) I hopped off the couch and took out some awesome frozen fruits. Then I reminded myself that hemp seeds are a must in all milkshakes (see a few previous posts) and so is soymilk. I threw the following ingredients in the blender and came out with a wonderful, tasty, healthy, what-I-like-to-call "a Fruitshake".



*Leslie's Fruitshake"
Soy Delicious Cookies n Cream ice cream (my favorite one, but any ice cream will still be awesome)
Silk soymilk
hemp-seeds, shelled
mangos
blueberries
strawberries
raspberries
cherries
blackberries
boysenberry
(*all items organic except for the hemp seeds and they may even be too, but I get them in bulk so I don't have a label)
Let me explain something about the abundance of fruits. I like to keep frozen fruits in the house because of instances like this (Fruitshakes), pancakes, emergency snacks, etc. I get them on sale or buy them even fresh on sale and freeze them. I had the mango all in one bag, as well as the blueberries which I keep ALL the time in a plastic container in the freezer, and I had a bag of strawberries and a small container of boysenberries from maybe too long ago. The rest on the list (cherries, raspberries, more blueberries, blackberries) were all in a bag that Ray threw in the cart one day. For some reason "Cherries" is written huge on the outside of the bag and for about a month now I have thought it was just a bag of cherries and never cared for it. Upon request, cherries were going into the Fruitshake, and when I opened the bag I was super-happy to have a wonderful surprise of an array of fruits! I've really been missing out all month...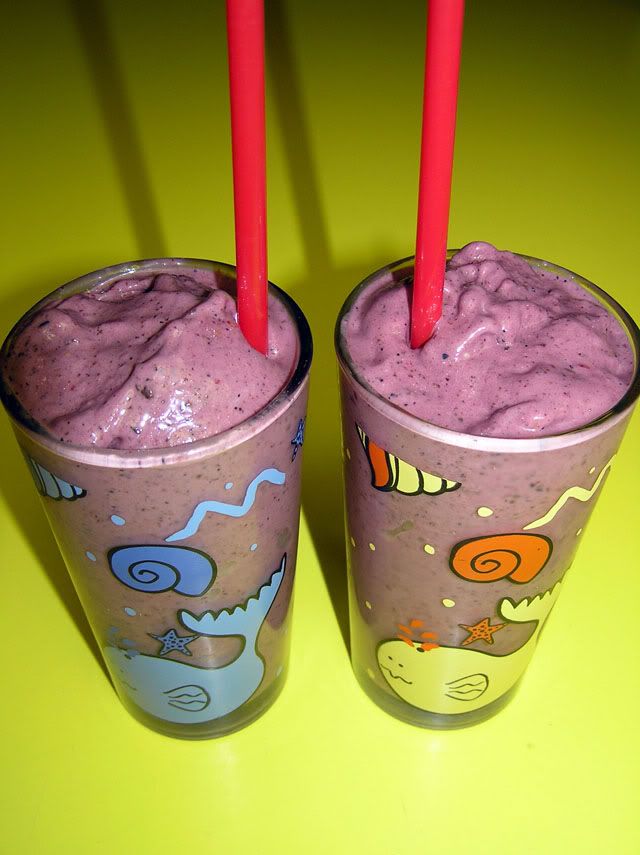 I'm running out of straws... Oh, and the Suns kicked ass!

And now it's time for Midweek Munchies (5-3-06). No code once again, it will ruin the above formatting.
The following is from WFM and this * means "organic". And yes, Catherine, it's so hard to tell what food items are on the receipts.
mixture of canteloupe and grapes
Silk soymilk*
baked tofu*
Koala crisp cereal*
Optimum Power Breakfast cereal (the best cereal)*
apple juice (super-small one)*
small acaji (sp? it's gone now) juice, and the receipt is crap
gorilla munch cereal* (healthy cocoa crispies)
Heritage bites cereal* (yeah, we stocked up on 4 cereals since I haven't cooked much and spared you all of my non-uploaded cereal photos!)
vanilla cream soda
raspberry ginger brew (the last two items are Ray's)
bulk vanilla granola* (more cereal items)
2 small gelatos (FROM THE NEW AWESOME GELATO BAR). It's costly so this was a treat!
2 bag refunds (not organic).
($32.66 + $0.59 tax) 15 items