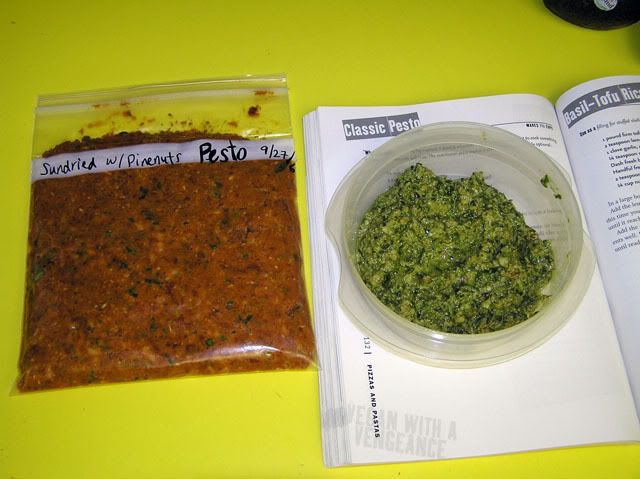 Pesto Part III and IV: This is how it started... I was too lazy to actually make dinner the other night and was happy that I had 3 servings for the two of us of VwaV's corn chowder leftover in the freezer. I also had just less than 1/2 a loaf of bread leftover. I decided to just heat the soup up and dunk the bread into it = dinner. All of a sudden, I lost my mind and decided that it was completely out-of-my-element for me to not be running around the kitchen like a mad-lady doing 40-million things at once. I decided I must take on some sort of task. So much for laziness... that's when I remembered the basil was dying. I absolutely love Dreena's sundried tomato pesto with pine nuts and almonds that I have been testing over and over, probably about 20 times by now. I can't wait for the cookbook to come out for my personal selfish reasons, but also for you all to try this amazing sauce. I decided to take Crystal's pesto idea and pre-make pestos to freeze for a later date. What a freaking good idea.

I didn't have any almonds in the freezer so I loaded up on pine nuts to sub for it. I made a whole batch and froze it up. I still had plenty of basil leftover, but not quite enough to make a whole entire batch of Classic Pesto from VwaV. It is basically basil and walnuts and a few other ingredients, so I halved the recipe and added even more walnuts than called for in the full recipe! It came out so wonderful that I decided freezing it was a terrible idea and I had to eat it right away. So, dinner that night was corn chowder, leftover whole wheat something bread with Classic Pesto. It was fabulous. I also highly recommend this pesto mixed with balsamic vinegar. I really couldn't wait to eat the sundried tomato pesto that I premade and froze, so we ended up having that over whole wheat pasta the next night. I really enjoyed just taking it out of the freezer and heating it up. Funny, because the pesto isn't cooked in the original recipe, it is actually quicker to make it all at once in the blender than the time it takes to heat it up from frozen. Oh well, I didn't have a mess...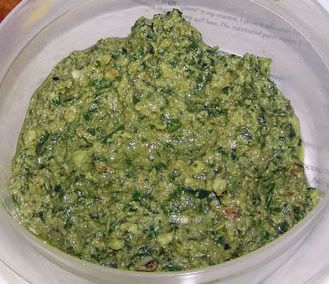 Someone around here had a birthday on Tuesday...
It was a nice day for Ray. He had class all day through the evening but we took out his favorite pizza (mine, cheeseless) and had vegan chocolate cake, ice cream and other fine treats and presents. It was a nice evening. I always like to decorate the house the night before soon after he falls asleep... I decked out his bass and music stand (which you can't see) too. Jess, do you recognize the poster?!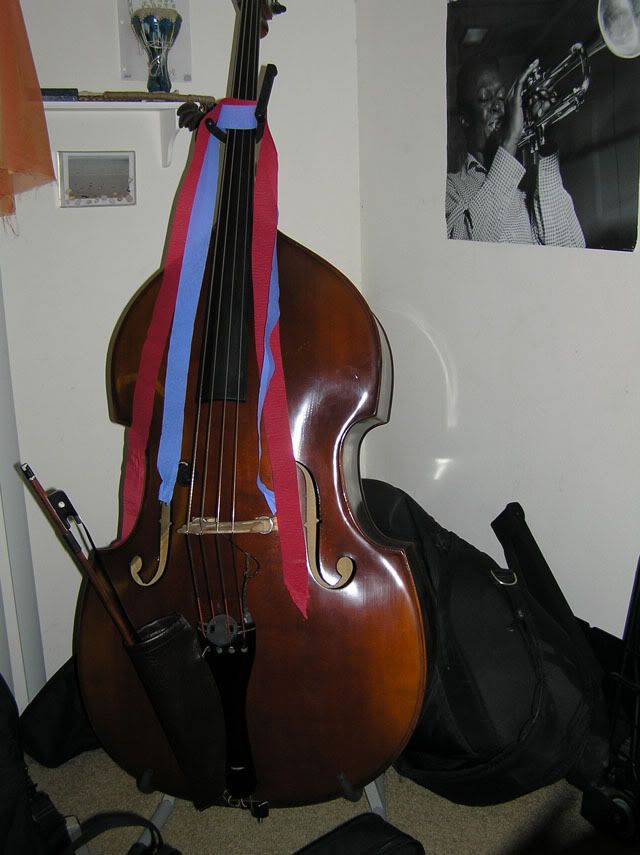 Next up, date bars. We get semi-locally grown dates from Yuma, AZ. I just say semi-local because even though it is in the same state, Yuma is
quite a drive from here
and practically bordering Mexico. I love these dates and supporting a family farm (of dates) and instead of about $6 a pound, they are $3. I bought 2 pounds and made 4 types of bars. They all are made with the same base, mejdool dates, agave nectar and rolled oats, all organic of course. First up we have cranberry pecan. Then to the right of that is chocolate chip cinnamon. Then cashew cocoa slash coconut and finally peanut butter chocolate chip. They are all wonderful and were super-quick and easy to make. Great for heavy-duty snacks.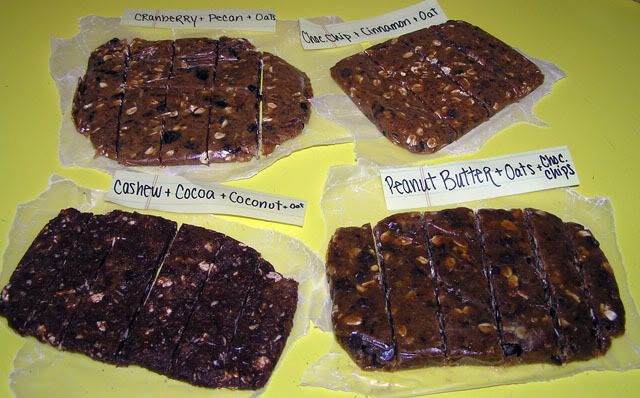 Yay avocados!
Miriam
, look! This is the last batch of special seasonal hass avocados that we are getting at the co-op. They are $1.39 each and I quickly bought four. You all can see the two in the middle, those are now ripe and I bought them a few days ago. They are seriously 1/2 the size and the same price as the avocados I just bought today. I am sad to see them go... That's why I'm loading up and I am so happy they are huge!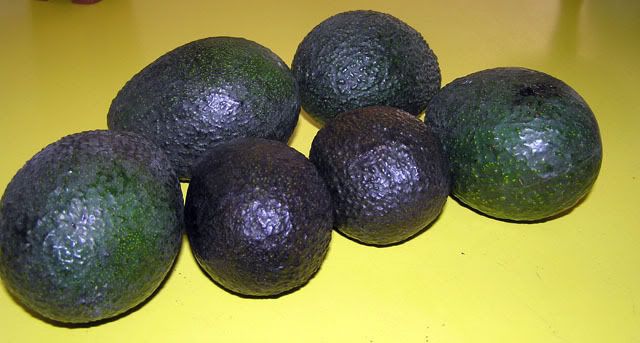 Tomorrow, Sunday October 1, is World Vegetarian Day! Please spread the word to everyone you know and celebrate... wait, we do that daily, right?! Anyway, if you really want to celebrate there are super-cool festivals going on in most awesome cities (aka, not here).