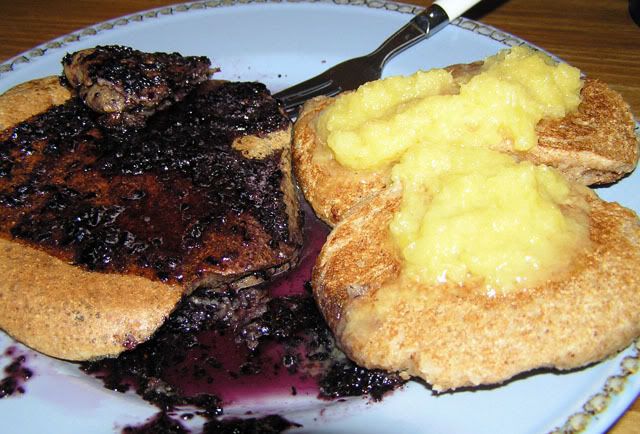 I made two different types of pancakes for dinner the other night. I had been promising Ray's cousin Jordan the "Coconut Pancakes with Pineapple Sauce" from VwaV for about two weeks now. He has been dining with us often lately and was super-enthused about this particular recipe. The co-op recently had cans of organic pineapple chunks, pieces and some other fruits on sale, so I picked up crushed and rings and used the crushed for this recipe. The second batch of pancakes is my standard chocolate chip banana pancakes. You see, I used to make pancakes a certain way a while back. They were good, in fact, I used to really love them. That's until I got my hands on Vive le Vegan and I now exclusively follow Dreena's Banana Bliss Pancakes, modified to my standard personal recipe, and now we have the most amazing pancakes ever. Basically, I follow the whole recipe but I use 2 bananas instead of 1 and I add a handfull of chocolate chips (Sunspire). Topped with these bad boys is the going-on-one-year-old-standard Blueberry Maple Syrup from Vive.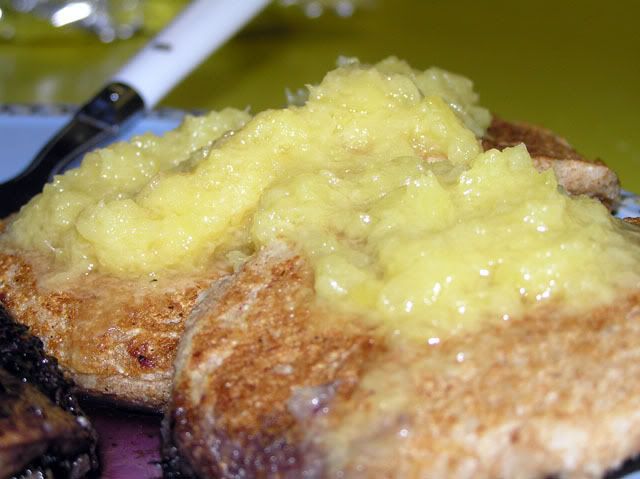 Of course I liked the chocolate chip banana ones with blueberry. That's the best kind. My first few bites of the Coconut Pineapple pancakes were interesting, crunchy from the coconut but very pina colada-y with the sauce. I liked them, but not enough to finish them. Maybe it was a bit overwhelming for me, so much coconut and so much crunchiness in the cakes. I could modify this, but I do prefer saucy-syrup not just sauce on my pancakes. I did finish the other kind. Thank goodness we have a human garbage can over here sometimes (Jordan) and I just plopped my coconut leftovers onto his plate and they were gone in no time.
The night before the pancakes we had "dinner" at a weird time. It was more like an 11:30pm snack. We had meals at weird times all day and were randomly super-hungry around 10 or 10:30pm. We all decided that since the Punk Rock Chickpea gravy with mashed potatoes is so awesome, it would be the best thing to have. I said, "I can make them in no time. Someone just help me peel [the potatoes]." Of course this was not the case and it took about an hour for the water to heat up, boil and cook the yukon gold's until soft. Why is it taking me so long to boil potatoes? Anway, we finally ate before midnight and I couldn't believe that after my serving (probably about a pound's worth... that was all we ate), the guys ate the rest of the 4.5 pounds of potatoes. I seriously thought I'd have enough leftovers for the next day. I was wrong. They were pleasantly stuffed, but ended up like this (see below) 5 minutes after eating. Jordan never got up off of the guest-air-mattress until the morning (hee hee) and Ray slowly crawled into bed with me a few hours later... (Ray's the one on his back)
I like to go to Haji Baba, a middle eastern restaurant with an awesome market because it is authentic. I don't dine at the restaurant much but I go to the market for various items that I can't get at the co-op or Whole Foods. The only thing that bothers me is since I buy in the high 90's percent organic foods, they don't have any there. I stick with random stuff such as tamarind paste, cheap pomegranite juice, baklava for Ray it has butter, but they have super-cheap and good pita and they even have household items and great rugs (and more!). Turns out they also have great vases. Ray spotted this out, I exclaimed how much I liked it and the fact that it's made in Lebanon and he bought it for me. It was $6 I think. I love how it is handpainted and how I can feel that it is. I thought it was an interesting looking vase for how it was built. Sort of like a cross between a vase, a lemonade pitcher and a bong. I plan on using it for none of the above, just decoration.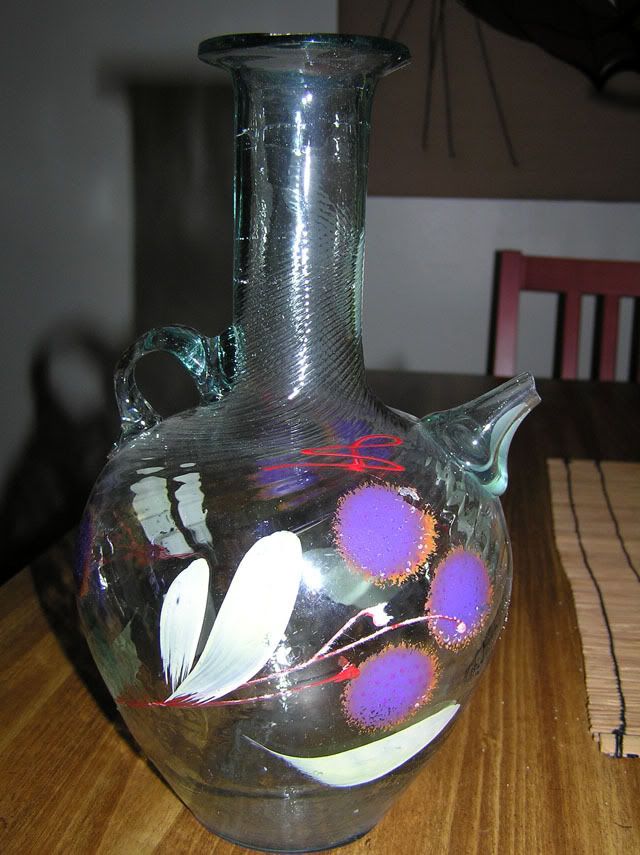 It made me feel extra special that this was made in Lebanon. I wish for and strive for peace everywhere and would someday like to be able to visit
this beautiful place
and mingle around and talk and see and learn of the culture and beauty first hand, safely. Even though I've never been there, it sort of reminds me of aspects of Arizona, landscape-wise.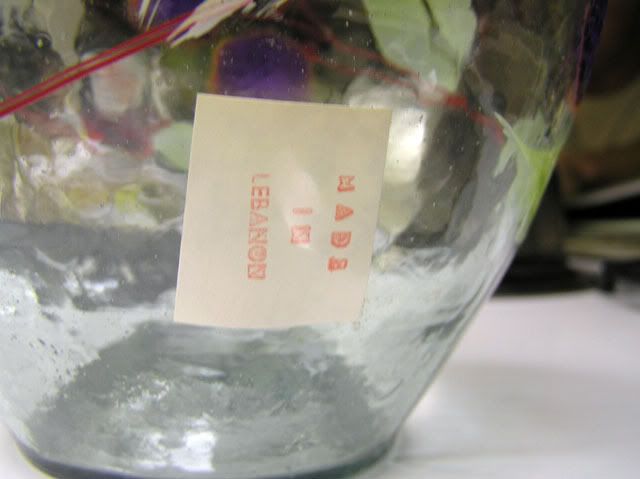 Next up, rambutan fruit. I have never heard of this and saw it randomly at Whole Foods. The man helping me out said that it is native to Vietnam and many other tropic places and he let me try one then and there. The ones in the store were conventionally grown in California. I thought that was weird, but he gave me the whole story on it. I tried it and thought it was wonderful. It reminded me of a peeled grape and you don't want to eat the seed/nut. I bought some more to take home. They ended up being about 20 cents each and the guy told me that in Vietnam you can buy a huge-ass bushel of them for fifty cents. Oh well, I'll just have to go one day for myself. Here's a link for better photos and more info on the
rambutan fruit
.