The other night I decided it would finally be "taco night". I grew up with a taco night and it was always fun because my mom would set out the prepared ingredients to go into the tacos in small bowls or plates and we would fill our own. Mine usually consisted of just veggies and cheese. Well, in those days mostly cheese, then veggies. I always refused the meat. These days (umpteen years later), I don't eat cheese and I eat a shitload of veggies, so I decided to make some unusual tacos. I remember Dreena making quinoa tacos one time and the idea stuck in my head. She called them ta-quin-os! I still will not eat fake meat although I do plan on having some ground round one day for Ray to enjoy filling his own tacos. We didn't have taco night as I am used to (fill your own) but these filled-by-Leslie tacos were amazing. Ray even gave me the biggest compliment by saying he was glad we didn't go to Green (a vegan restuarant that's amazing) that night. The chili was way thicker than it looks here.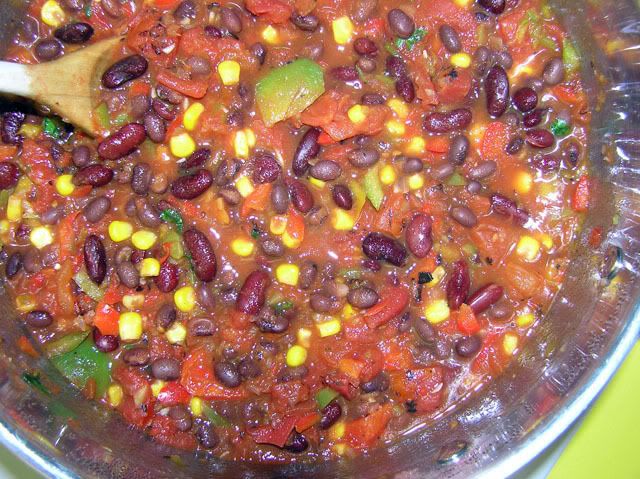 I have had those Garden of Eaten blue corn taco shells in the pantry for a while. I have never had a vegan taco so I decided to just make it filled with what I wanted and didn't care that it was not a traditional taco. What would that mean anyway? I needed a basic guideline for the chili as it's been a while for me. I used Dreena's Last Minute Chili and Taco Filling recipe from Vive le Vegan just as a guide so I wouldn't forget crucial taco flavors. I ended up coming up with my own chili recipe. Wow, can you all believe I'm actually posting a real recipe?!
Leslie's Awesome Organic Chili Recipe
1T olive oil
1 small yellow onion
5 cloves garlic
1t sea salt
black pepper to taste
1t cumin
2t cayenne (could use more!)
1t paprika
1t oregano
1 green bell pepper
1/2 red bell pepper (that's what I had)
32 oz canned fire roasted diced tomatoes
1 habanero pepper
1 jalepeno pepper
2 cans black beans
1 can kidney beans
1c frozen corn
handful of chopped fresh cilantro
First heat the oil and add the onions, garlic and spices. Cook it until the onions are clear and the spices fill up your house with awesomeness. Toss in the rest of the ingredients (except for some of the cilantro), bring them to a boil and then reduce to simmer until it is thick (about 30 minutes). While that is simmering it's a good idea to make the quinoa or other grain. Add the remaining cilantro towards the end of cooking or toss it on top of each individual serving. Taste the chili to make sure it's how you like, then do what you want with it.
Here is my wonderful plate of blue corn taco shells, homemade chili, homemade guac (oh my goodness it was the best guac ever... Miriam, I may have crossed over to the dark side!), quinoa, Muir Glen organic salsa and a lime. Yum. The hardest part about this whole meal was stuffing the taco shells and the best part about this meal was everything (ok, maybe the guac really topped it off). There were three on each of our plates but I could only take down two.
I froze the leftover chili for a few days and tonight we are going to have that with new fresh quinoa and guac again, but in a taco salad form... blue corn chips with the same toppings. I highly suggest making these.