What I've been stirring up: Yep, I finally used agar. In the kitchen, not in microbiology lab, that is. I have had plenty of experience with that during my college curriculum, and it was very unappetizing. On a lighter and non-bacterial note, few days ago I saw a wonderful use for my first agar experience in the kitchen on Susan's blog... fruit gels! She calls them Fruit Gel Babies, and she's right, you can gobble these babies right up. I enjoyed my time making these, substituting agar flakes for agar powder (I had to google a conversion), and I used mango nectar instead of apple juice. It took hardly any "working/prep" time at all, just lots of stirring and firmed up in less than an hour. I used all the same measurements and used fresh ripe mango and red plums for the fruit chunks. I had no other fruit cups to compare these to, but I haven't had a gel-like product in over 7 years, so this reminded me of what I think a non-crappy jello would be. Awesome!

This is just four of them. I forgot how many I made, I actually had to limit myself based on my availability of small containers. These are nice jiggly breakfasts or snacks, with no horse-hooves or bone char, may I add.

I really wanted to show you all a better photo of sopapillas from when I made them
before
. I made these one night to complete a Mexican-flare-type-meal. We had black bean chipotle stew with fresh cilantro and corn fritters with salsa and something I can't remember, and I thought sopapillas were a good end of the night, hefty treat. I love cinnamon and sugar. I made these the same as I did last time. They look better now, although I ended up being sick of eating the tortilla after a few bites and just
stirred
it up and ate everything else out of it instead. If you haven't made these yet, do it soon and thank me later!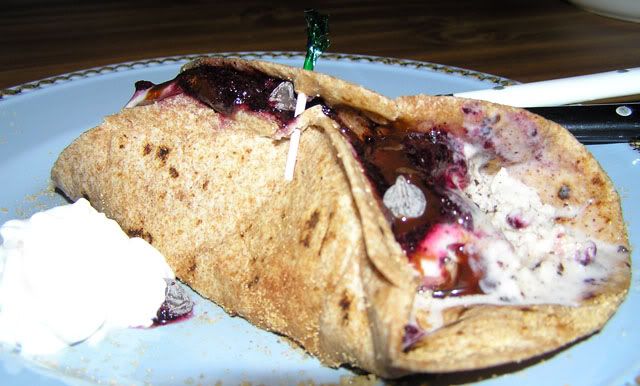 A closer look at the amazing-ness. I had to hold it down this time with a pick. I loaded it up too much to make it burrito-like.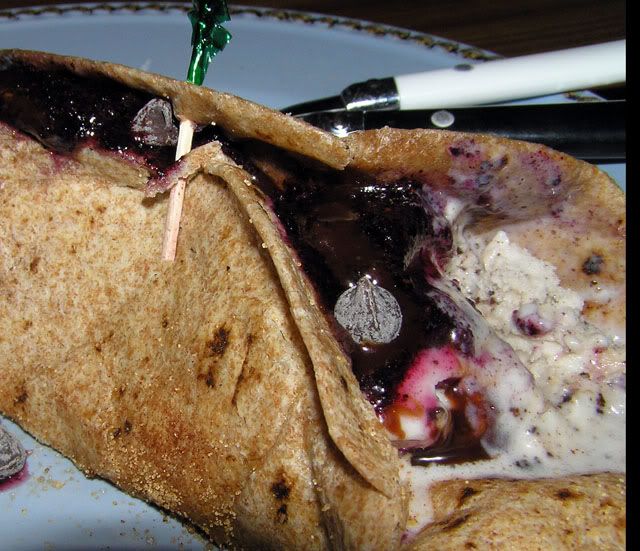 On to a completely different subject now: I was mozying around at the co-op when I stumbled upon these purple bell peppers (our co-op only has organic produce). I was super excited and happy to see something so unique to me and pretty deep purple. Especially organic, so I knew it wasn't some weird genetically altered or cross-bred in a weird type way, pepper. I was informed it was more like a green pepper and I couldn't wait to use it up, although I do prefer red bells. I finally decided to go for a
stir
-fry so I could still have it's crunchiness yet I really wanted the purple effect in the mixture, just to make it contrast a bit. I opened it up and was slightly dissapointed, maybe by my own expectations. I seriously thought this was going to be purple inside and out and it was more like a green bell than anything. I still really enjoy the deep purple hue but the inside was almost white. And very juicy. Weird. (even though my head-shadow is in the way of the photo, the flash makes the white part of the pepper brighter. Having my head in the way really shows what it truly looks like inside)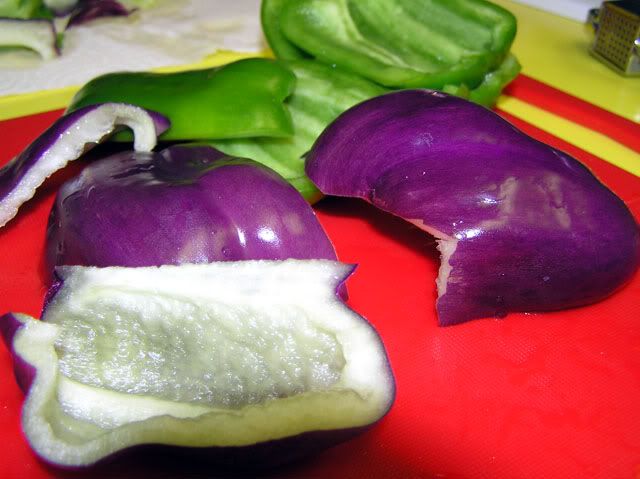 Then I threw the pepper in the stir-fry and to make my slight dissapointment a bit larger, the purple color quickly faded (after all, a good stir-fry is done in a matter of minutes), and these looked more like red onions. Good thing I didn't use red onion in the dish because I would have been picking at my meal trying to make sure I was getting a pepper, not an onion the whole time. Overall, these were still nice. Most of my excitement wasn't by the end result of eating it, yet the whole, pure and un-cut form when I first got it and watched it hang out in the fridge for a day or two before I ate it.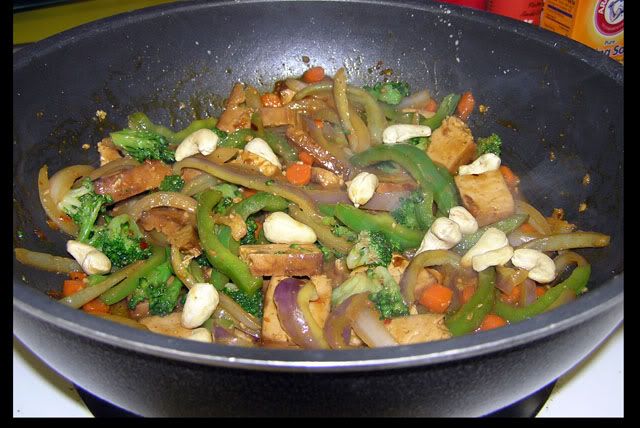 Excuse the steam in the below photo. In the stir-fry was tofu marinated in a bunch of stuff like tamari, rice vinegar, agave nectar, chili sauce, spoonful of peanut butter, etc... Cooked in a mix of toasted sesame oil and olive oil. Along with that was the purple bell pepper, a green bell, broccoli, onion, cashews, ginger, garlic, carrots, gamashio (which I am never using again because after years I just realized it says "may contain peices of crustacean in the dulse". Yuck!!!) I don't know what else is in here, it was almost a week ago by now.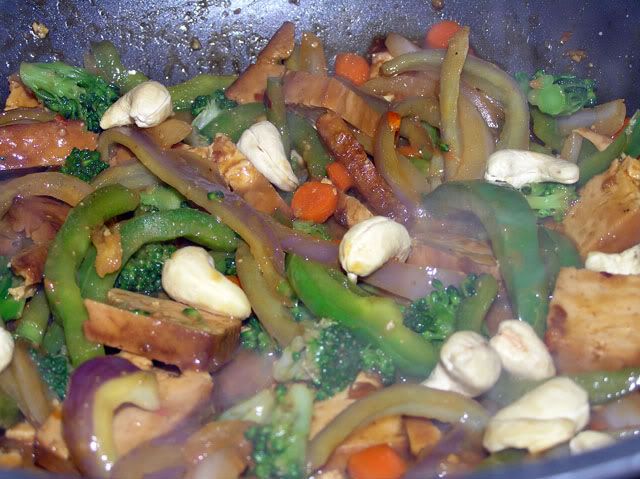 Then I made these bad-boys spur of the moment. I had some of these pre-baked phylo pastries (15 kcal each) in the freezer and pulled out about 5 for a snack for three of us (not Killian, Ray's cousin was here). I had some chocolate pudding (I can post the recipe later. I have it posted somewhere back in Feb. I think) and I decided instead of straight-up, I'd make cups again. Get this... it's the best part! I had some of
Dreena's
Maple Butter Cream leftover from crepes for her upcoming cookbook and I love that stuff. I decided to
stir
it up, see if it was still good, and it was so I put a bit of the maple cream inside the cup, fill it with pudding, and top it with hemp seeds. Yum indeed (and no baking).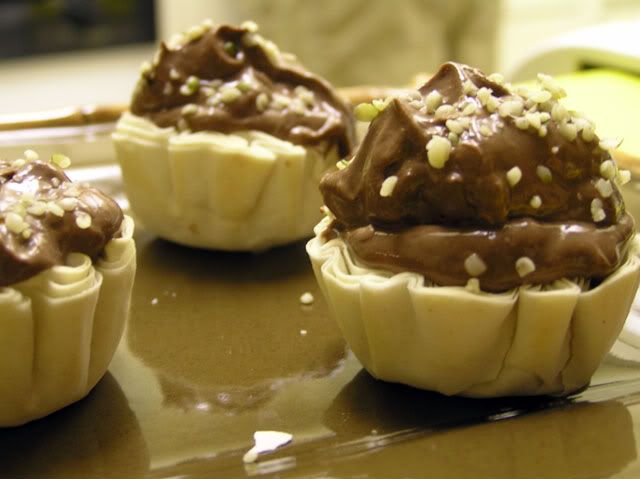 Ultimate Vegan Nog. It's from The Artful Vegan, a fancy-shmancy cookbook that takes about 10 hours to make everything, but some of it is well worth while, or at least worth the while to read and dream about. This drink is pretty much the ultimate, like it says. Nothing like the pre-bought Silk Nog (which I love and not eggy eggnog), but this is homemade goodness and somewhat nog-like, somewhat banana-smoothie like. Very good, but a bit on the tofu-y side. I plan to make it again and modify a bit. I like to try original recipes first then modify to my liking. If you have this cookbook, it's a good quick recipe to try where you just throw the ingredients in a blender and
stir
. I prefer these kind of recipes, as well as lazy-one-pot-meals.
Last up, I made Easy Caramel Sauce from Vive. Talk about easy! This took less than 10 minutes to heat up and
stir
on the stove, including clean up time. I let it cool like the recipe said, warmed it back up again and served it with wonderful cookies n cream ice cream and Ahlaska chocolate syrup. Yum. (that's one of my special ice cream bowls, I am very particular about "special" utensils, eating-ware, my-side-of-the-bed/couch, and many other detailed things)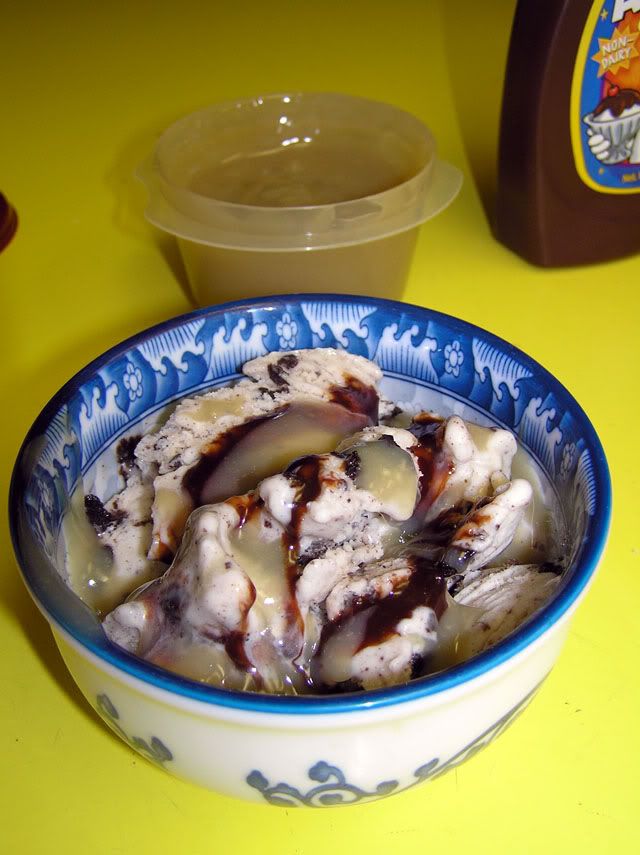 I was in such ice cream la-la-land, that I ate it all up and hung out for a while and then went to bed with it still cooling on the counter. I slept in that morning, even made coffee with it right in front of me, and still never realized until almost 12 hours later that it was left out. Most importantly, I can't believe Killian didn't get to it. He loves creeping up on the counter and "being bad". Not this time.
Due to my extensive food safety and microbial knowledge, I decided to toss it. It's a shame because this easy caramel sauce was awesome, so like how I remember caramel from 7+ years ago, so easy to make, and so light and creamy from the raw sugar. I plan on making this again, but remembering to put it away properly, or just eat it all up right away. I'll go for the first and even try out different recipes with it. I have a few ideas...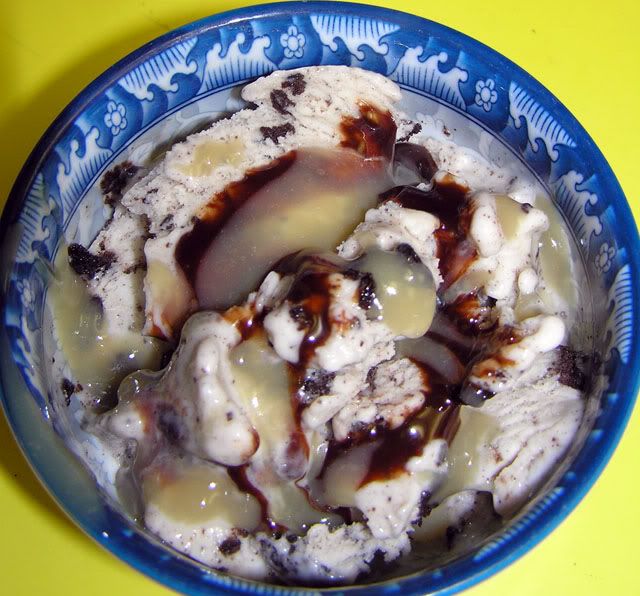 Fin.