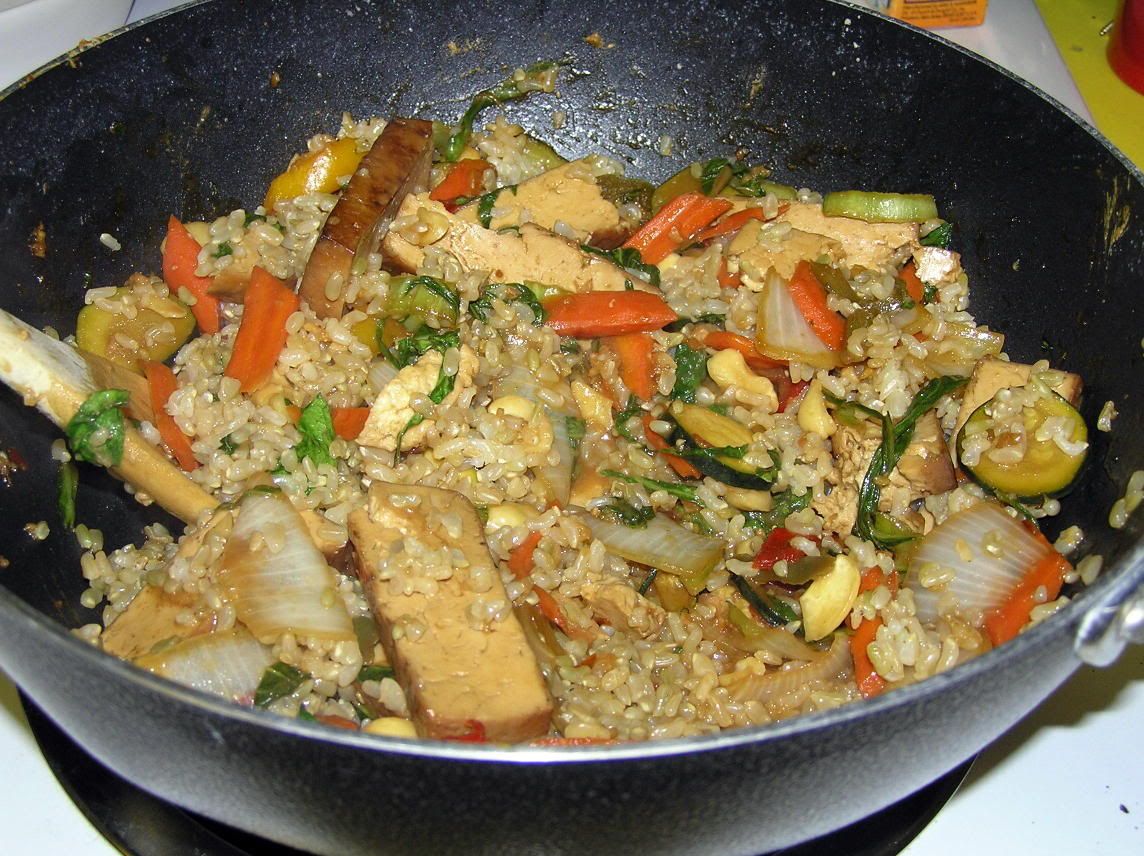 It seems as if us vegan food bloggers have some sort of stir-fry telepathy going on. I have been dreaming of this stir-fry since Thursday, but I didn't want to cook for just me so I waited until Sunday (last night 10:30 pm). What you see above is the stir-fry cookin' up in the wok. I have two wok's and this is my smaller one. I have no idea how I have 2, hmmm...

Les' Special Stir-Fry Ingredients:
*note: I was just sitting around outside in the 90 degree weather + sunshine and decided to make a running list of what would be super-awesome in the stir-fry. There are a lot of things, but it's interesting how I could still specifically taste each and every individual flavor, veggies, spices, etc. I wish I had broccoli, but I used only ingredients that I already had, I was not doing a special trip to the store for 1 or 2 items. Ok, on to the ingredients, and no "recipe" because if you know me, I just like to toss a bunch of stuff in.
*Note #2: I marinated my tofu for the very first time in 7 years of eating tofu. How have I never done this before? Was I too lazy? Do I just think that Jess (Let's Get Sconed) has amazing ideas and Dreena (Vive le Vegan) too and they marinate their tofu so shouldn't I? Well, from now on my minimum marinating time is 2 hours. This was wonderful, so flavorful and bursting with goodness.

Ingredients (for real this time)
Brown rice
pre-baked tofu: marinated in rice vinegar, tamari, hoisin sauce (2.5 hours marination)
baby bok choy (see family below)
carrots
onion
garlic
red, green, yellow bell pepper (pre-cut, frozen, $1.99/big bag, easy year-round)
ginger, freshly grated
Italian squash (I ended up buying this thinking it was the cutest little baby zuchini, woops. It turned out to be good anyway and it was my first time ever even hearing of this veggie.)
handful raw cashews (I love love love these in stir-fry)
gamashio (sea veggies, kelp, etc.)
agave nectar
tamari (more)
olive oil and toasted sesame oil (olive at first, finished with sesame)
spoonful of peanut butter
chili flakes
hoisin sauce (again)
fresh squeezed lemon (to finish)
Yep. I'm awesome.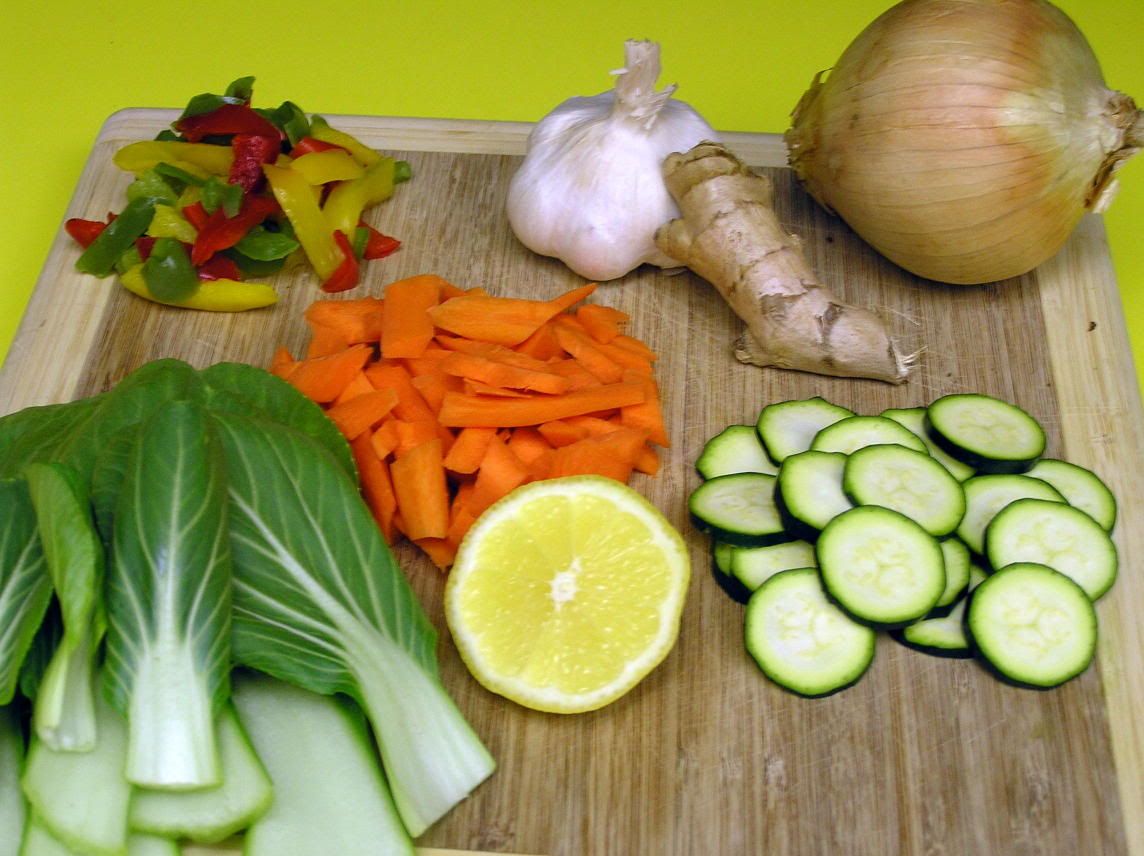 I prepped the above around 7:30pm knowing it would take a while to cut everything. I also knew that Ray wasn't going to be home until after 9pm, so I didn't want to do all of this prepping later and then eat super-later than I already do. I did all of this, placed appropriate veggies in water for a while, others exposed to air, and was happy in the end that I did this earlier.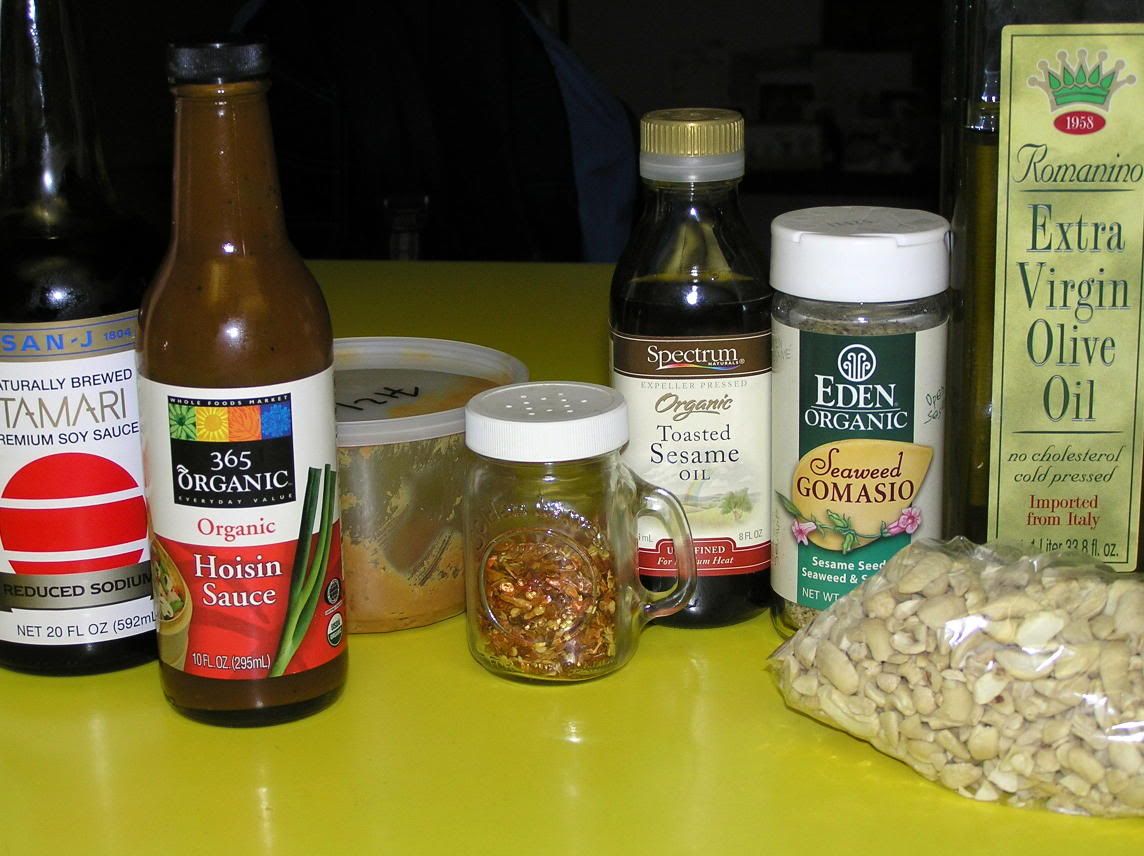 Above is what I took out from the pantry and fridge prior to the wok getting hot. After all, heating on a hot wok only takes a few minutes or so. Also, I of course didn't use all these cashews (I spooned some out).

And below you will see my Baby Bok Choy Family. I really liked that cute little one. It's the size of my thumb. You can see I was not in a hurry to cook this meal!!!

Moving on... I really wanted a mocha pie. I was too lazy to make more coffee for the day. I decided to go with a tofu chocolate, peanut butter, pecan pie with graham cracker crust by Arrowhead Mills (organic and awesome).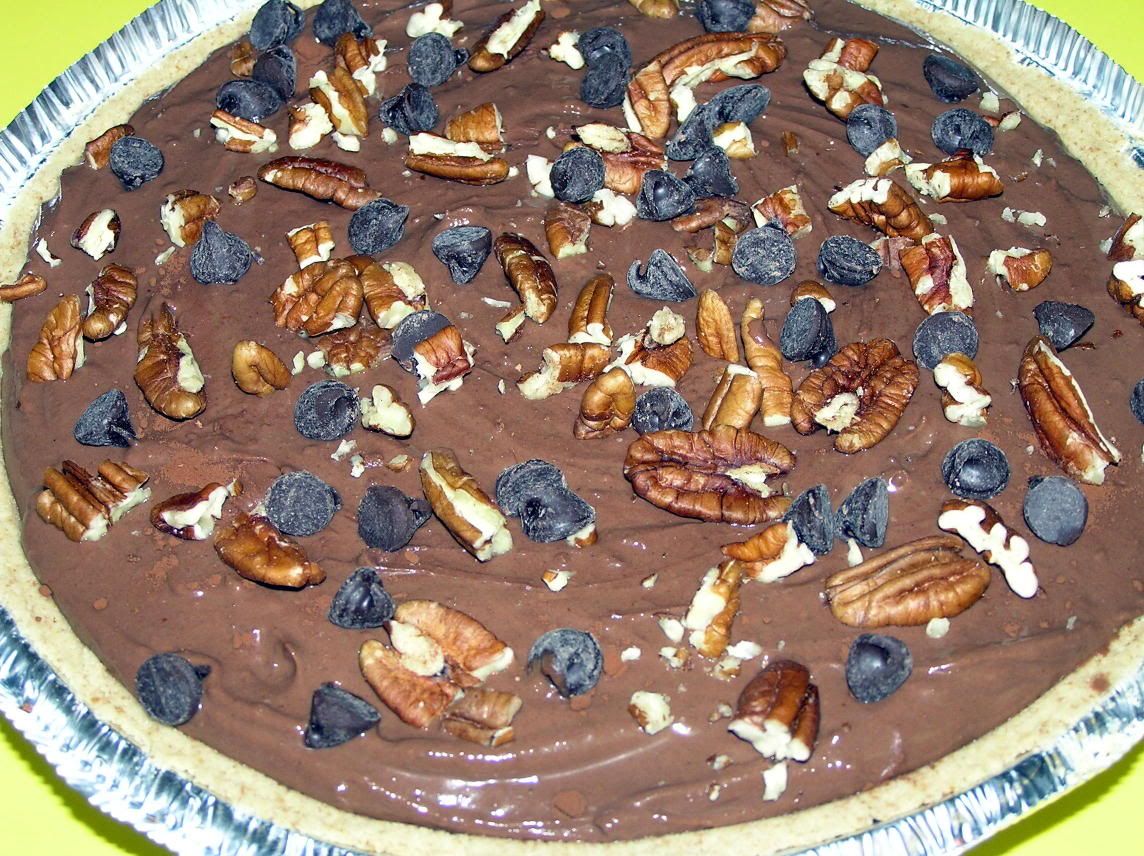 This pie is more like a pudding that didn't firm up into a pie. It's still really tasty though.
Ingredients: silken tofu, chocolate chips, cocoa, peanut butter (just a small bit), agave nectar, maple syrup, vanilla, water, pecans, graham cracker crust. Yum.

And some more weekly treats... I always have these (and I always say this). This time around I placed some in snowman muffin cups so I can give them away to some people and it's handier.

This is my tarragon spice house. It's from a complete spice villiage and the lids come off and you store the appropriate spice in them. My boss received them as a gift, asked me if I wanted the whole set. Guess what?! I was super-good, held back and said NO to introducing more crap into my house. I'm not saying this is crap, I just have little "things" and I don't need a whole spice villiage, especially a cute, impractical one. Instead, I took the only one I really liked, because it's green, and it was the only green one. I do like tarragon, but I wansn't picking based on my favorite spice. That would have to be cumin.


Fin. Whew.