Yep, more special fun-to-make treats! This time instead of dipping fruits I dipped pretzels into chocolate goodness. I decided to include the word "vegan" in the title for people who are searching for these. I did a few searches (just for fun, I knew what I was doing), and can you believe there were eggs in some recipes, so much heavy cream, etc!? These are vegan, "healthy" and certainly rich and tasty. I think that even though these look like they could be so junky, they really aren't. I got a bag of pretzels on a late-night-indulgment-spree at the crappy supermarket next door. There were basically two kinds to choose from: Rold Gold which was out of the question because I don't feel like eating bleach. Next it was these Snyder's of Hanover 12 MultiGrain sticks. Let me tell you what's in them: unbleached wheat flour, water, molasses, malt, soy flour, malter barley flour, oat flour, potato flour, sesame seeds, buckwheat flour, rice flour, millet, salt, flax seed, poppy seed, yeast, sugar, soda. Yes I know there's a lot of ingredients, but there's really no junk, a lot of flours, but good ones. All the rest of the choices had maltodextrin and dextrose and honey and other unidentifiable chemicals and crap that I didn't feel like consuming either.

So, I took these healthy pretzel sticks and set them aside with 3 small bowls, one consisting of broken mint cookies (kinda like oreos), one with crushed almonds and the other with "Let's Do Organic" veggie-colored sprinkles. I made three of each toppings, the rest plain. Next, I took a bowl (the lazy method here) and put some chocolate chips, cocoa, a splash of agave nectar and a splash of soymilk and heated it in the... yes, the microwave! It heated a bit without burning and I stirred the rest to melt. It was ready for dipping time. This part was fun. I know I'm 25 and not 5 years old, but I really do enjoy "playing" in the kitchen, especially when it's something simple like this. I dipped many pretzels (by the way, pretzels are awesome with leftover Maple Butter Cream... yes, I'm sooo bad!) into chocolate and some I sprinkled with toppings. I set them on parchment paper on top of a baking sheet and chilled them overnight. They are now stored in a plastic container in the fridge. And to my suprise, the fridge isn't making the pretzels soggy. When I had them hanging out on the counter the chocolate started to melt. Yes, we have A/C, but I like to keep it around 80-83 degrees F, and that seems to still be too warm for the chocolates. It is at least 20-30 degrees cooler than outside! Anyway, these pretzel sticks were a great and fun-to-make treat.

Now let's get to Midweek Munchies (MwM). As always, this is a 2-week list compiled into one MwM post. The list is from the co-op and WFM. Click on the photo to get a larger view of the list. Not much bulk this time around, I had a good amount on hand.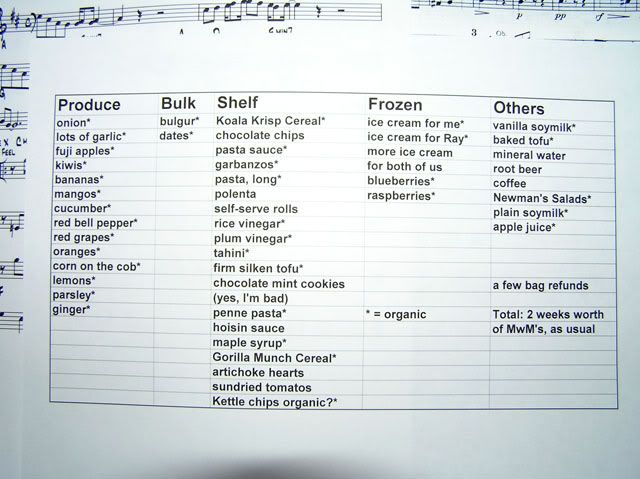 Now take one last look at the pretzels.

Fin.