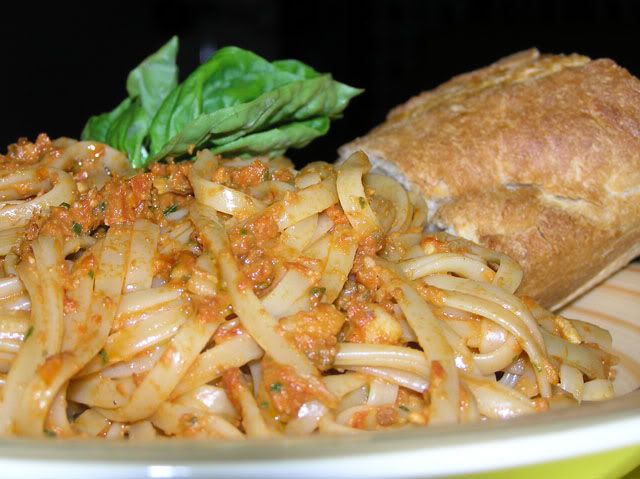 I tested this fantastic Sun-dried tomato pesto with toasted almonds and pine nuts (pasta sauce) for Dreena's upcoming cookbook, Eat, Drink and Be Vegan! and it was a total success. I cannot say too much about the ingredients, but I really enjoyed having a pasta type dish that wasn't based on regular tomatoes or a vinaigrette. I also haven't had pesto in years because I find many prepared pestos are either made with cheese or they are just not appealing to me. But this sun-dried tomato pesto is awesome (especially because Dreena created it) and I am happy to report that there are a ton of leftovers, therefore I will be eating pesto pasta for the next day or two.

Of course it wouldn't be pesto without basil, and I have a lot of fresh basil leftover, so any suggestions (un-pesto suggestions, please) are much appreciated. I appologize to the major "foodies" out there for the lack of details in this post, but be patient and you will soon get all the details from the new cookbook from all the recipes I have tested. I plan on making some interesting meals soon, I just have been a bit unmotivated by the heat to turn on the stove (and we all know the oven is out of the question anyway). This pesto was nice and quick though,(faster than heating up jarred marinara) because I made it all in the VitaMix and just had to boil the noodles. The overall verdict of the pesto was a ten out of ten.

And to Vicki and anyone else waiting in deep suspense: I still haven't touched the polenta. I even re-checked the expiration date, and I still have some more procrastinating time.