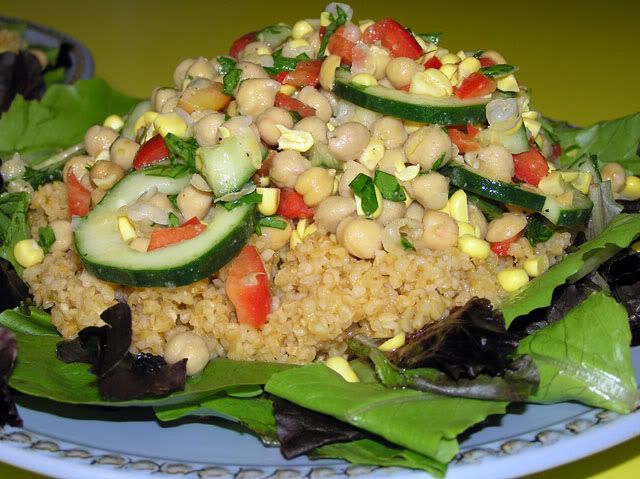 This salad was light and refreshing and took less than an hour to make, which is pretty much record timing for me in the kitchen. I still had one of those pre-washed bags of organic Newman's greens and I layered those on the bottom with my own non-measured version of a cider vinegar and oil dressing. Then I took a few cups of pre-cooked bulgur (I cooked it in a mix of veggie broth and water) and the layered it on top of the greens. Then I chopped up fresh red bell peppers, cucumber, parsley and fresh corn kernels and tossed it with a can (lazy me) of chickpeas. I took all of this goodness and tossed it with a mix of more apple cider vinegar, olive oil, salt and pepper. So simple. I also want to mention that this corn (well, all veggies) were raw. Fresh summer corn is so good raw, especially right off the cob. I'm slowly seeing organic corn coming to the stores.
Verdict: Ray gave it an 8. He prefers a seperate side salad. As for me, I prefer everything piled up and mixed up. I gave this a 6.5 or a 7 because it could have used some pizzaz or some kick or something to excite my tastebuds. I guess a ton of apple cider vinegar and black pepercorns didn't kick it up enough. Still a good, quick, healthy, fresh meal.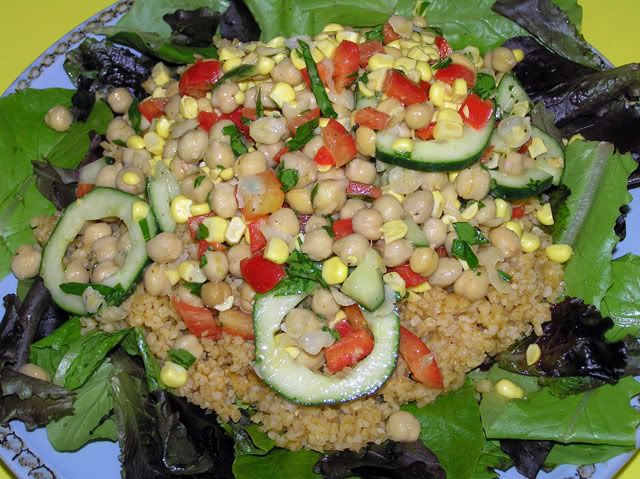 Now I have some questions... I feel like a polenta virgin. I've had it before, but don't really know what to do with it. I do have cornmeal, but for my devirginizing, I decided to go the easy (but costly) route and buy a tube of it already made. I want to fry it up on the stovetop, but I did a bunch of cookbook and online searches and I'm stumpted. Can someone give me ideas what I can do with the polenta, plus I'm thinking of dredging it in garlic and breadcrumbs. Any simple non-oven ideas?

Second question: Ray wants fajitas (I may too, but not with faux steak). And no, we haven't gotten to the faux meats yet... We have those steak strips and I know to just fry them up with veggies and such, but where can I get or how do I make fajita seasoning?

Just a quick post to go with a quick meal.

And just for Kai (and anyone else who wants this recipe)...
Roasted Pepper and Bean Dip
Makes 2.5 cups
1 - 7oz. jar roasted red bell peppers, drained, chopped
1c firm silken tofu (about 6oz)
1.3c cilantro leaves (I used dried and less)
2T. lime or lemon juice
1T. olive oil
1/2t. salt
1/2t. cumin, ground
1 clove garlic, chopped
1- 16oz can cannellini beans, drained, rinsed

Reserve 1/4c peppers for garnish and set aside. Place remaining peppers in a food processor and add all other ingredients and process until smooth. Spoon mixture in a small bowl and stir in the rest of the peppers. Chill for a while and serve.
Nutrition Facts: per tablespoon, 15kcal, 1g protein, 0.5g fat, 2g carb, 59mg sodium, 1g fiber, less than 1g sugar.