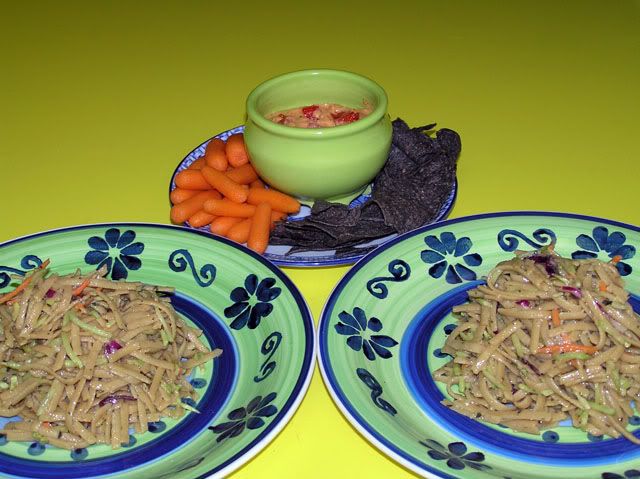 What an eclectic dinner it was tonight. I made whole wheat linguine noodles, cooled 'em off and tossed in broccoli-slaw (broccoli, carrots and cabbage) and some other spices and herbs. No pasta salad is complete to me without vinegar, so I added tamari, olive oil, white vinegar and red wine vinegar. This is where something went wrong. It is still a mystery and I am letting the leftovers chill in the fridge overnight and see if anything better comes of it. There are a few possibilities of what went wrong, for example, I think the garlic was going bad. Another could have been a vinegar overload, but it wasn't really tasting like that. I even added a bit of agave nectar to try to chill it out. I also over-stirred it by a million times. Nothing really worked, but it was edible and between ok and good.

But what we have below here is a different story. Of course, since I followed a recipe it came out fantastic (and yes people... I measured... with real measuring spoons and cups). I made "Roasted Red Pepper and Bean Dip" from Vegetarian Times November/December 2005 issue page 32. I followed the recipe exactly (gasp!) except I subbed dried cilantro since I didn't have fresh and I only had a lemon, no lime for juice. The ingredients are as follows: roasted red bell peppers (jar), firm silken tofu, cilantro, lime, olive oil, salt, cumin, garlic, cannellini beans.

Verdict: Ray said this was amazing and gave it a 10 (which he usually rates everything to a 9, since "nothing's perfect") and while that's true, I've had better dips, but yes, this one is up there. Ray was even eating it before it was on the table and finished off the whole serving at the table. Since I used a can of cannellini beans, a jar of roasted red bells and 1/2 a square of tofu, threw it all in the blender (which is something I am a pro at), and whizzed away, this awesome dip was made in less than 5 minutes, no cooking, no prep-work, and hardly any clean-up. I am glad I have a new dip, especially since most of my dips are really hummus. I can deem this one a true dip. We dipped organic carrots and organic blue corn tortilla chips into it.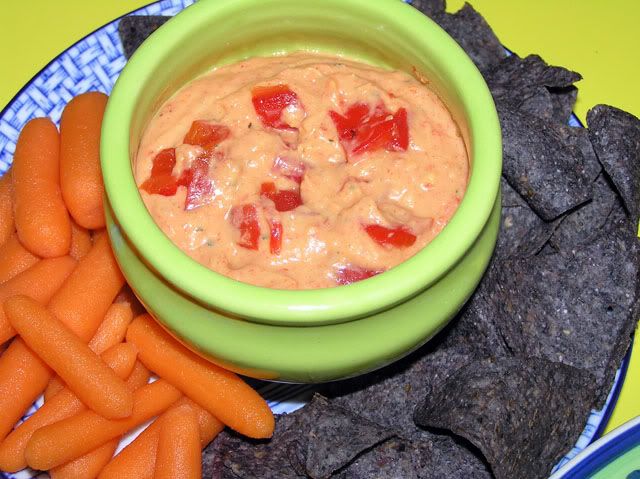 And now... may I present to you all something wonderful. This goodness I am speaking of is Dreena's "Maple Butter Cream" aka "Celestial Cream" and it is showcased on the top right of the mini-dish. I cannot give away details of this recipe, since I am just testing out for her upcoming 3rd cookbook, but I will say this: Maple Butter Cream is a light, yet rich blend of maple syrup and only a few other simple - yet delicious ingredients that all blend together in a matter of minutes. I had some at room temperature right away and it was heavenly right off the spoon! I put it in the fridge for a few hours and ate it with the following all organic items: Nature's Path Kid's Animal Crackers, some crappy cookies that are only good dunked into the buttercream for a few minutes, Soy Delicious scoop of Mint awesomeness (going to make me huge) ice cream! This was a wonderful dessert and I'm glad I didn't eat too much of the borderline-crappy-pasta salad because saving room for this eclectic dessert was the best idea yet. I plan on having more Maple Butter Cream with fruit, as my favorite (surprisingly) out of all of this was the kiwi to eat with it.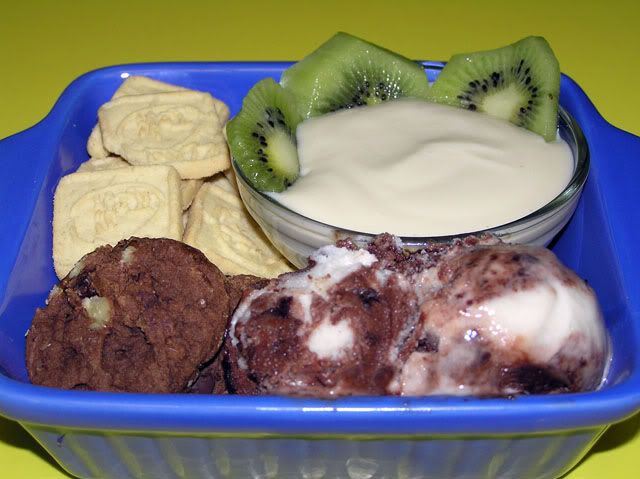 Whew. And well worth it.