I have the privilege of testing some recipes for Catherine and her new cookbook. I had planned on making tabouli for about three days, and it just so happened that she sent me a tabouli recipe to try. The only thing I had to go out and buy for it was the green onion, since it's not something I normally buy at home. I got some local organic green onions. I decided to make hummus to go along with the tabouli as well as some Ezekiel 4:9 pita bread and blue corn chips. Ezekiel pita bread consists of: organic 100% whole wheat flour, water, organic fresh carrots, organic barley flour, organic millet flour, organic lentil flour, organic spelt flour, organic soya flour, fresh yeast and sea salt. The website is www.foodforlife.com.

I normally make hummus by setting up the food processor and dumping chickpeas, tahini, olive oil, garlic, cumin, paprikia, sea salt and lemon juice and mushing it all together. Once in a while I'll add those already roasted peppers from a jar and I decided to do that on Sunday. I guess I had forgotten how long the peppers were already opened in there, and I made the hummus and it looked and smelled bad. I knew it was the peppers so I dumped it (ugh) and decided to actually follow a recipe! I made Dreena's "Creamy Hummus" from Vive le Vegan and it came out wonderful. I love how there's toasted sesame oil and that lingering flavor. Yum.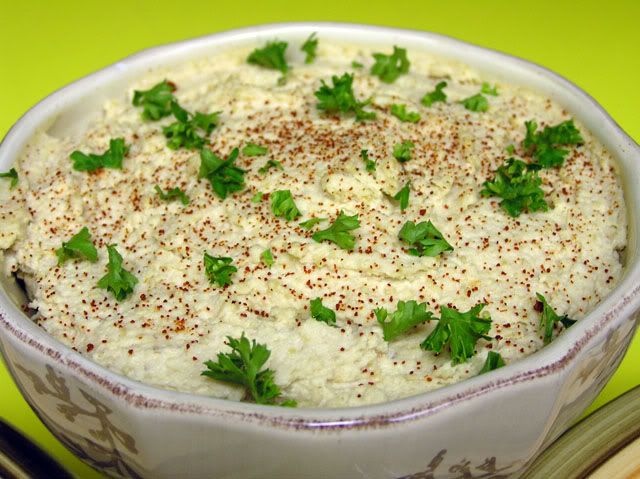 I cannot give out any recipes, but first off all, if you don't have Vive le Vegan, buy it. All great recipes are in there including this fast simple hummus. Catherine's tabouli was rated an A by me and a B by Ray, but he doesn't really like tabouli in the first place. We did end up making mini sandwiches out of the pita, hummus and tabouli and we were both diggin into that! I know I added more lemon juice than she called for but that's because for an unknown reason I was squeezing (and measuring) the lemons right over the actual bowl. Big mistake. Besides it being on the lemon-y side, the tabouli was great especially with yellow vine tomatoes and I did like/eat the green onions. The dinner was an overall success and I know Catherine's first cookbook and Dreena's 3rd cookbook (both coming out in the "near" future) will be a success. I am looking forward to cooking out of both of them! I am also excited for that cupcake cookbook to come out. Maybe that will inspire me to do something about the oven.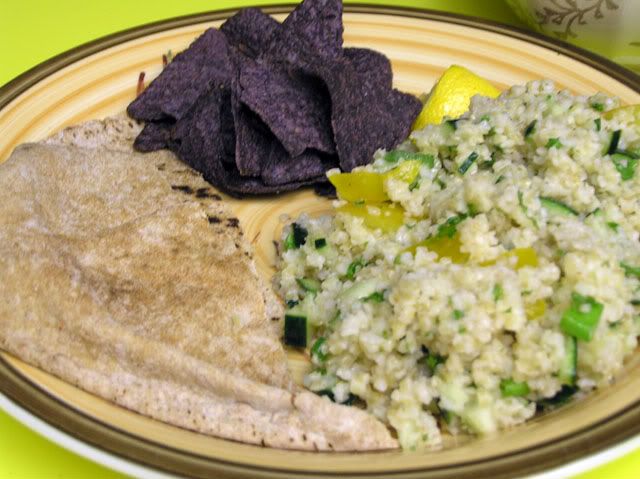 Out of the series of recipes Catherine gave me, a fruit smoothie was included. How convienent that I just so happened to have 2 leftover brownish bananas and popped them in the freezer. I cannot give too much info here (as this is the testing stage), but it was a mostly blueberry-banana-flax smoothie and the most wonderful creamy consistency and nothing needs to be changed. Blueberry was my fruit of choice and usually is. Amazingly, there was no ice cream in here. I wasn't allowed to tamper/substitute in the testing, ha.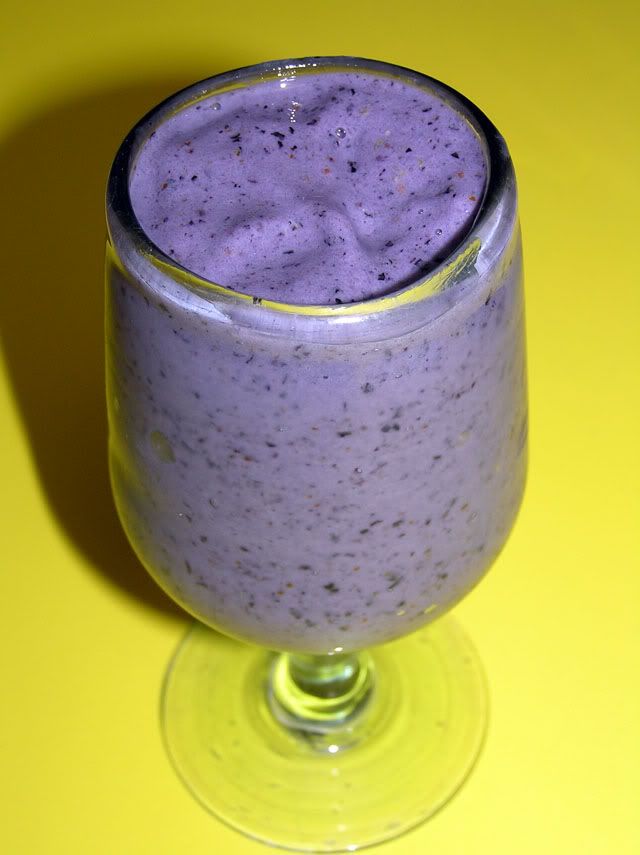 And this was my wonderful treat last night. I started out just having ice cream. Then Ray took out the last of his nasty Hershey's syrup from the fridge that was probably old and gone anyway and finally (for the first time) read the ingredients and decided not to eat it. I couldn't believe my ears! It was so wonderful that he was conscious of the ingredients/crap in there and I offered to whip up a quick chocolate sauce for him (20 seconds or less!). I did the same but less amount of chocolate as the chocolate covered bananas recipe. I poured this mixture over our ice creams and it was wonderful! Harmonia, this is some Hip Whip for you to see. You can go to Hip Whip's Website and take a look at the vegan products. This was a super treat and especially with the whip cream on top. I haven't had whip cream in about 7 years and I recently tried making my own and it was a disaster! This tasted wonderful (Ray agreed) but it was really really sweet. I still ate the whole thing!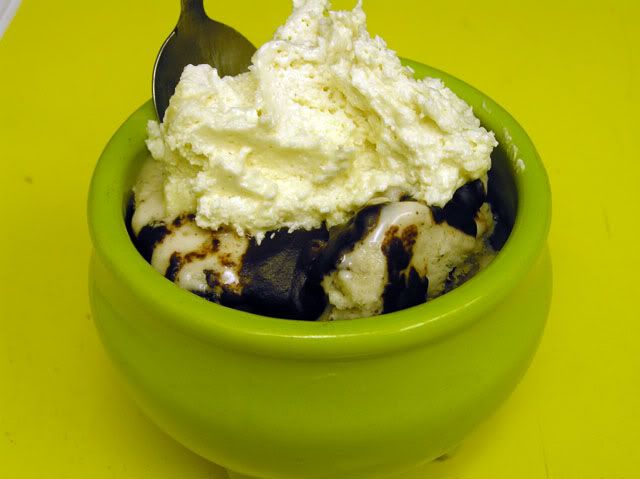 Fin.