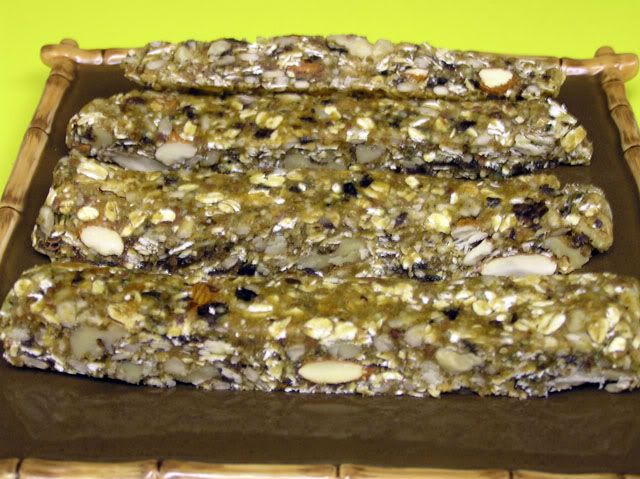 I tested another recipe from Catherine the other day. These are raw Hippie Bars, which consist of dates, agave nectar, rolled oats, sunflower seeds, walnuts, almonds, flax and hemp seeds. That's it! They were super-fast and easy to make, all you need is a bowl and a fork and a fridge (oh, and some Dead playin' in the background). In this case, I had to measure exactly, but from now on I plan on going with what I know best- throwing a bunch of ingredients together and coming up with something great. Thanks for a wonderful recipe Catherine, the rest of the world will soon get to taste how fabulous and lightly sweet these are...


I cut the bars in half to make more, smaller bars. I plan on making some in different varieties soon, apple-cinnamon, cocoa, etc. Even though I think LaraBar has great products, these Hippie Bars put them to shame, especially since they are homemade and taste incredibly fresh - since they are.


Now can someone please tell me what's up with these onions I've got? They seem to have sprouted and I took this photo yesterday, now the sprouts are super-long. Is it still ok to eat these? I only purchased them a few days ago. They are local and organic so I know they won't last rediculously long like conventional foods and processed foods, but this is weird. I need some help in this department please!