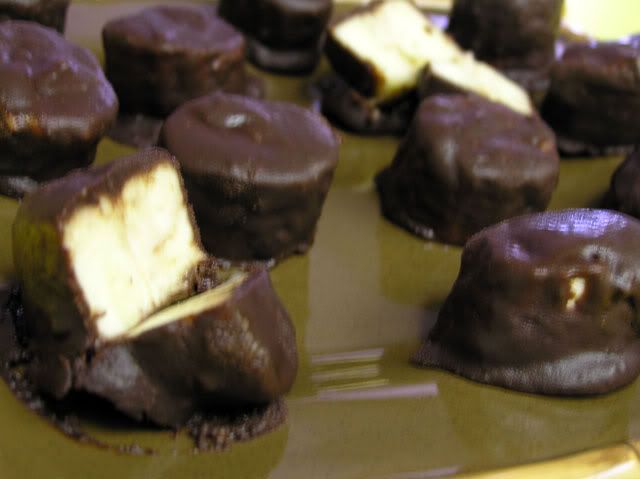 What a simple snack! I am not big on bananas, but I love banana bread and certain other banana-like snacks. Maybe I just like bananas with sweet stuff and chocolate, but I certainly will not just take more than a bite out of one. It was nearing midnight and I decided that the bananas we had (for smoothies, cereal, plain-eating for Ray) were going to get brown soon and since I'm not using the oven, my awesome (and dearly missed) banana bread was not going to happen. I decided that I could easily make chocolate covered bananas, and boy, was I right!

To make this simple snack in a matter of minutes, take 2 bananas and cut them into chunks. Then I grabbed a handful of chocolate chips (which my small hand is equivalent to about 1/3c) and tossed them in a bowl with a splash of agave nectar (eqiv. to about a teaspoon) and a splash of water (equiv. to about 1/4c water) and put it in the microwave for about 15-20 seconds. I took it out right away, stirred and started dipping the chunks of bananas (with a fork) into the chocolate mixture. I placed the covered bananas on a cookie tray with parchment paper and froze it overnight. I did eat one after about an hour of freezing, but it wasn't right. Freeze completely and store in an airtight container. They'll probably be gone before it's time to worry on how long they'll last in the freezer. So simple and quick! Ray suggested I need to start dipping all fruits in chocolate, which seems to be a great idea!
Next is my Midweek Munchies post, which should really be re-titled Weekend Munchies. This list consists of shopping from the last 10 days (2 week munchie-post). As you will see, three stores had me for a visit and we certainly stocked up. I decided to type it all on Word and take a photo of it (is there another better way?) so I didn't have to have you all scrolling for a long time. Just click the photo (or any photo) to enlarge the list. The * means organic, as always.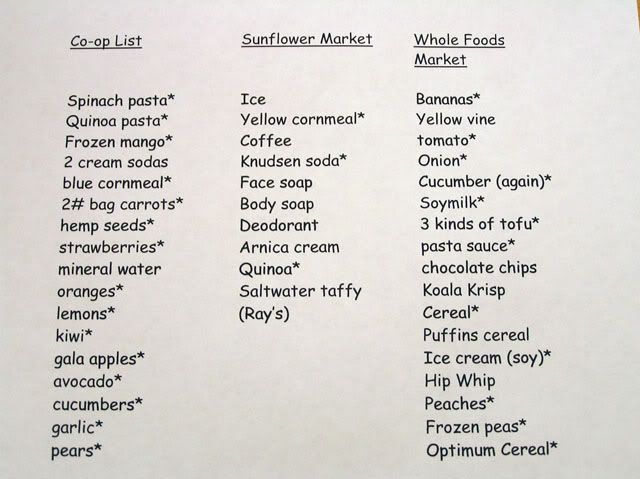 I have a few questions:
As many of you know already, I don't like faux meats. I don't care for an item that is made (even from veggies and grains) to taste like the taste of a dead animal prepared as food. I have no desire to eat animals, nor to taste what one should taste like cooked up with a lot of seasonings. In that case, I have only had a few veggie burgers (don't care for them) and the only thing close to that I will eat is some sort of "patty". It can't be like a burger. As for Ray (who's not vegetarian, born and raised in Kansas, but has more open views and opinions of a healthy diet now), he wants to start eating fake meats. Fine by me. I just won't eat them, but I now will certainly grab some fries or veggies off of his plate because it will be "fake blood" not real blood dripping from the flesh. I am also happily willing to cook/prepare these faux meats, but what's out there?

Anyhow, I would like some ideas as for pre-made faux meat items that taste "good", and brand names and specifics are greatly appreciated. I won't make these too often, as even though these aren't loaded with flesh, cholesterol, saturated fat, carcinogens, etc, there are a lot of chemicals and forms of soy (soy protein isolate for example), high sodium content and other products that aren't too healthy either. In moderation is ok, as is anything. Ray is interested in some bratworst (is that the same as sausage?) and he is also interested in faux bacon, veggie "hot dogs" and seitan. I need help and ideas and suggestions and recommendations on the best items (to you) out there. I see a ton of all of this at the store, but I want to buy good stuff that is backed by personal opinions from many of you. Thanks in advance!