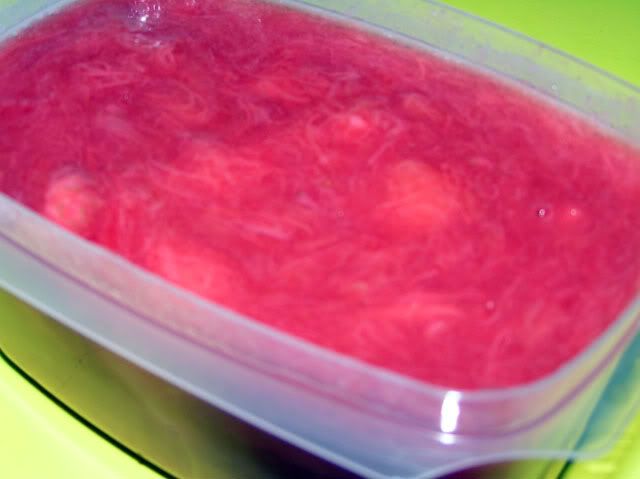 First let's start with the rhubarb that I got for $1.99/lb a few days ago. I was completely stumped at what to do with it, and since I don't use the oven pie was out of the question (and many other ideas, thanks everyone). Someone suggested the rhubarb flummery recipe in the new Vegetarian Times magazine, but I had let my boss borrow it all week before I even looked at it. I do have the recipe back in my hands and I am deeply regretting not making this awesome coconut/oat/rhubarb/strawberry-goodness from the VT mag. Next time I must make it.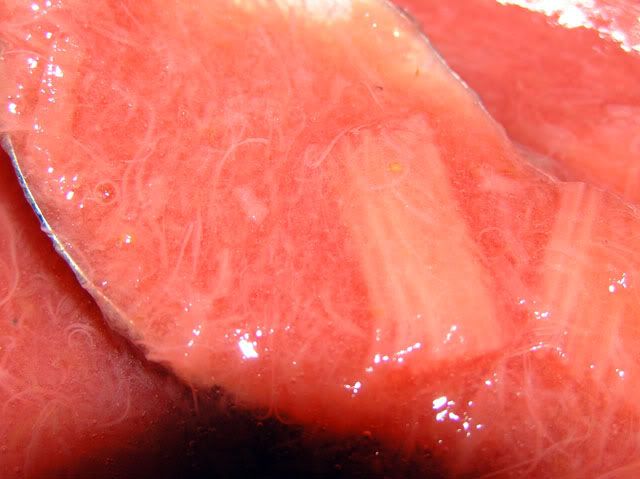 For now, I made a simple sauce. I boiled some water, washed and cut up the rhubarb, added some strawberries, a bit of raw sugar and even more agave nectar to sweeten the tartness.
I was super-creeped-out by the stringiness of the rhubarb while cutting as it resembles celery and I don't care for plain-celery, only mixed with other foods. Then everything started melting together and the stringiness freaked me out even more. I decided to just go with it, and I am sure glad I did, because after I took the mixture off the flame, it cooled and firmed a bit into a nice sauce that I hope to soon eat with pancakes. I am also glad I added the agave nectar because rhubarb is super-tart. I would rate this rhubarb experiment a 4/10. I need some creativity and practice (oh, and the flummery).

How 'bout Late-Week Munchies:Let me pretense this by explaining that I am planning on renting a kitchen and selling my treats (hopefully! and Local people lookout!). I bought about a pound or 1/2 pound of many treat ingredients to do recipe testing, measuring, costing, etc. I also bought items for dinner.

*organic
carrots*
red kale*
onion*garlic*
ginger*
pack of 2 Silk Soymilks ($1 off coupon)
rice puff cereal*
pasta sauce*
unsweetened cocoa
brown rice syrup
tomato paste*
vanilla creme soda (Ray)
walnuts*
raisins*
sunflower seeds*
pecan halves
cashew piece
sraw almonds*
red lentils
rolled oats*
almond butter
shredded coconut
sorbet
seduction bread
tea(s)

I plan on cooking a whole lot more in the upcoming days and weeks. It's officially getting warm (many would say "hot") and I have been craving lots of fruits and of course, ice cream. I can eat ice cream no matter how cold I am though!