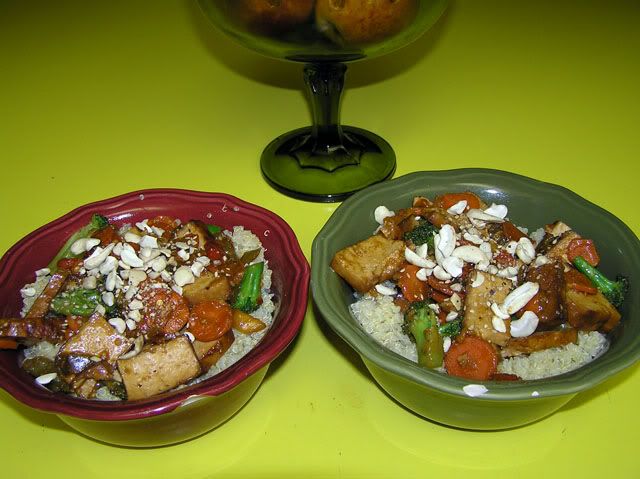 Quinoa is making a big return in this house. I have been tired of eating brown rice, white rice, wild rice (which is niether wild nor rice, thanks Ms. Dixon!). I wasn't feeling like much of an experiment and I am saving another quinoa recipe that's cold for a lunch meal, not dinner. I decided that since my stir-fry's consist of throwing a bunch of on-hand ingredients into a wok, heating it up, and calling it "dinner", I would do the same as I normally do, but with quinoa.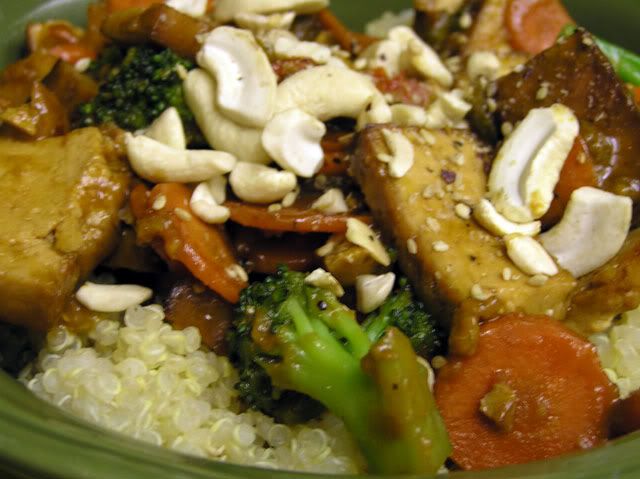 This meal was jam-packed with complete protiens, as quinoa is the only grain with whole complete protiens. This quinoa stir-fry tasted like many others I make, but I had to toss the remaining onion that I had since it went bad. One thing you know about organic produce as that it doesn't last as long as the contaminated "conventional" ones. I'd rather have organic than conventional any day. My quinoa is even organic, as is the tofu, woo hoo!

Leslie's Quinoa Stir-Fry:
quinoa (rinsed, drained and cooked like rice but for only 15 minutes), tofu, carrots, broccoli, red yellow and green bell peppers, fresh ginger, garlic, tamari, hoisin sauce, peanut butter, chili flakes, splash of oilve oil, cashews and gamashio (sea veggies) for appealing toppings.


For those out there who don't know what quinoa is or looks like, well, here's what it look like once it's cooked. It is deceiving like rice as it plumps up quite a bit from when it's dry. With quinoa, you want to use 1 cup of water for every 1/2 cup dry quinoa and you must remember to rinse the bitter saponens off before cooking. Quinoa is a bit nutty plain, and is pretty comprable to rice (usage-wise). And like Dreena, I love those little "tails" on them. That's it, nothing exciting, really just a variation on what I always do. I promise you all good stuff coming up. I was going to make a guac dish or something with avocado (hint hint, Miriam!), but I decided that I'm going to mash the avocado and put it on my face/skin instead for a super-mask-treatment. Plus, I want to freak Ray out!