This is my special version of "Sloppy Lenties" aka "Sloppy Lentils". It is special because quinoa is the secret super-awesome ingredient. This is the standard recipe of Sloppy Lenties but I added about a quarter cup more tomato sauce and increased the amount of garlic and spices used.

I was contemplating all day long whether I was going to cook the quinoa into the regular dish (as it's all a one-pot meal), but I decided that knowing me, something would happen and I would mess up and ruin a lot of food. Instead, I gathered a small pot, boiled some water and added quinoa. It's nice because it only has to cook for 15-20 minutes. But you *must* rinse it well before cooking. I rinse and pick through the lentils well, but I seem to rinse quinoa for longer (or even a small soaking). I made the lenties like I normally would, but when I added the quinoa at the end (see photo above), I realized that it was going to add a lot of bulk to the meal, hence each part having less flavor. That's where I made some flavorful adjustments.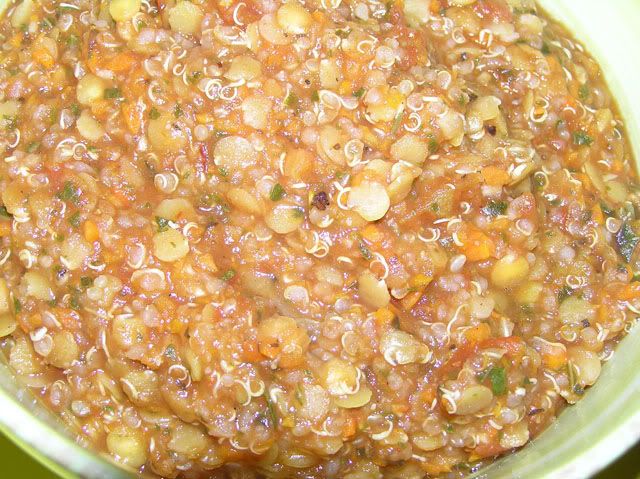 And this was the end result, Sloppy Quinoa/Lentils with even more protein, plus complete proteins which are essential. This meal made me stuffed, especially since I ate it with the infamous Seduction Bread. I think I may just have to add quinoa to Sloppy Lentils each time for added flavor, texture and nutrition, but I will add less to the lentil dish than a whole cooked cup of it. I think this is making me want to branch out and try Sloppy Lentils with some other grains, even as simple as rice (which I've been thinkin' about since the bread-bowl post). Better yet, I should probably remember what lentils taste like with other spices and sauces!

Any ideas for rhubarb, people? I have a few stalks ($1.99 per pound) and I don't want to make a pie. That's the only idea I know of and I don't really feel like picking out a random recipe and risking it. I'd like one that's been tried and tested before and then confidently passed on to me.