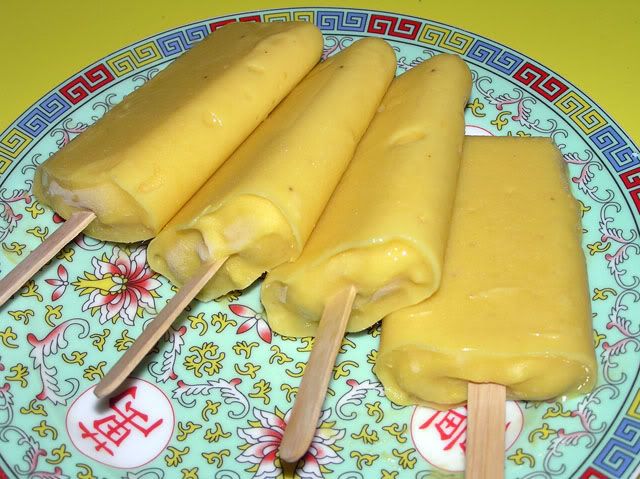 I am so happy that mangos (also spelled correctly mangoes) are in season right now. I was excited to see that the Sunflower Market had them organic for 88 cents each. For days, I was imagining biting into a juicy mango and having no cares in the world! Then the day came and the Sunflower Market had some sort of mango-shipment-problem and I was told to come back at a later time. I went the following day and they were still out. I was planning on checking out Henry's market anyway, which is owned by Wild Oats, and it turned out they had organic mangos for 79 cents each! Way better. So, I bought 4 and two of them quickly went into my belly straight-up, into smoothies, frozen, and into this wondeful Mango Ice Cream from The Everyday Vegan. This recipe is super-simple and easy and only calls for a few ingredients. The fruits are mostly mango with a bit of frozen banana, agave nectar and a few other secrets.

After I froze the ice cream (and of course, sampled some) I decided to utilize the containers that make popcicles and put some of the mango ice cream into the molds with my own sticks. What a great idea! Now I had 4 pops and still some ice cream for scooping leftover. Thanks Dreena!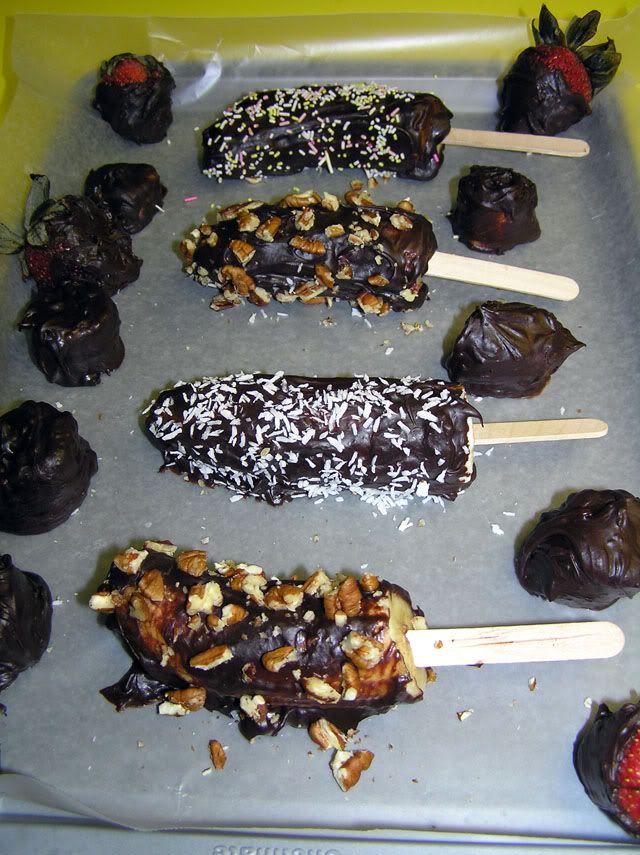 Since I was on a "fruit-on-a-stick" kick, I decided to take some fresh bananas and cut them in half and dip them into goodness. I made the same chocolate mixture as I have in previous posts, and topped it with the following: First, we have one banana dipped in chocolate and rolled in "Let's Do Organics" colored sprinkles, colored with spinach, beet and turmeric instead of crap. Then I dipped 2 bananas in chopped raw pecans and one of them in shredded coconut. How wonderful.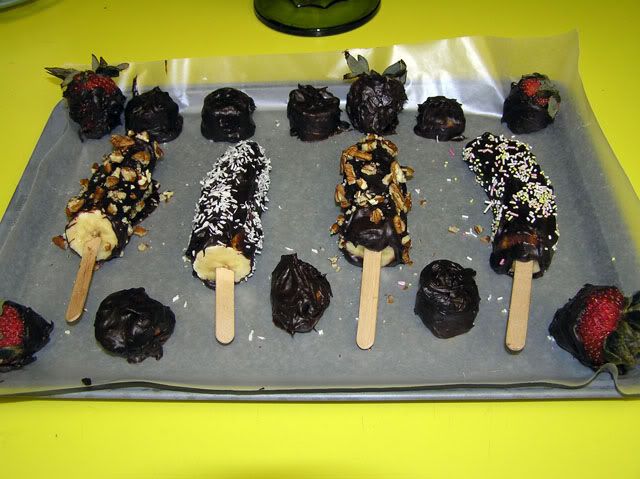 I decided to cut up a few chunks of banana as well as take out the organic frozen strawberries (in a fresh container) and dip those in the leftover chocolate. I still had some leftover chocolate and my friend Bob was sitting across the counter from me while I was dipping and he decided the bag of pecans and bowl of leftover chocolate sounded good (and it did) and he pretty much finished the rest of it by then.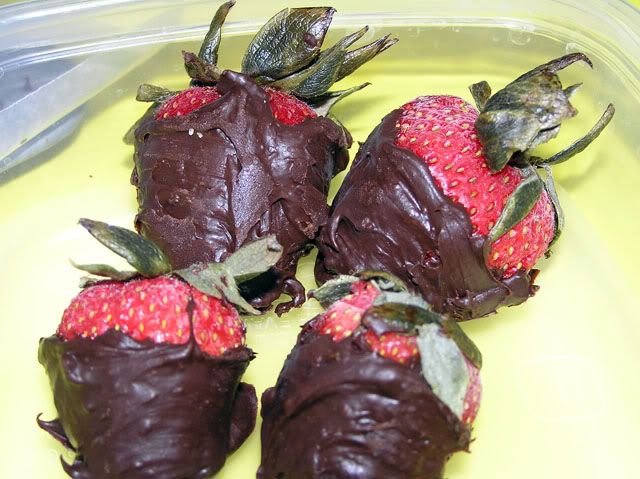 This is a close up of 4/6 strawberries I dipped. Guess where the other 2 are?!

And what you see above is my own take on Catherine's Hippie Bars. Yes, the first test-batch is gone. Come on, the recipe was for a "Party of One" and there are 2 of us (plus occasional guests) here. This time I didn't follow her recipe, or any recipe by that matter. I took about 20 dates, some agave nectar, walnuts, oats, cinnamon, cashews, sunflower seeds and mixed it all together. You can see I started to cut into bars, but wanted to show the whole slab at once.

And here's some sun tea I spontaniously made today. It's a bit cooler (yeah, 97 degrees still) and at around 3pm I decided to brew up some cranberry apple tea with mulling spices (alspice, cinnamon, clove, nutmeg, etc.). It only needed to be out there for about an hour (laugh) because the sun was at it's peak, I think. I almost regretted making this so late in the day but then I remembered where I live. I took it down from the infamous "AZ brick wall", and it was hot to the touch. I took out the bags and now it's chillin' in the fridge. I know it tastes good, as it smells good and I should really do this more often...

Fin.