It was time to make some more quinoa so I can finish off my container and refresh the jar with more organic goodness. Maybe because it's been 104 degrees (and will be +), I've been wanting cold salads, but not necessarily leafy green salads. The pasta salad the other day was a success, as well as a great leftovers.

Sadly, it's been a bit too long since I have cooked anything from Dreena's "Vive le Vegan" cookbook, one of my fav's, and I decided that the quinoa spring salad was way worth a try! Vicki (Vegetarian Family), has a wonderful post dedicated to this salad and it has been calling my name since April. Of course, I didn't have all ingredients on hand. At the store I asked Ray, "would you rather have no bell peppers or conventional bells?". He responded while I nodded in agreement that we should just skip the bells. Plus, I have some frozen, which isn't good with this meal, but I was not about to spend $6.99/lb on organic red bell peppers. Instead, I chopped up the huge-ass bag of carrots I have, half of a large cucumber, pistashios, and peas. I added some basil and cilantro as well as Dreena's (same book) "Simple Cider Vinegarette" which was great. The ingredients were simple and I can use some simplicity in my life (at least in the food department). I did add the lemon juice on top of everything, which was a must!

The tofu was marinated for about 2 hours in a mixture of too much tamari sauce, agave nectar, brown rice vinegar and hoisin sauce. The tofu was really easy to make as I just heated it super quick at the end of everything else. I must say that even though the tofu had one flavor (from one end of the spectrum) and the cold quinoa salad had a light other flavor, it was interesting and pleasantly tasteful to eat!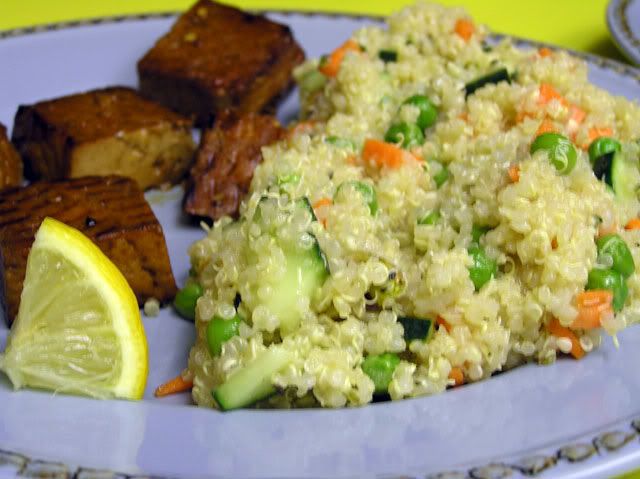 But what would I do without something sweet? I would say "unhealthy", but that's NOT the case! This pudding/mousse is made from a random mixture (if you are new here, I don't measure much, I am a better cook when it comes to tossing and throwing ingredients together). The ingredients are as follows (and not limited to)... soft silken tofu, cocoa, hot water, vanilla, maple syrup and agave nectar. Just a splash of the sweeteners, not much is needed. I love pudding/mousse with fruit (see some other posts, I have mini phyllo mixed-fruit pudding pies, and the photos are wonderful!).
To the Midweek Munchies group: I'll either have a late-week munchies post again or combine this week with next week.
I did eat a bit more soy than I would normally desire today. I had (an unusual circumstance) bowl of cereal... yes... for breakfast... this morning. I love the Koala Crispies (cocoa crispies) and something that was like corn puffs but super-healthy. Oh, and Optimum Powerbreakfast and hemp seeds mixed in, as always. So, a splash of milk in my coffee does that count?; cereal with milk; ice cream with blueberries- somewhere thrown in the middle of the day is that lunch?; tofu (firm bricks and silken pudding) and finally, tamari sauce... I'd say that's enough soy for today. And tomorrow.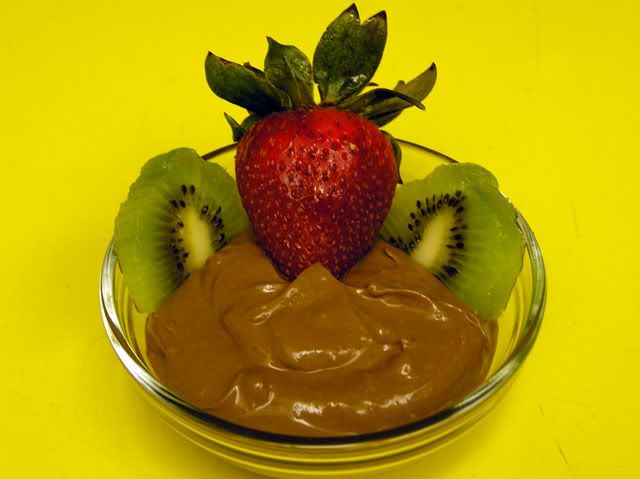 Fin.