It is exactly midnight on Sunday (well, technically it's Monday) and I am stuffed from dinner. Yeah yeah, I know it's late but I decided this morning that I was going to go to the store at 9pm to give myself an hour before they close. We live super-close so it's no problem and I knew I was having one of two things that was fast. This dinner ended up being done around 11:15-11:30pm and I am trying to stay up for a while before sleeping for what is now going to be five hours.

The wonderful spread you see here is my version of "Sloppy Lennies" by Jennifer Shmoo (Lunchbox blog) and she adapted her version to make it for a kid based on another recipe. In that case, I am following a recipe from Jennifer's-mother's-uncle's-brother's-girfriend's-third cousin, or something like that.

My recipe includes (but is not limited to) the following. I served this with sourdough bread. WFM was out of my usual Seduction Bread (sorry Jess [of Get Sconed], I'm trying to get the ingredients for you). I will post the ingredients for the sloppy lentils as well as the bread.

This meal was amazing.
Let me describe the photo below first. Jennifer-Shmoo has a 7-year-old boy. He refuses to eat anything green. I love my greens, but there are veggies that I would rather not eat. That is, unless, they are secretly pureed. In my case, I do all the cooking so I know what I am hiding from myself, but it doesn't matter. I like onion flavor but not the texture, so I have no problem "hiding" onion that is chopped super-small in some foods. I wasn't hiding anything but the onion today, but I decided to mince up a few other things while I was at the onion in my super-cute 1.5 cup mini food processor (best thing, Kohls, $15). I minced up onion, carrots, garlic and fresh kale. Yum.


Ingredients:
Sloppy Lentils
-red lentils (rinsed, sorted through, no need to pre-soak)
-part of a white onion
-big handful of kale
-1 large carrot
-2 cloves garlic
-H20
-tomato sauce
-tamari
-basil, dried
-salt and pepper, to taste

I threw all this in a large pot, let it boil, covered it, lowered the heat, and simmered for about 30 minutes. Served immediately with bread. I don't know why this photo below is darker. It's not doing justice here! Refer to other photos if you are going to make an aesthetic decision to make this or not.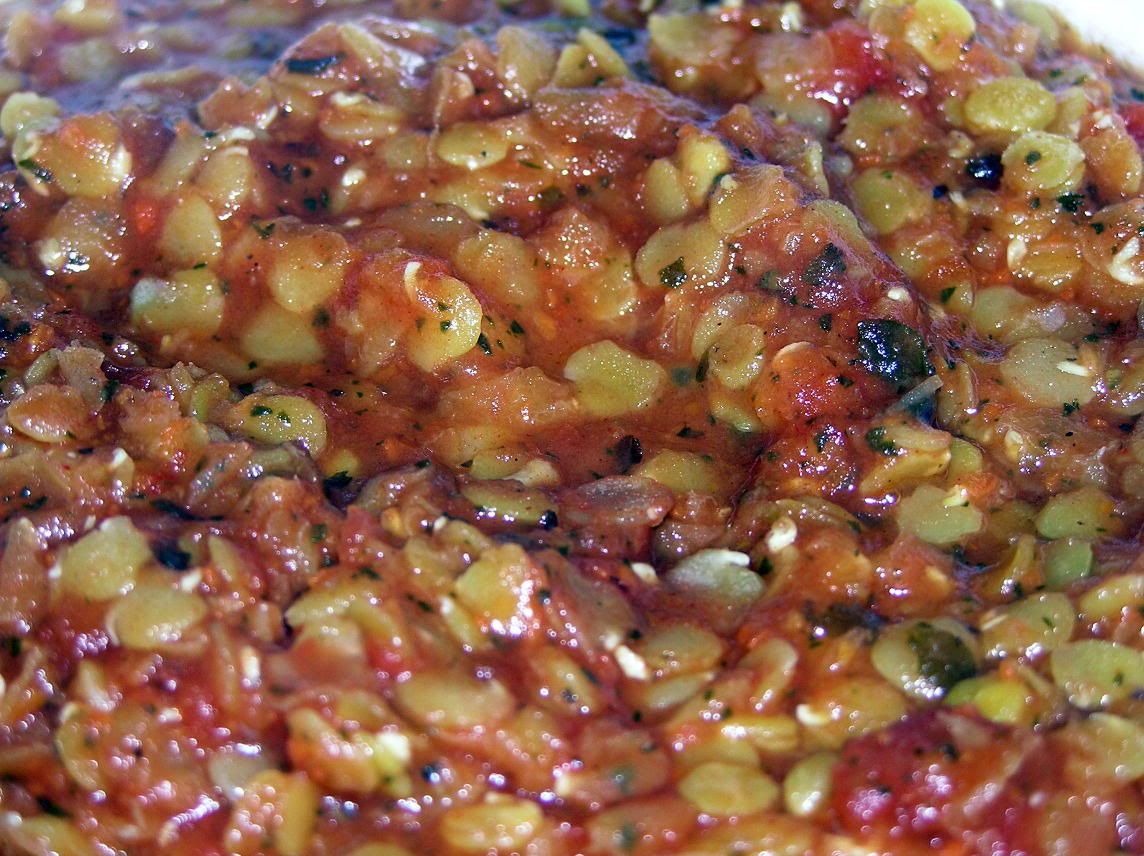 Ingredients for the bread.
Organic Rustic Sourdough Boule Bread from WFM
water, organic wheat flour, malted barley flour, organic sprouted wheat berries, organic wheat bran, organic six grain (wheat, barley, corn, millet, rye, triticale), organic cornmeal and sea salt.
Cheaper than Seduction bread, not as many goodies inside, and a bit "tough", but still managed to be wonderful!

Overall, this meal was awesome. This was really flavorful, warming, full of nutrients, smelled really good while cooking, and half-way through eating it I realized there's no fat. I am going to make this again soon, and it was quick, easy and hardly a clean-up at all.


Fin.