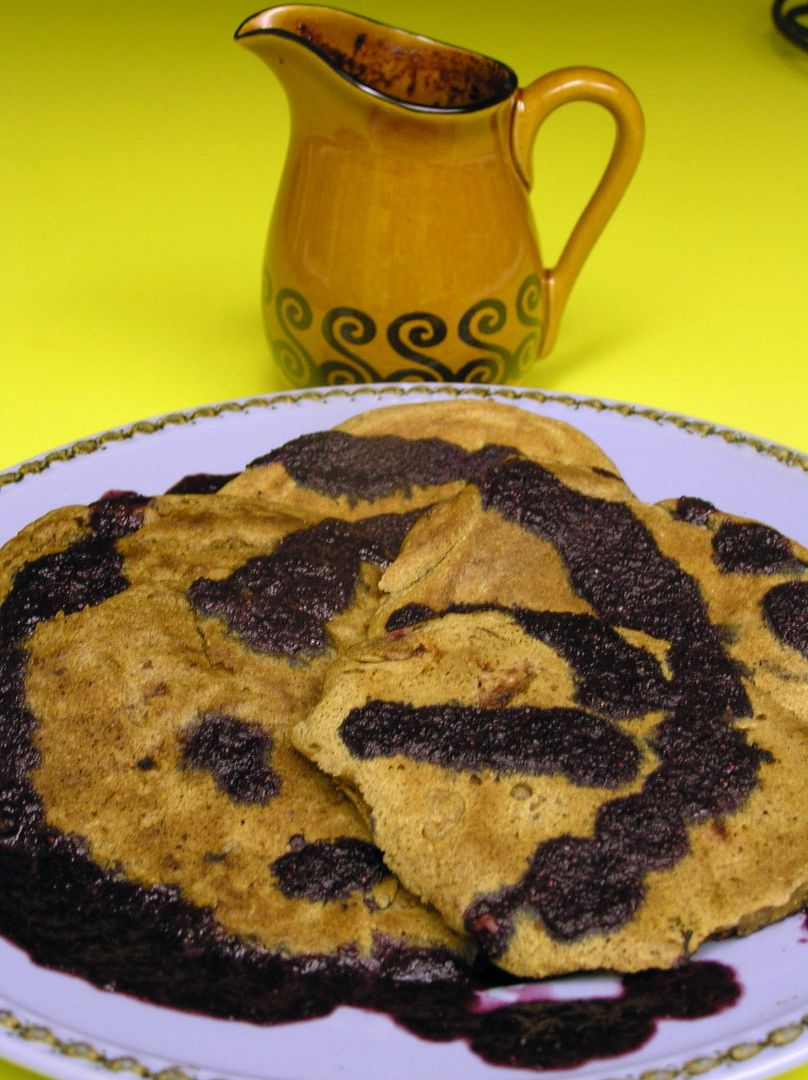 Last night I was going to make a soba noodle/veggie recipe from "Veggie Life" magazine but at the last minute I realized I was out of edamame (frozen). I was in my pj's most of the night and didn't feel like running to the store just for edamame. And I wasn't about to make this meal without it.

My tastebuds quickly changed and I wanted pancakes. Then I realized I was out of bananas (going to the store later today for the weekly trip). I have never dreamed of making pancakes without bananas but I searched and searched for recipes and had no idea which was going to be best. I also didn't have certain ingredients that were called for. In that case, I pretty much made up my recipe based on about 20 google-searches and searches through my own books/mags at home. Of course, my standard syrup is Dreena's (Vive le Vegan) Blueberry Maple syrup and I have made it so it's 75% blueberries, 25% syrup. Yum.

*Note: tahini server turned syrup server.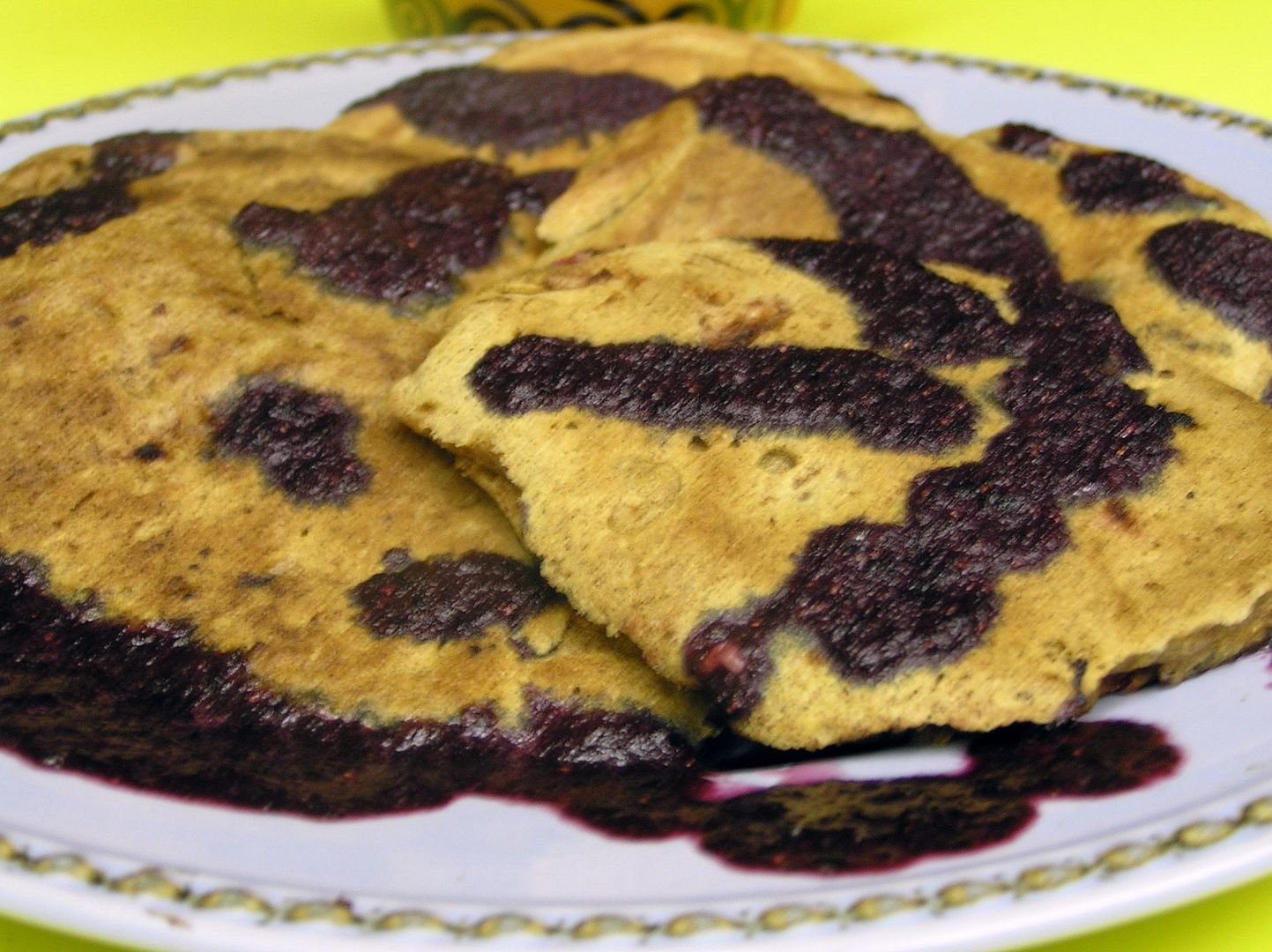 This is my recipe for these chocolate-strawberry pancakes with blueberry maple syrup.

2 cups whole wheat flour (sifted)
1 t. baking soda
1 t. baking powder
2 cups soymilk
2 T. oil (or apple sauce but good oils are ok)
1 t. cinnamon, ground
1/2 t. nutmeg, ground
pinch of sea salt
1 T. flax seed, ground
1 handfull chopped strawberries (I use frozen, it doesn't matter fresh/frozen)
1 handfull barley sweetened chocolate chips (I have fairly small hands, although I probably ate the equivalent of a handfull while preparing all of this!)

Method: Sift flour, baking soda, baking powder, flax seed, cinnamon and nutmeg all together in a large bowl. Add the milk and oil, stir in, but don't overstir. Add fruit and other good stuff. Stir. Pour spoonfuls onto a lightly oiled or nonstick pan and heat both sides until desired brownness. Enjoy. I highly recommend serving all pancakes and breakfast foods with Blueberry Maple Syrup from Vive le Vegan.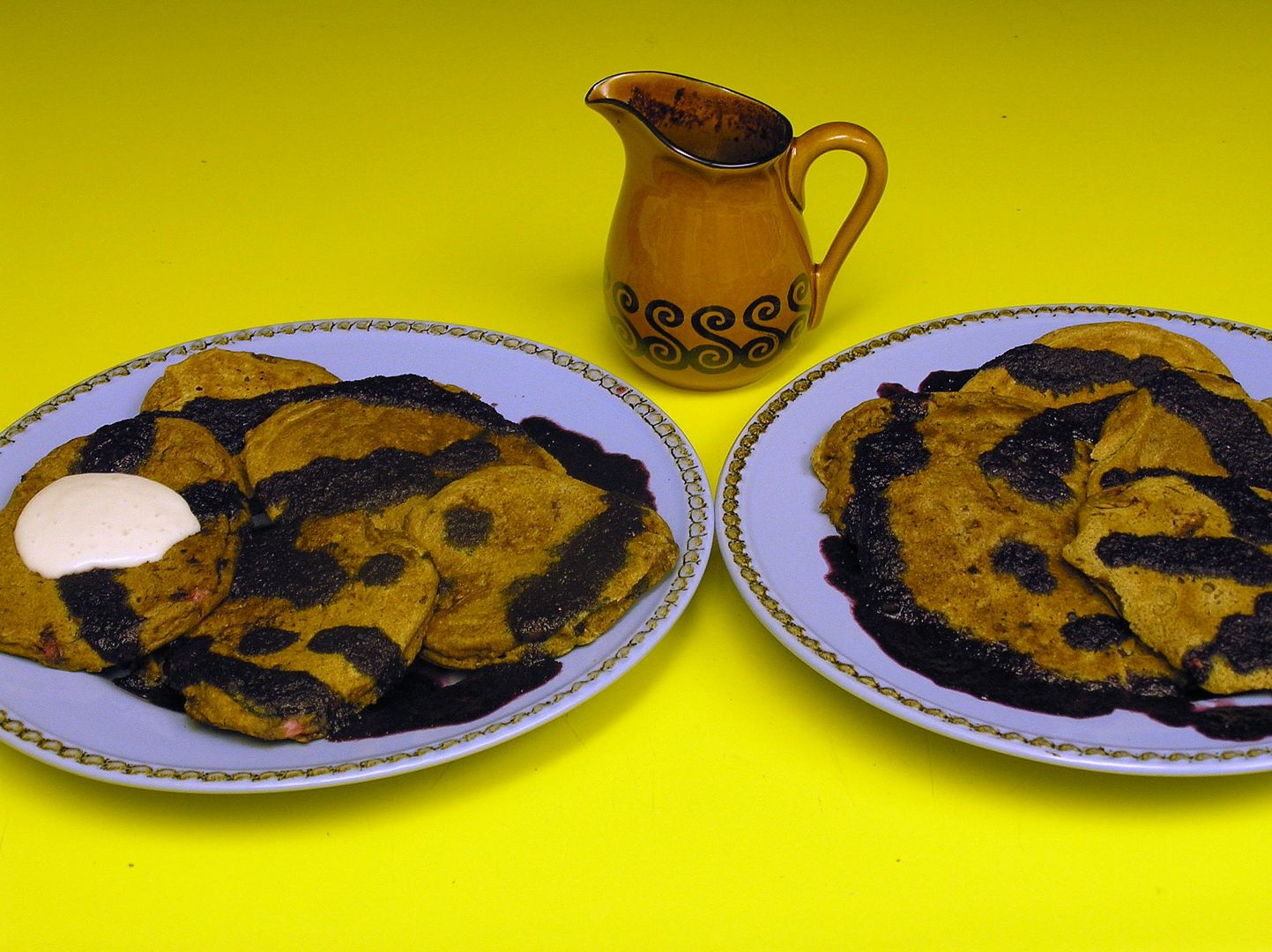 What you see above here is my weird-ass plate on the left. You see, I attempted to make whip cream but it didn't turn out (obviously. If it's not obvious, click the photo to zoom in and you'll see). I see tofu whip cream recipes everywhere but have never tried. I can't remember the last time I ate whipped cream. Anyway, I got this recipe from "How it All Vegan" by Sarah Kramer. I also recommend all of her books (even though this recipe didn't turn out for me). I cannot post the exact recipe, but I do have ingredients.

I beg of everyone... if you have a fabulous recipe for vegan whip cream, please comment and let me know. I would like to hear ideas, variations, etc. By the way, it's now the next day and I had to wait over an hour for the mixture to chill in the fridge before serving and it was still runny, let alone serving it onto hot pancakes. I will have to do a test for it today but I don't feel like eating whip cream right now (too early), especially if it still sucks. These were the ingredients used.
tofu, silken
vanilla
cornstarch
agave nectar (sugar was listed in the book, I modified)


MOVING ON... well, really, moving a few days backwards...
The other night it was late and I was not about to cook, let alone spend more than 30 seconds in the kitchen. I had an idea when I made treats that were too dry, to save them in a bag (in the fridge) and add milk to it to make cereal. Wonderful idea. Ray reminded me of that idea the night I didn't feel like anything... just add milk. YES!!!

You can look up the recipe for the treats somewhere below. I make these all the time, never exactly the same, but pretty much all the same concept. This was wonderful and super-nutritious.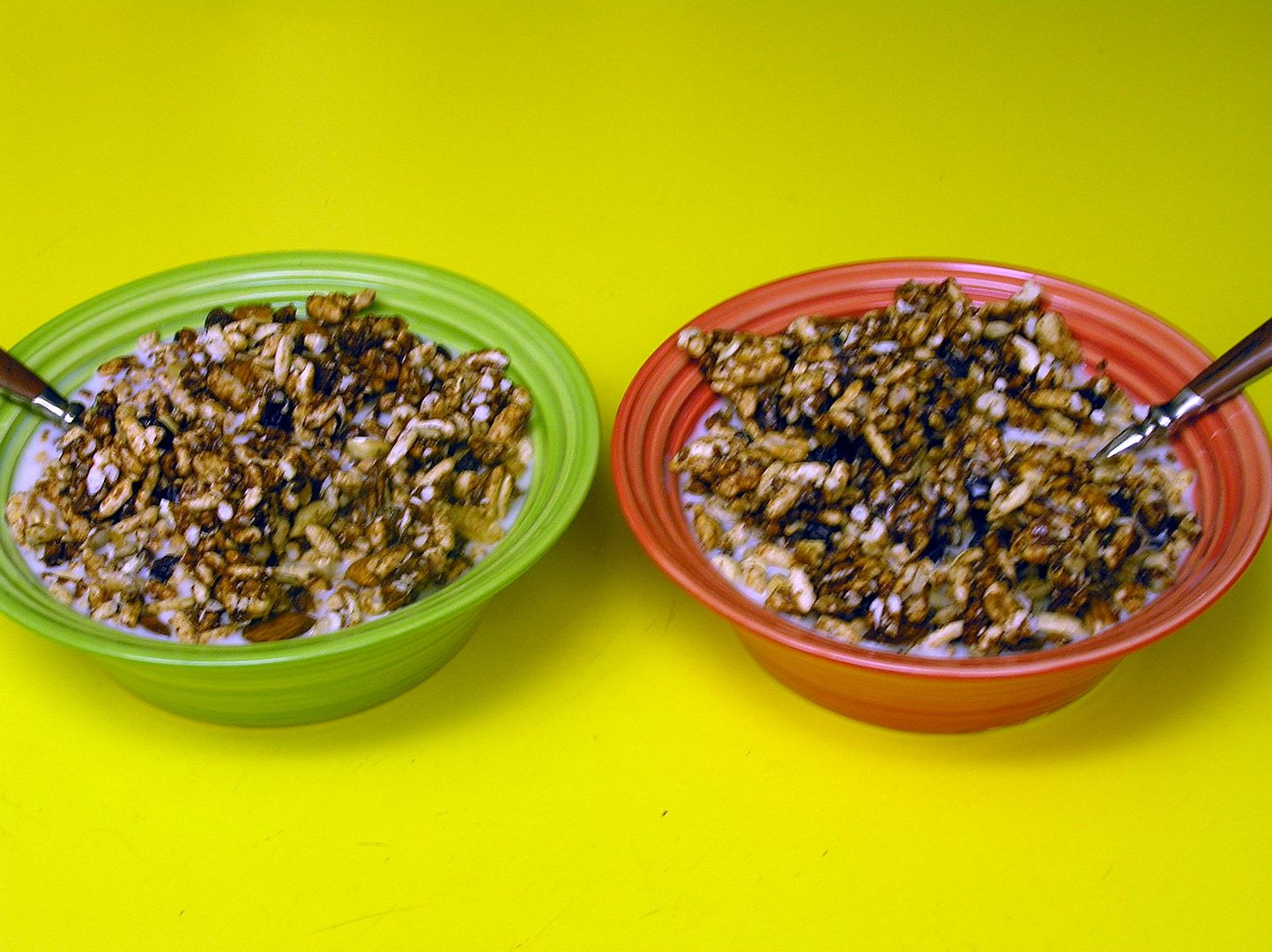 Does this make you want some?!?!?


Fin.