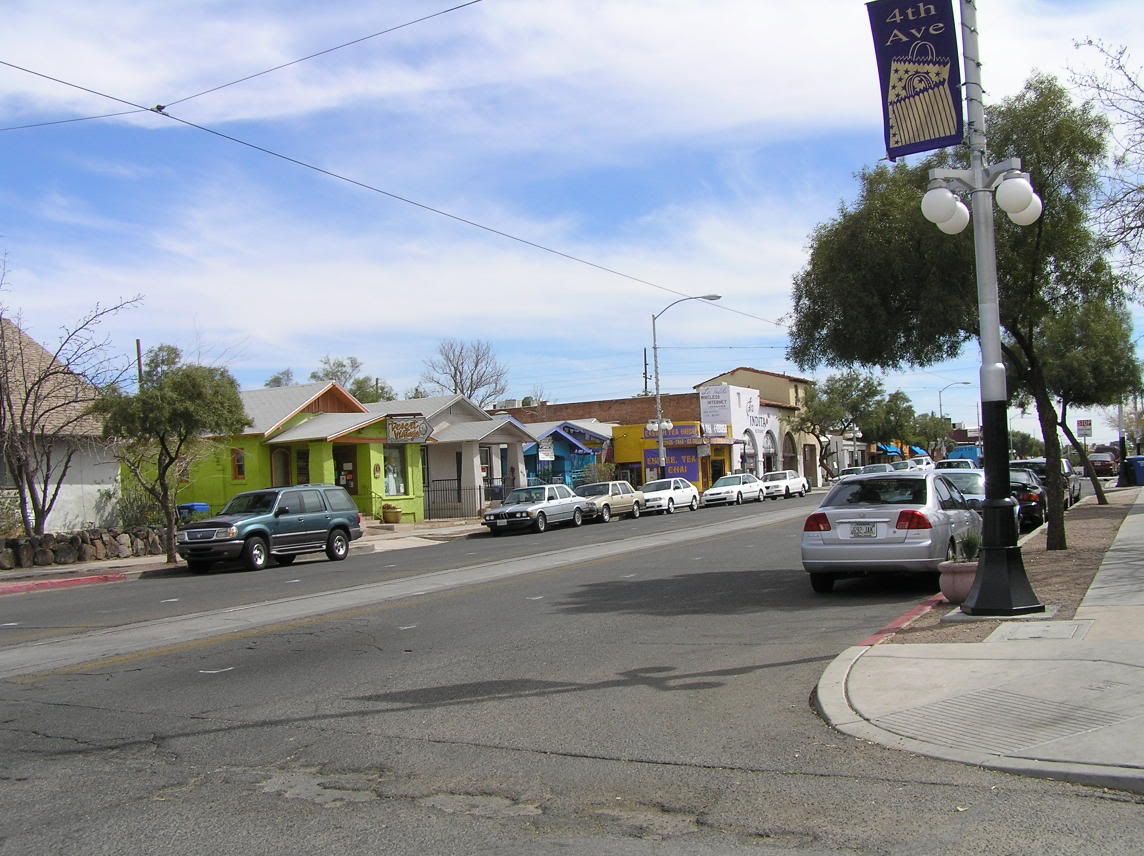 I decided to take my own personal spring break... from pretty much everything, including my non-challenging job (which is my choice for now, but there are good/resourceful things about it), the internet, which includes blogging and checking everyone else in the world's blogs. I have also taken a break from cooking (except see below, and I plan on Sloppy Lenties tonight, yes people, again).

Even though I technically am not entitled to a spring break by any means, I have decided that it is good for myself (and everyone) to take a break from whatever-it-may-be and do what you feel like, do nothing, or get a lot of stuff done. I did a bit of each, as well as spending some quality time with Ray, who is usually super-busy. I took a few days off from work. We spring-cleaned the house and it has never looked so good. I am so relieved to have it done, especially putting things in places where they should go instead of crap just everywhere. Anyway, that really made the week nice too. We planned to go to Tucson for the day since it's only just over an hour away driving. It was a few days after the rain/snow so the drive was clear and the snow on the mountaintops was beautiful. Tucson is a good get-away and more real-life, less blonde hair, tube-top, fake boobs - type of town compared to here in Tempe. I enjoyed the day, as did Ray and we walked around U of A's campus. It's so much more of a real campus compared to ASU (which is like modernized office buildings turned sorority style, whatever that means). Anyway, Tucson was nice and thanks to some special readers, I was helped out and shown the way towards some awesome treats and food I didn't yet know about. I do know that there's a good amount of veg restaurants in Tucson, but I've really only been to the Casbah Tea house, which I'm sort of upset I didn't go this week. The chai is special there. I think it's the hippiness and tapestries and congas all around that make it special. Oh, and all the veganness. The above is a photo I took of Tucson while walking down the street. You can see how much I wanted to go to the Casbah, but we already spent a good amount of time down there.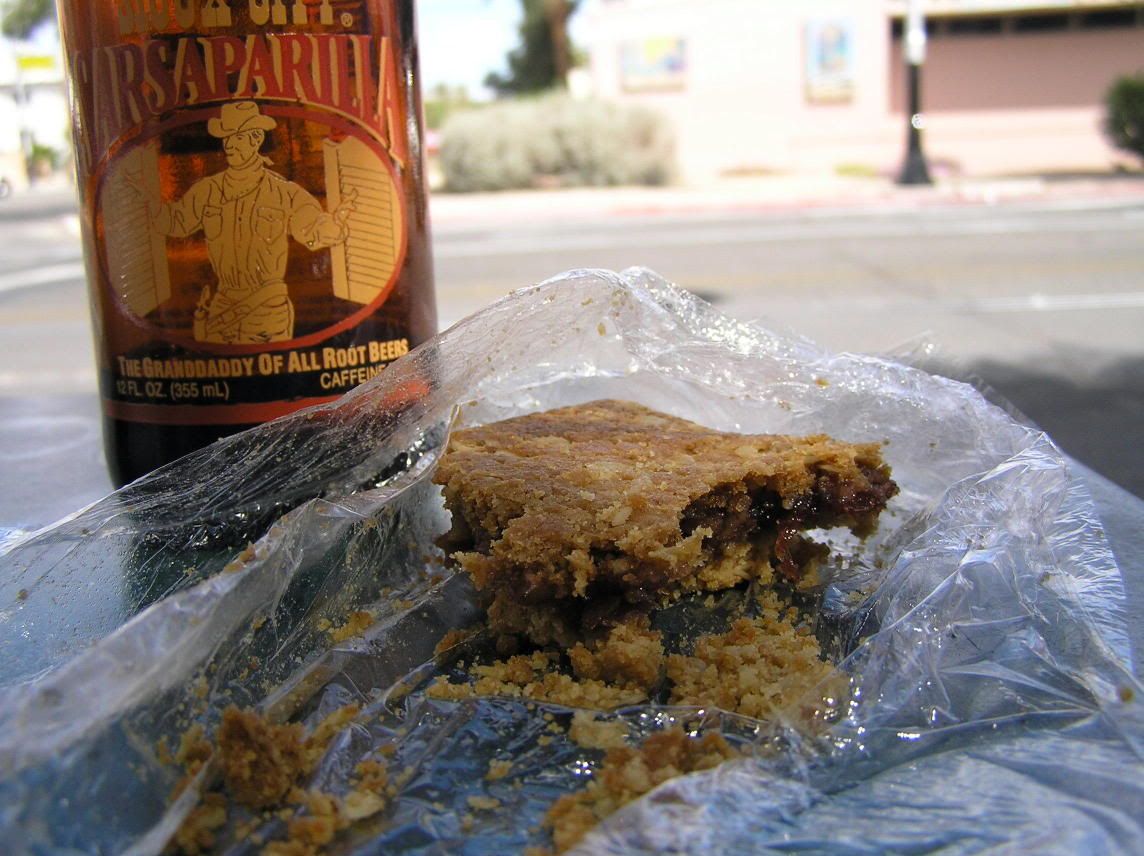 The above is Ray's snacks. We were going to have lunch so we parked on 4th (was it St. or Ave, shit!?). I was led to Epic Cafe which I saw as soon as we parked so I insisted on going there first so we had snacks for sure. I was pleasantly suprised by the menu and the array of vegan treats in their own special part of the deli case. We could have had lunch there but we were both happy with some of these fruity treats. Ray had a strawberry almond treat with a sasparilla rootbeer float. He loves that stuff. I asked if they had Soy Ice cream but then I remembered that I don't even like rootbeer anyway, the ice cream was just good looking to me. The strawberry treat was fabulous, and everything was so moist (I thought I must throw that important factor in). Moving on to my good stuff...


What you see here is my bigass bite taken out of a wonderful vegan seed cookie made by Epic. I have posted info about it below. This cookie is so good but they do need to work on the website. They don't even have ingredient/nutrition information, they just say vegan, in which I personally trust since they have a whole company and such centered around veganism. This cookie was wonderful and not too sweet. Yum.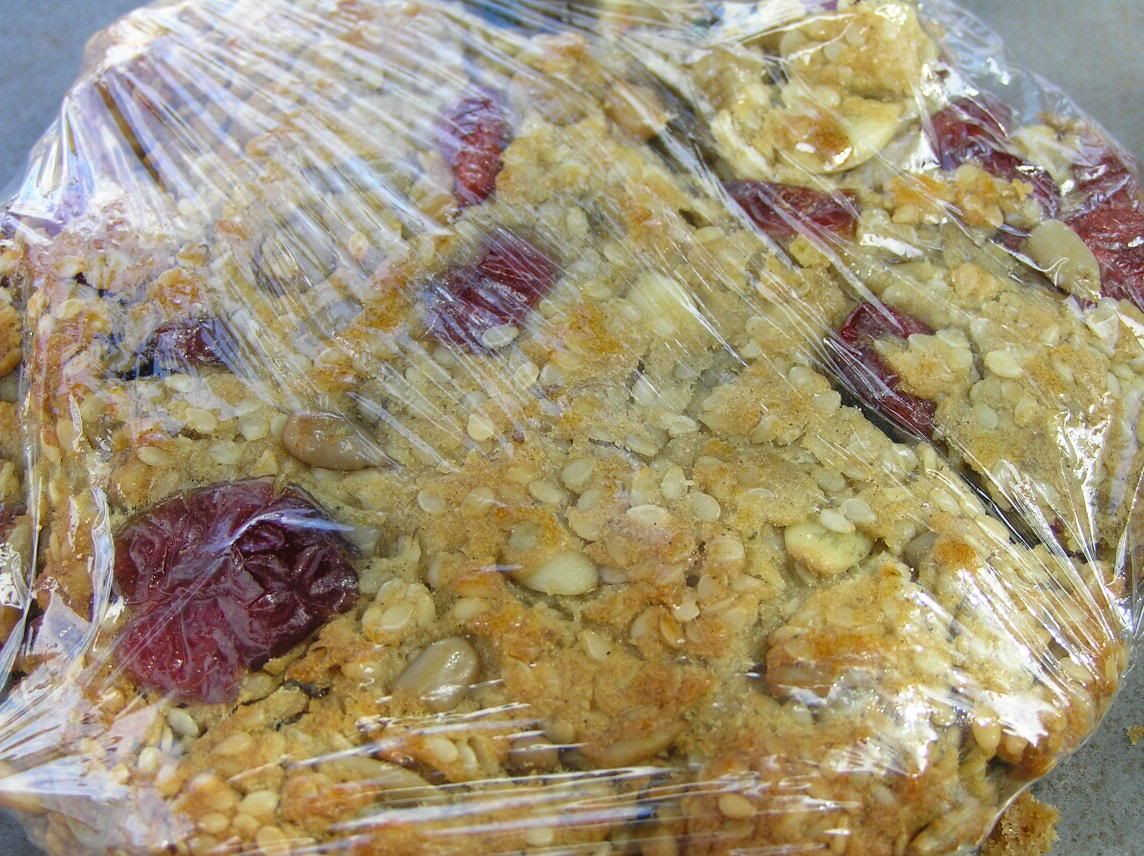 Yum again. I have been missing baked products.


This is all the info I have to guide you all to these wonderful treats. The prices for the brownies and bars were the same online as the store, but for some reason the cookie was $1.65 at the store (I ate it in increments of 3, it was huge) and on the website they are over two dollars, hmph.
I just wish the shipping was cheaper on the website. It's almost more worth it (to me) to drive to Tucson for 1/2 a day.


I also indulged in a brownie. Super-awesome stuff, I say. It was gone before I could take a photo.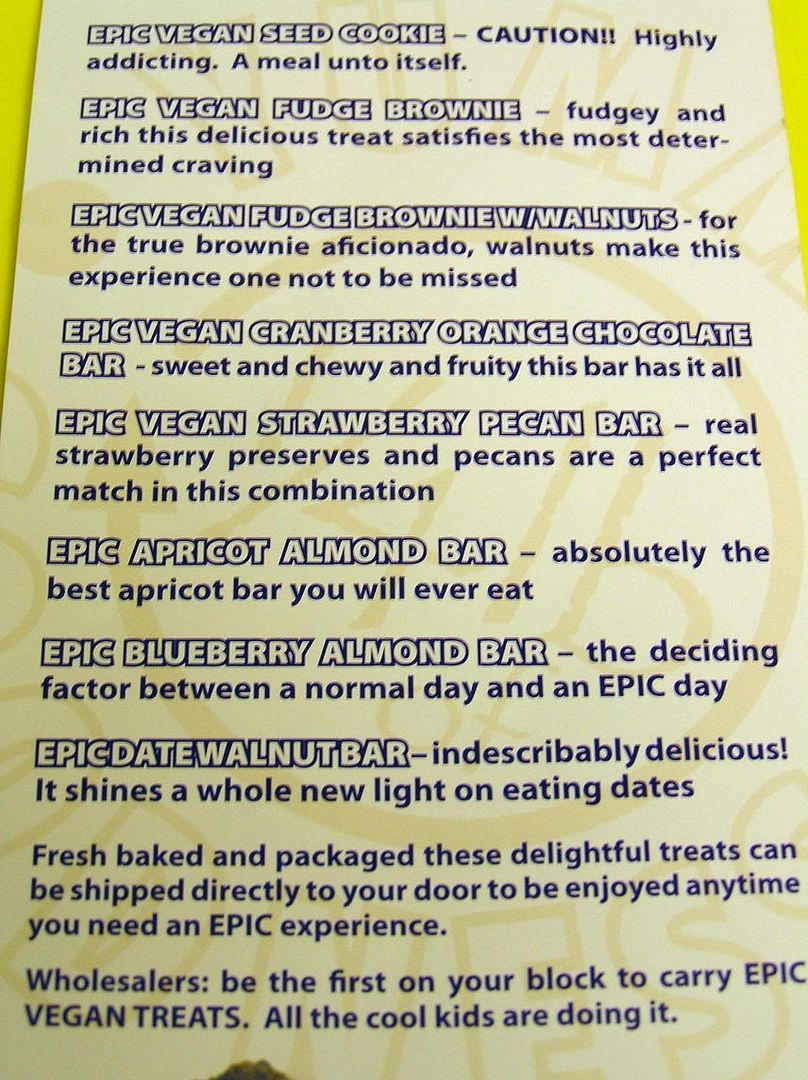 This is what the bars looked like (on the pamphlet).


And for you all to try these. If you don't you are seriously missing out. Plus, I want to contribute to this good company and keep them going.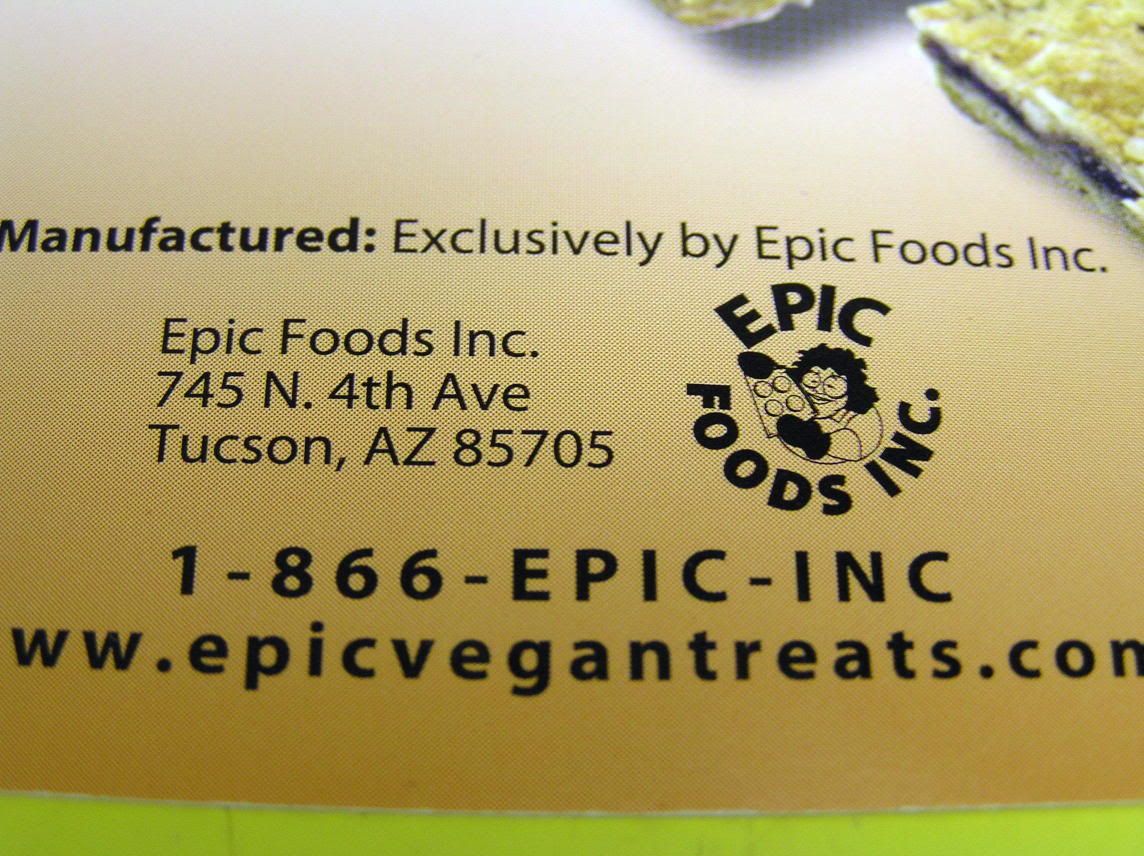 I mentioned that I took a spring-break from cooking. Ray took me out almost or if not everyday this past week and it has been nice but in a weird way. I am not used to so much going out (all in a row, at least) but I am also happy about it because sometimes I just want someone else to make my food, serve it to me, and clean up after me. It doesn't happen around here, so I must pay someone (besides Ray) for that. I cannot post for everywhere we went, but we do have the usual, which includes Pita Jungle http://www.pitajungle.com (Tempe location, although all three of them are nearby each other). I always get a falafel with tahini and veggies and jalepeno/cilantro hummus. We have friends that work there and hook it up.

Then there's the best falafel in the world from an Israeli place called Sabuddy. I think I can deem this my favorite restaurant around here. I love the baba (ganouche) and falafel there and all the staff is great and knows us and we never need menus. We just share a combo plate.

Then there's of course, Taco del Mar, the good ol' standby in the same courtyard as where I work (I get a discount) and I get "The Vegan" burrito there. I can see everything that goes into my food, make sure the food service workers are doing what they are supposed to (I have a degree in this + nutrtion) and I like seeing my food being made, and fast. Here's a link: http://www.tacodelmar.com . There are locations all over the west.

The following bunch of menu-photos is a restaurant in Phoenix (just a 7 minute drive or so) that I like a lot. One of the owners is vegan and the menu has all the meats on it but anything can be substituted with tofu for no charge. This is wonderful, fresh food, you get a lot and you get a side. I always get fruit salad, even when they do offer vegan soups. I didn't post a beverage/smoothie photo, but they have both (I haven't had a smoothie there) but they have China Mist tea (unsweetened) and wonderful strawberry lemonade and we make Arnold Palmer's with both. It's fabulous considering all the other AP's we drink are just regular tea and regular lemonade, although the other day I did have one made with Yerba Mate, mmm.

So, check out That's a Wrap. I think they have a website, just Google-it or try this: http://www.thatsawrap.com

I get the Prince of Thai's (with tofu, duh) but I get it with red bell peppers instead of onions (ick, onions) and I like to get it without the ginger slaw, even though they no longer make it with mayo. I like the cucumber and spinach mix in it and it has peanut sauce and jasmine rice and veggies and a spinach tortilla. Yum. Plus, we sit outside, and it's a little-house-type-place.

Ray likes the Senorita-No-Meata with "full-fat" cheese.

And I did have an exception when I said I didn't cook. This was the last meal I cooked. Sorry for the nasty photo, but I sat down after Ray said, "Aren't you gonna take a photo?" I told him I already had postings for pancakes and I don't post what I always make, especially things I make a lot, even with exceptions. Well, these pancakes were too good to pass up and I put bananas, strawberries, blueberries and chocolate chips in them. I ran to the camera in the middle of starting to eat, and took this photo. Ray said it [the photo] looks like hamburgers... hmmm... weird... and gross.

And by the way... what you see in that glob in the corner is the rest of my almond butter before it was going to be bad. This is my new thing, newer than the fabulous (vive le vegan) blueberry maple syrup that I will always use. Almond butter plus pancakes (plus Dreena's syrup) equals the best thing ever and I don't know how I will live without it again. Yum to that.


I have been meaning to post about these for a long time now. I buy them every few months or so and they sell them around town (WFM has them cheapest, for just under $4). These are the best cookies (that aren't made at home) ever and I highly recommend them. I like the trail mix kind best, see below, but there's an array of flavors, from the good ol chocolate chip, to oatmeal raisin, peanut butter, and molasses kinds.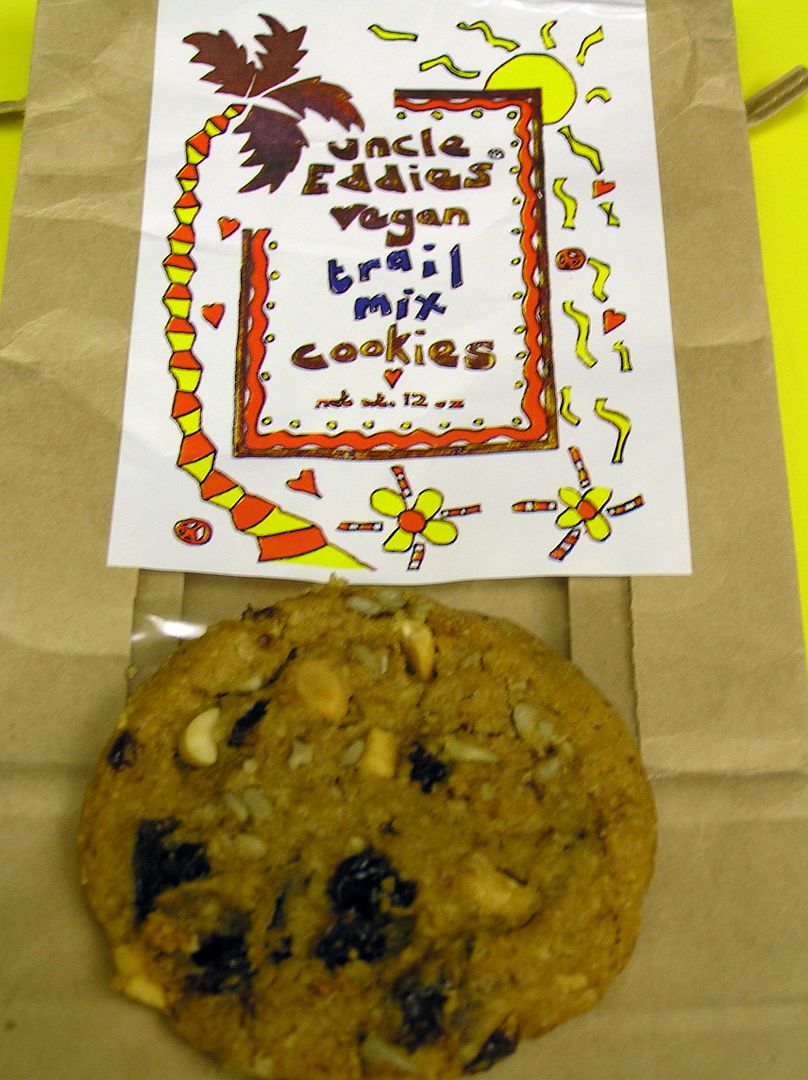 It's a family that makes these...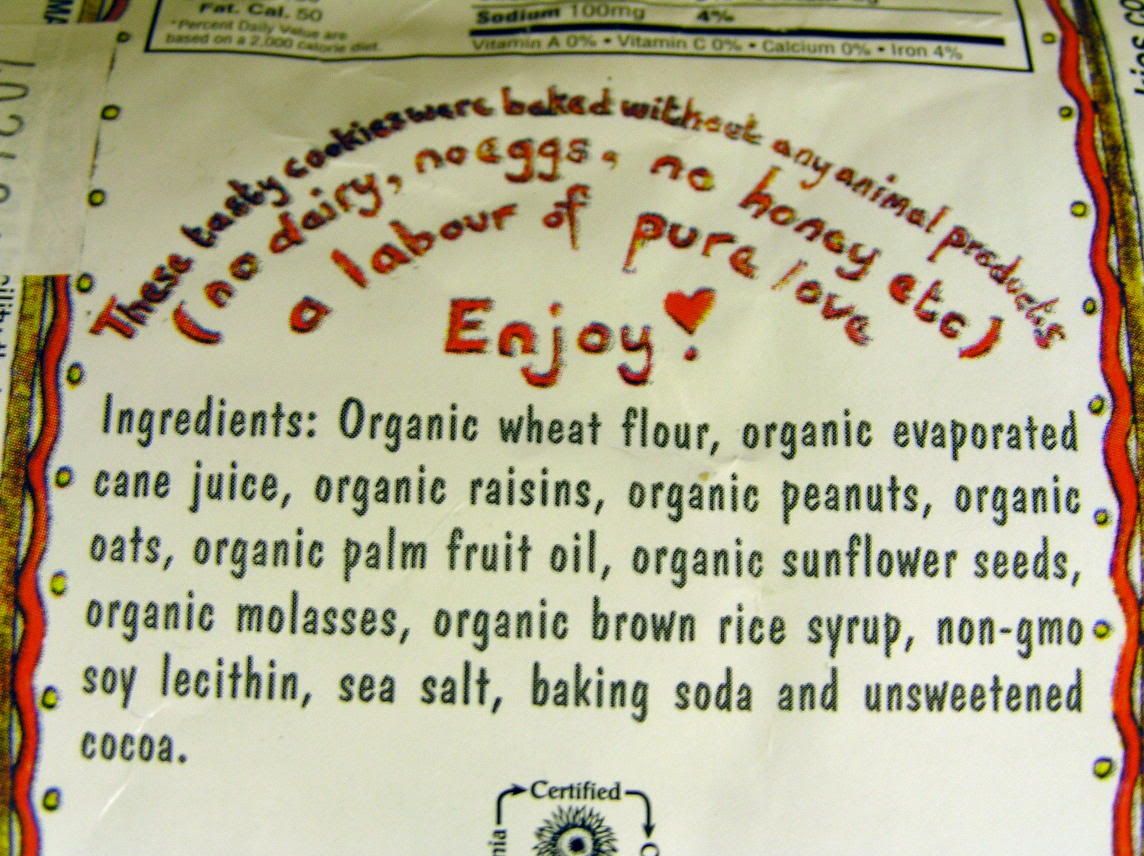 Yum to this.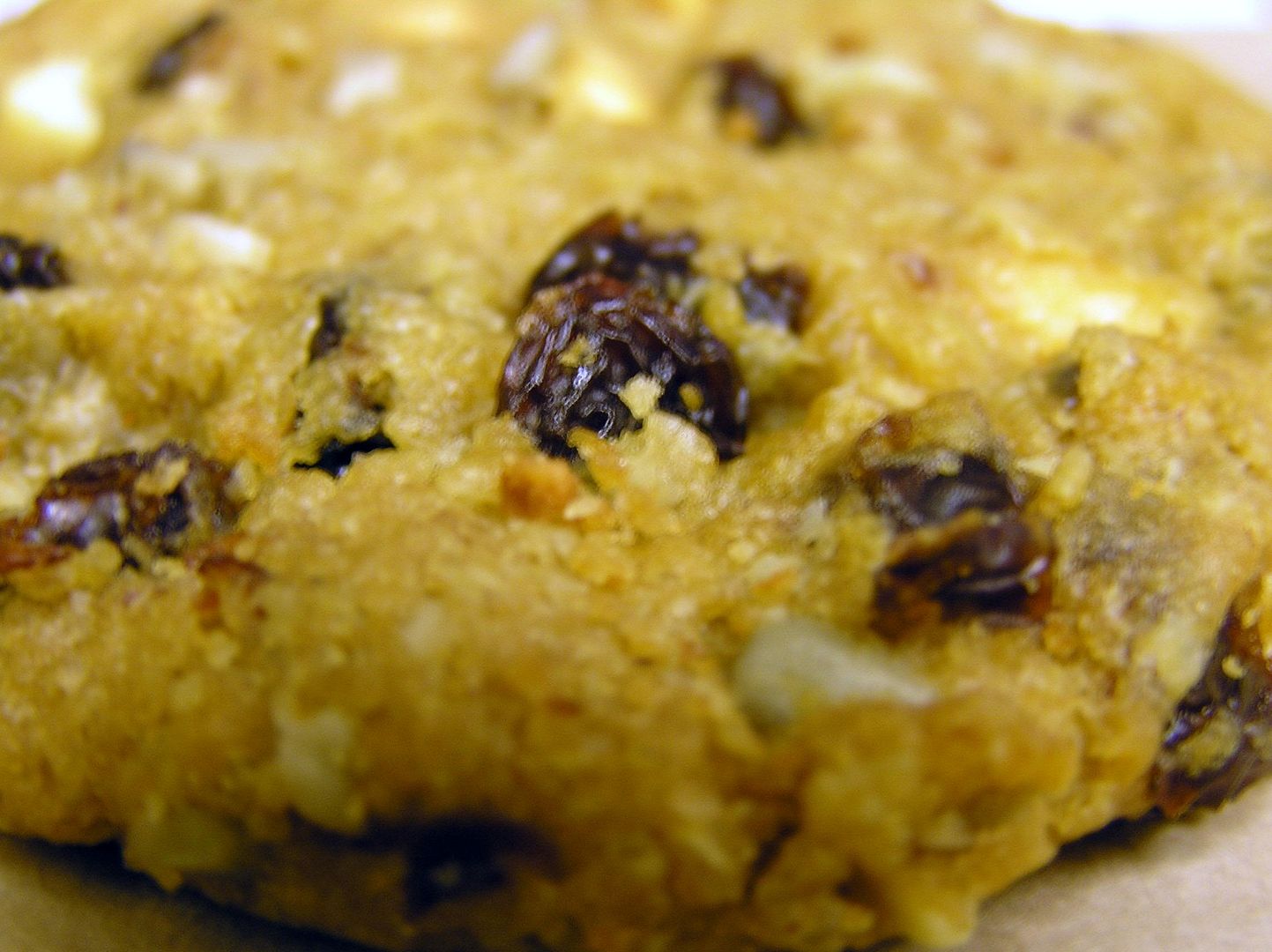 And this is my next new try. I have heard from some people about this. I also looked it up on the internet and even though the menu is small-print and hard to read, it looks wonderful from what I can make out. I am going to try it and the prices seem reasonable. It's also nearby.
http://greenvegetarian.com



I am now officially back in internet/cooking-action and I have missed all you people commenting, I have missed other people's business, aka- their blogs, and my own cooked food (not cleaning up). Sorry Harmonia (and everyone else who cares) that I missed MW Munchies this week, I did buy enough food for 2 weeks the week before. I had a shopping trip tonight, as my house was pretty much empty, and made up for it all. See you Wednesday with that. In the meantime, I am off to make some Sloppy Lenties that I've been waiting to eat, since hey, it's only been a week since I had them last.