I call these Copycat Cupcakes because I was inspired by Dreena's awesome chocolate cup cupcakes with vanilla pudding and kiwi. They looked wonderful and I was of course drooling, and decided to make my own using philo (FilloFactory) dough. These were 15 mini pies. Best part about the pies: 1. organic 2. already pre-baked!!! 3. that means ready-to-eat.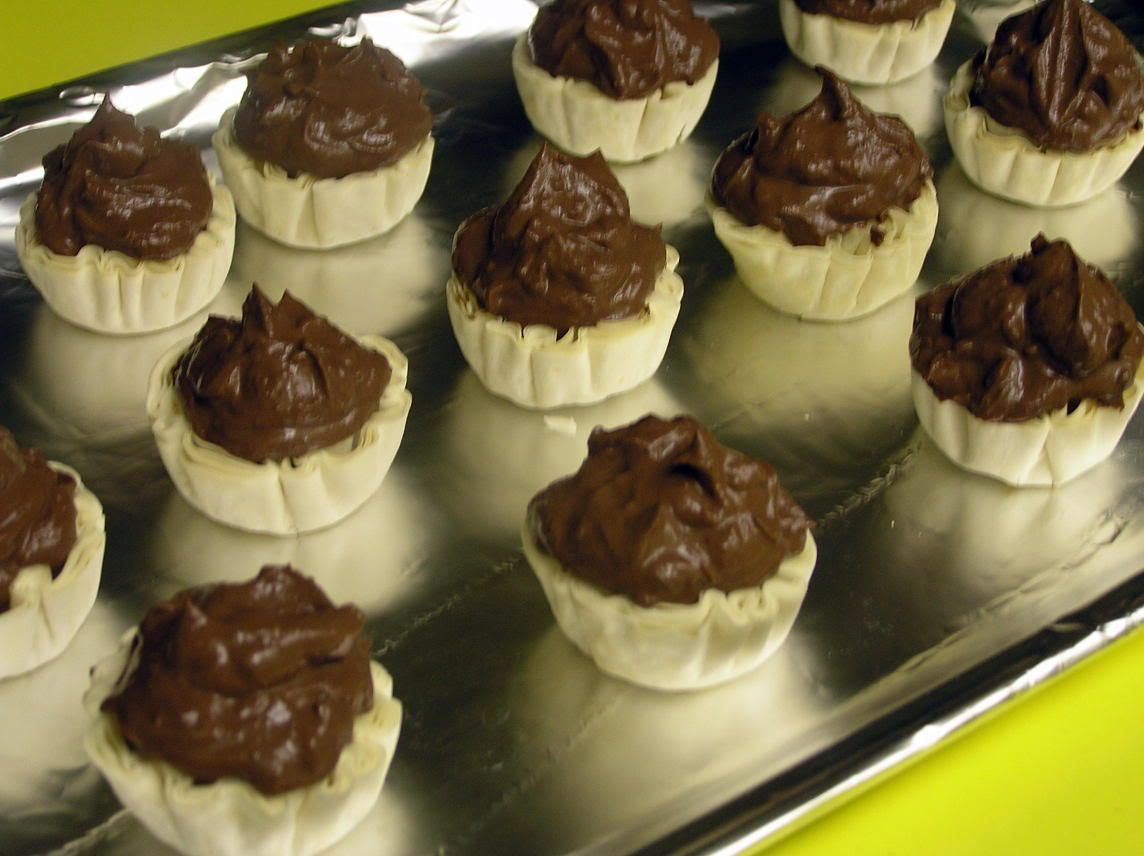 I took the recipe that I always use for chocolate pudding (or chocolate mousse) and I have it posted under "January" if you want to take a look. For this, I modified my own version!
Ingredients:
silken tofu
non-alkaline cocoa powder
barley sweetened chocolate chips
organic vanilla extract
agave nectar
hot water
philo dough
I put the tofu in the food processor until creamy. Then I put the cocoa and chocolate in a seperate bowl and poured super-hot (or boiling) water over it and stirred. This was nice to smell. Anyway (I'm weird), then I dumped the chocolate into the processor with the tofu and blended away. Next, vanilla and agave nectar (instead of sugar, and a way better choice this time!) was added and stirred up. I put everything in a sealed plastic container and put it in the fridge for an hour. This makes it firmer and chilled.
After I took the pudding out of the fridge, I spooned intseey weensey sized droplets onto the filo mini pie "crusts" Then I let them hang out for a while back in the fridge. I took them out and was able to add even more on top, to make them a bit pointy, looking like mini pies.

Then it was right before I was going to bed... and I ate one. Wow. Fabulous.

I brought some to work and I loved announcing that the main ingredient was TOFU (do a little dance!!!). My boss and co-worker loved it (though I didn't think they wouldn't.). These are super-tastey and I highly recommend making them. The total "active" time in the kitchen is five minutes. Super-easy!