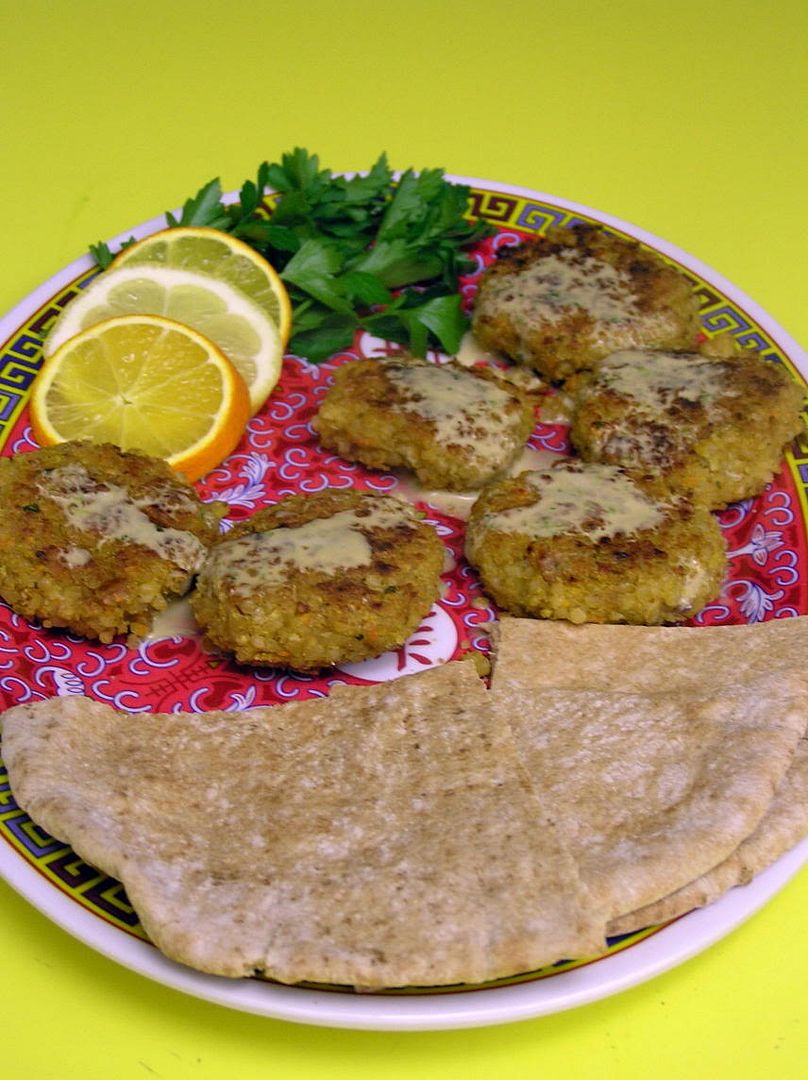 Yes, this was as good as it looks (and if it looks like crap to you, then it will taste like crap to you too). I love falafel as I mentioned in a previous post, but mostly eat it outside of the house. We have so many places for falafel here, in fact, if you drive down Apache Blvd. for about 1.5 miles, you will probably pass about 15 places for falafel!!!

Anyway, I love patties, ones with chickpeas especially, and I have been waiting to use bulgar in some other form other than tabouli (tabouleh). I didn't follow a recipe, although it is kinda strange how this turned out. I started off with the idea for patties, especially since they are tasty and you can really put anything in them. I found a photo of bulgar patties that looked good to me (SweetPea) and she assisted me with how to go about making them. I didn't want to just settle for that, and I wanted to center my meal around the turmeric root I bought (see previous post) as well as make tahini-tamari sauce from The Everyday Vegan. I did a bunch of searches through cookbooks, the internet, and my own brain.

I decided I was going to make half-falafel, and half-SweetPea's patties and also add my own stuff. Boy, were these great! There's nothing like not measuring, throwing a ton of good stuff in a bowl and seeing what happens. That's really what I did, and I just kept (ha ha) smelling the mixture to be sure it was ok, as I didn't taste it until I was officially ready to eat.

In preparing this meal, my current calmness and excitement for the outcome of wonderful patties took a big turn... I only had a tiny little bit of tahini and I was basically centering my meal around tahini. I had no access to the car, store or anything, and only about a few teaspoons or so of tahini. I did what I could and the sauce was not as tahinish as I would have liked it to be, but still good. Just more watery, but still ok. I made the tahini while the mixture was chilling in the fridge.
I had the mixture in the fridge for a few hours because Ray had a gig at the Kerr Center and I didn't know when he was going to be back home. It ended up being 10 something PM and didn't start heating the patties until 10:30pm. Ugh. We ate after 11, but it was well-worth it.

List of ingredients (no order)
bulgar (cooked first, then cooled)
chickpeas (same process, but then I put these and veggies in the food processor)
carrots
fresh Italian parsley
garlic (a shitload)
olive oil (to fry, just a tad)
red onion
tamari
ground black pepper
sea salt
ground corriander
cumin, ground
paprika
fresh grated turmeric (my fingers and cutting board is yellow. good thing the counter already is)
red chili flakes
cayenne
baking powder (a pinch)
fresh lemon juice

I wanted to put tahini in these as a binder, but I was all out. I wanted to reserve it for the sauce.


Our plates. Mine's the one with the red. Same meal for both of us, I am just picky about what my special plate or bowl or serving utensil is. Oh, and having citrus after the meal was fabulous and as you can see again, I still don't have romaine in the house.