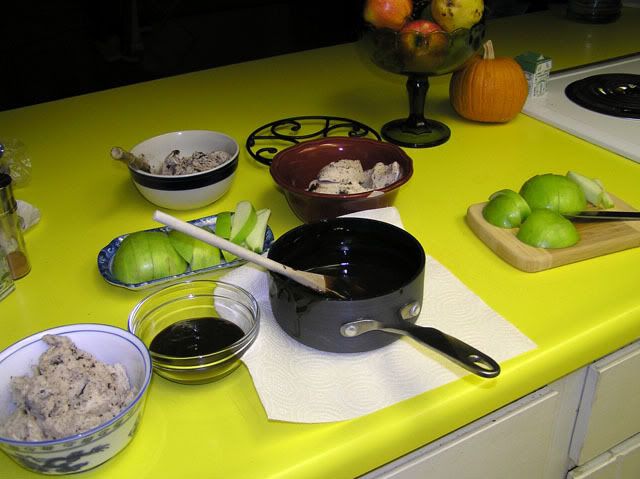 Featured above is a spread of soy ice cream, local granny smith apples and homemade creamy caramel sauce from Vive le Vegan. I made this once before with turbinado sugar and decided to have a go at it again, but with darker, muscovado sugar. Oh, yum. This had strong accents of molasses from the dark sugar. At first, I wanted to sweeten it with agave but decided to let it do it's thing, and I'm glad I did. This was wonderful, having apples, ice cream and caramel all in one. Plus, plenty of caramel sauce for apple dipping. I also topped it with Soyatoo whip, not pictured.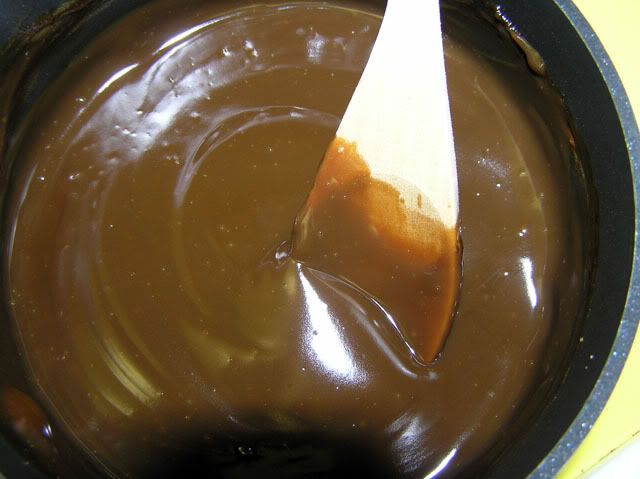 This was a nice, dark, creamy caramel sauce. And easy, hence the name.
I didn't know what to do with myself one day, it was late afternoon, I had only consumed a small amount of food that day and needed something substantial- fast. Good fats, protein, veggies and carbs (and more)... I pulled out two processed items (aka, pre-made, not homemade leftovers), crackers which are light, yet super crunchy and heavy duty at the same time. They are made with everything from quinoa to flax and sesame with a nice japanese-style-cracker-crunch. I also had some pita bread leftover from falafel delivery (yes! vegetarian delivery!) a few nights ago. I whipped up some creamy hummus from one of my favorite books, Vive le Vegan, peeled and chopped a few carrots and took raw cashews out of the freezer. I think it may have been between 5 and 10 minutes, this snack was complete. I ate so much hummus, I'd call it lunch.
It's been a while... I love ice cream pie. I love just taking pre-made whole wheat non-bake pie crust, and filling it with a food-processor-mixed blend of ice cream, nut butter (in this case cashew), sunspire chocolate chips, pecans, maple syrup, tons and tons of blueberries and a lot of love (and probably other things I'm forgetting and anything you want). I topped it with Ahlaska chocolate syrup and the Easy Caramel Sauce from Vive le Vegan. Oh, yum.
I usually eat most of this pie myself. This time was no exception. I could probably have 2. Notice how blue it is from all the blueberries... my favorite.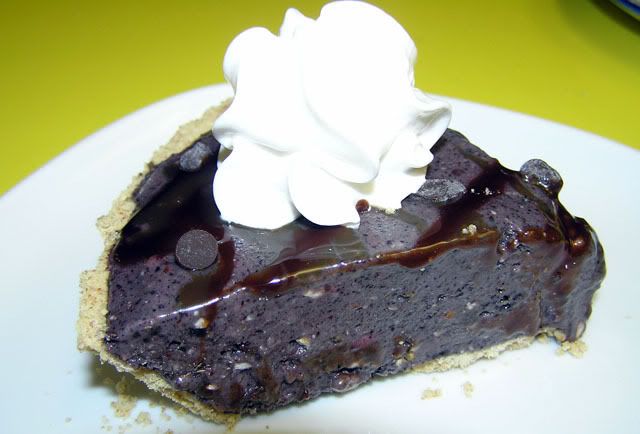 Warning, if you thought all of the above looked awesome (or not), check this stuff out...
...This creamy cashew dip is courtesy of Dreena Burton. I can't get over how quick, easy and awesome this dip is. I could go on and on about all I'd dip in it, but I just ate it with some local organic granny smith apples. This dip has 4 or 5 ingredients and is going to be featured in her upcoming third cookbook. I however, have a subscription to VegNews and within 24 hours of reading the recipe, this fabulous, creamy, healthy, addicting yet filling dip was created. The main ingredients consist of vanilla soy yogurt and cashew butter. Yep- killer. Go make it now. Go get the magazine. Seriously people, this is some intense, wonderful stuff she creates!