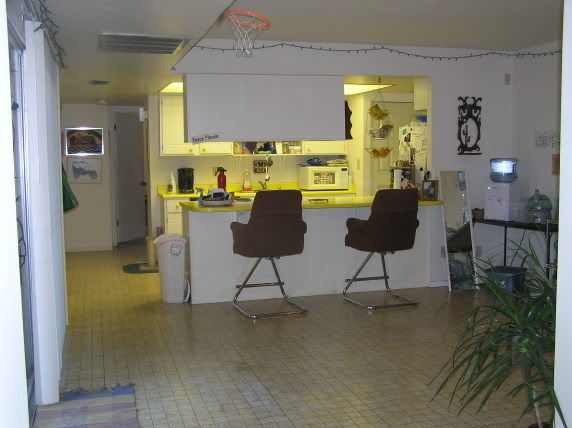 Welcome! Here you'll see our kitchen cerca 1964. Yes, these are original yellow countertops with matching cabinet handles. You will also notice a wide open space (photo taken from "computer room" which is really supposed to be the master bedroom). This space is longing almost as much as I am to have a table smack dab in the middle of it. But nope. Instead there's a crappy folding table which I use to bring to festivals to sell jewelry on and on that table is currently a lot of crap pushed back against the wall. No use. No chairs anyway except the two you see here. Ray (and Killian too) sits in these while I cook a lot (I like that) and they are also original-1960s-with-the-house-stools. I like them because they're softies and brown, oh, and they spin. If you look up you'll see the basketball net. Yeah, that wide open space is a great place to watch Killian slide around, play with him, and play basketball. Ray and I will shoot hoops once in a while... Ray shoots hoops a lot. And what almost made me not share but since it's not my fault I don't give a #%$, the (probably original) vinyl flooring, aka, fake tile sheets that are impossible to clean. The landlords (super-awesome people) are going to change the flooring but after we move out. That makes the rent go up anyway, so we don't care, for now at least... And like always, you'll see the sunshine shining in the window. This photo was taken in February, so the sun's angle is a bit different now. I love springtime.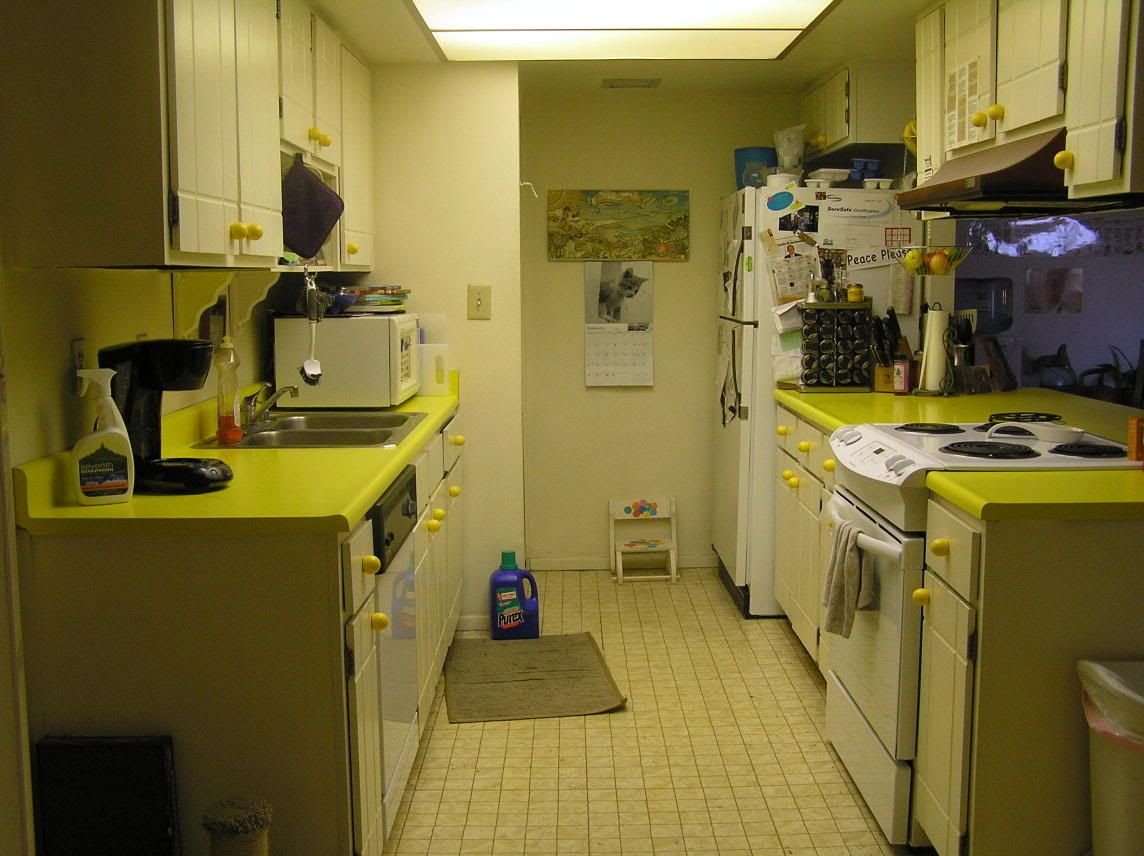 Getting to business... The important part of the kitchen, the actual kitchen. My old kitchen was just "this". It's not even small. My house before that was even older than this (believe it or not). Bottom left is Killian's scratchy (scratch post) which is necessary for all cats especially ones who aren't streetsmart and fat and like to lay in bed under the covers all day who doesn't scratch a tree. Moving on... I use a bathroom towel holder in the kitchen and nail it into the shelf above the sink so I can hang-dry my towels, cloths and that handle-scrubber-thing. Great idea made up by me. And morning coffee stuff, cruelty-free-safe spray cleaner, and some tid-bits on the cabinets charting ratios of grains/legumes to water, nutritional info of random stuff, as well as a "vegan food pyramid", well, rather a long-horizontal chart, but it's hard to see from these photos. It's very colorful and detailed and I like when guests refer to it. I like it just for fun hanging next to my Turquoise Mines and types of turquoise map of the Western US.

And what I always have hanging in the kitchen, wherever I may live, is my Allman Brother's, "Eat a Peach" album, the best album art to me, and the tunes are great too. I love looking at it, as it makes me remember "make believe". And, below you will see probably the third cat calendar in the house. No comment.

And a bunch of stuff hanging on the fridge ranging from embarassing photos of me, random notes, receipts, to me being ServSafe certified, to torn-out media pages rippin' on George W. (dubya). And the stuff on top of the fridge, well, I sort of just put it there when I moved in and can't really reach it. What you can't see from these angles is directly across from that one spice rack is another wonderful vintage wooden spice rack that I love and fill all the spices myself in baby food jars. That's how I like to keep them and always have, but the fancy stuff was a gift. I tend to use my own "bulk" spices 99% of the time, rather than pre-packaged, store-bought.

I must mention that step-stool. First off, yes, I'm short. We established this see above. I've had that step stool since I was a young child, maybe 4 years old. It has painted on balloons and my name on two sides!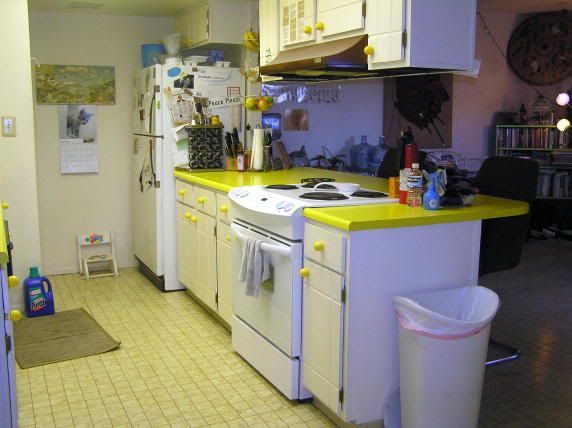 Another view... you can sort of see the water cooler (mini table top) since we have hard water here and cannot drink from the faucet. Even Killian, as he got sick a year ago from the minerals in the water. We have 7 3-gallon water jugs that we fill weekly. And just one of my bookshelves, as I have so many books. Many of them are reference books and vegetarian / vegan/ cooking/ spiritual books. I plan on posting about books soon, because even though this is a food page, I have mostly books on food and nutrition.


Fire extinguisher: in case of any fire. It's multi-type-of-fire and I have one in every room. Scared of fire, yes. You've all heard me about The Oven Thing.
Baking soda: in times when I used to use the oven to put out fires/smoke/flame, etc. Never use a fire extinguisher to put out an oven fire. It's dangerous.

By the sink... aloe. There's plants all over this area of Arizona. No need to buy any aloe at the store. Just plant some. You'll see my non-earth-friendly-soap. Sorry, no excuse on this one. It had to be used up (better than wasting, some people don't have soap). I do use Seventh Generation the lavender kind for dishes and my hands. Moving on... and there's potholders, timers, a photo of Ray and I in Sedona, my microwave that is a re-born-virgin (I don't use it)with some animal-friendly stickers and the history of the Lazyboy chair since the 1940s I think.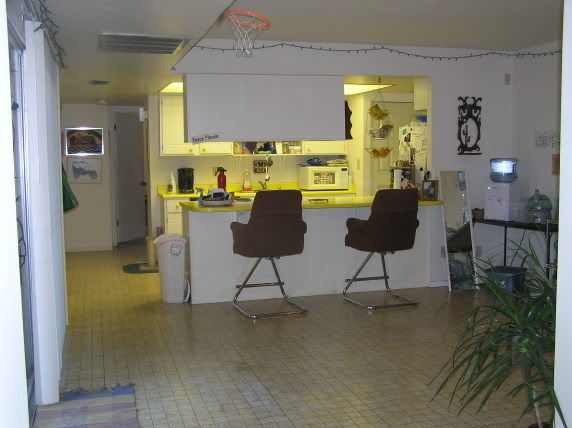 That's the kitchen... And now for some food.

Midweek Munchies has become End-Of-The-Week Munchies for me. I finally made it to the store (on my heavy bike, long-ride, short-distance, long story). I got some good stuff, but couldn't get milk or a few other heavy items. My bike weighs 1/2 of me without anything in it.

The List: Whole Foods only this time.
Arrowhead Mills already baked pie crust (finally...)
soy nuts
2 LaraBars (I have a side link to this one), apple pie flavor
fruit leather, organic, flavor assortment
Seduction Bread
Hazelnut Herb Cutlets (like Celebration roast, the best patties ever, go get them!!!)
rice puffs, organic
blueberry Silk yogurt and Raspberry Silk yogurt
organic kale
organic zuchini, one small guy
chocolate chips (to always have in the house!)
cashews, raw
walnuts, raw
phyllo dough- I have to check out this one. It was frozen, has no instructions, and I think I don't need to bake it. Can someone let me know, as I have so many ideas as for uses with this.
organic peanut butter stock, raw
same to almond butter
organic parsley
organic garlic
organic ginger
red lentils
baked tofu (thanks Julie!)
organic brown rice syrup
organic cameo apples, small ones
organic carrots
or. baby bok choy
or. kiwi
or. onion (can't you see I'm sick of saying organic, yet most things are and I do love it)
2 bag refunds... sweet.

Based on all this I plan on making some super-awesome stuff this week. Stay tuned.