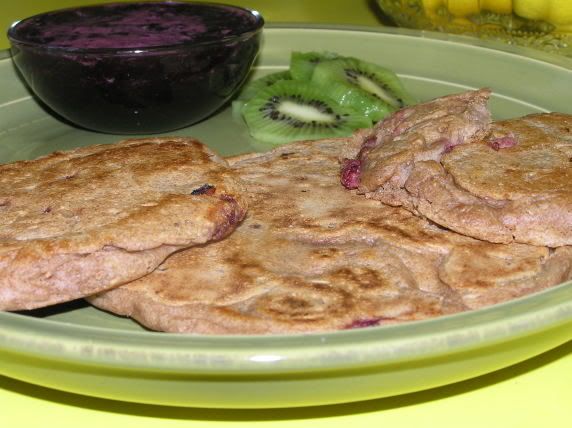 This is of last night's dinner. Did you think it was breakfast?! Let me just tell you one thing: I only like breakfast foods at night.
I started to write this post this morning, and I was almost finished (it was long and detailed), when I was typing so fast (and out of control) that I hit a bunch of keys and I lost the whole thing. I did what I could to get it back, but there was no hope. So, this will either be very short, or depending on the regular rants I tend to get on, it will be just as long, if not longer.
The inspiration for this dinner was, 1) I went to the store and stocked up for the week, 2) Ray's feeling sick, if he's not sick already, and I wanted to load him up with some good stuff and lots of nutrients, and 3) I decided to make this instead of digging into a pint of ice cream (since I wanted something on the sweet side for dinner).
I took out Vive le Vegan (of course) and knew for sure that I was going to make blueberry syrup. I thought about French Toast, but I didn't feel like messing with something that I haven't done in a while. So, pancakes it was! I decided to follow the Banana Bliss Pancakes recipe, but of course, I added my own stuff.
This is what I put into it:
whole wheat flour
rolled oats
baking powder, non-aluminum
cinnamon
nutmeg
sea salt
vanilla Silk soymilk
canola oil (just a bit)
bananas
strawberries (frozen)

And this is what our meal looked like:
This blueberry syrup is the best thing ever (well, one of the best things ever). It is just a cup of frozen blueberries, heated in a pan on low heat for a while, and then I added just under a half a cup of organic pure maple syrup, and blended both together. It was magic!!! I am going to make all sorts of fruity syrups now, screw the regular kind!
I wish I took an after-photo, because it was really great. I just thought that showing people my finished up plates would not be the best thing to do! But, in this case, it was pretty and all leftover was the melted blueberries all over and blueberries stuck to the sides of the glass (Ray's not mine, I was stuffed). One of the best parts about this meal was that as soon as I took the photos, I quickly tossed the whole dish of blueberry syrup all over everything (happily, on purpose), fruits and all, and there was just blueberry madness everywhere! It was great.


Then I decided that I should use the hemp seeds that I bought (just a small, expensive bag) and I created a wonderful shake that was perfect for the dinner. Actually, I only managed to drink about 1/4 cup of mine and I was stuffed. It'll keep well for later today. I just knew it would be so much added nutrition to what I already had going on.
Keeping in line with Vive, I conjured up a Hemp Power Shake and it was sooo good. Of course, I added my own stuff, to basically create my own Hemp/Flax Shake, but I am still giving credit to Dreena because her and her recipes are awesome!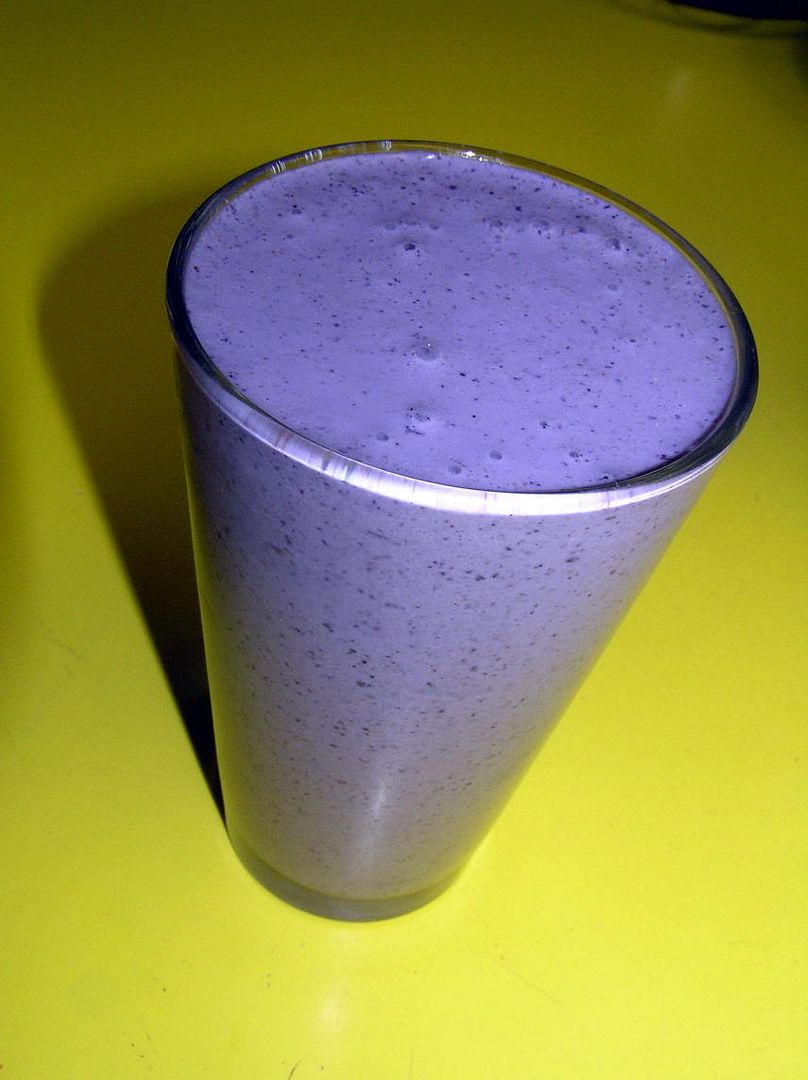 My special ingredients in the shake:
Vanilla Silk soymilk
banana
almond butter
hemp seeds
flax seeds
blueberries
It came out to look really pretty and blue to complement the rest of the meal. I think I had blueberries in my head all day because in the morning I was looking at Miriam's blueberry corn muffins and someone else said they made blueberry stuff, and I love blueberries and blue things, so, hmm, I guess that's what made me feel like blueberries. I wish I felt like eating them more than I do. I did pick up 2 big plastic thingys of blackberries at Sunflower Market 2 for $4. I freeze all my berries, whether I buy them fresh or frozen. Any ideas for using my blackberries, besides straight-up, in a smoothie or pancakes? Please share!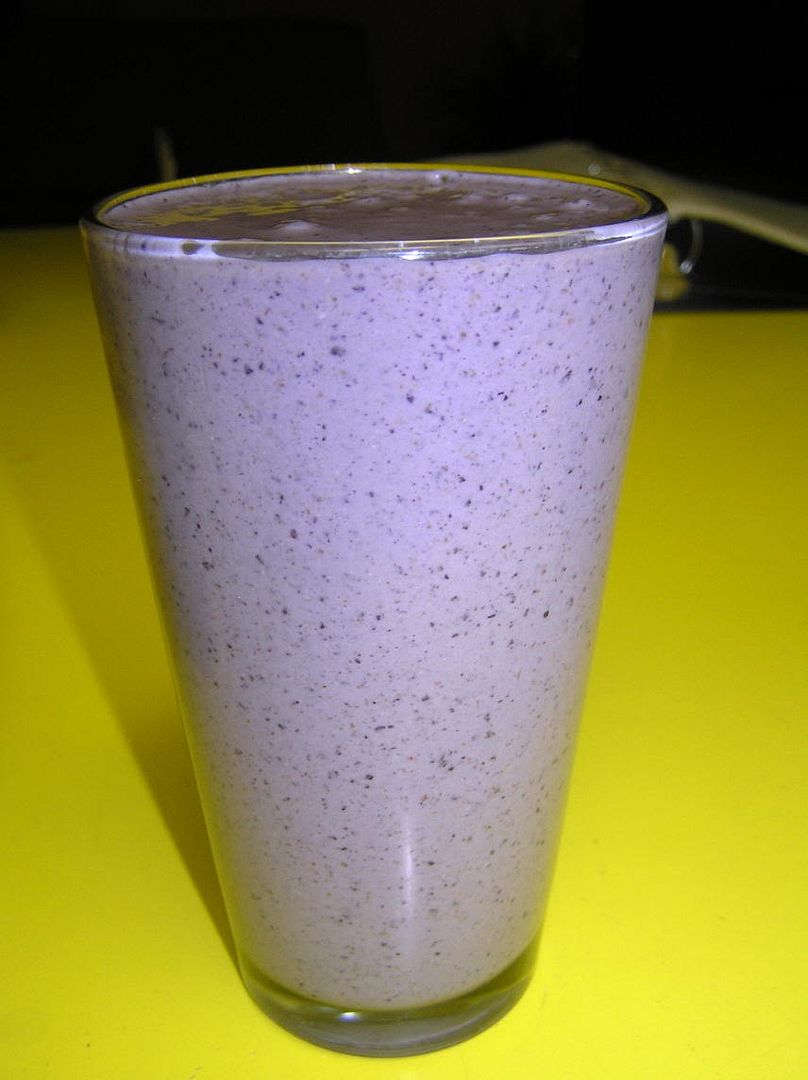 You may think I am crazy, but I stayed in the kitchen after eating (maybe because Ray was the one to do the dishes and he didn't even feel well). I decided to not make the same snacks for the week that I always make and to do something different. Wow, Me doing different stuff!?!? Hmmm...
I guess I also couldn't get enough of Vive le Vegan, so I kept it out and decided that the Totally Nutty Bars would suit just well in this house. I also decided that using every nut and seed I had in the house would also be a great idea! So, I took the basic guidelines from Vive, and elaborated more to get this:

These are a lot like granola bars, and yes, I am still going all-raw/stove-top-only for my sweets. I am terrified of another oven fire. Anyway, all you people are telling me to get over it and you aren't even over here, so maybe I'll just have to. You'll know when I have used the oven again...

Ingredients in my special bars:
sunflower seeds, raw
pumpkin seeds, raw
pecans, raw
almond slices, raw
walnuts, raw
hemp seeds
flax seeds (meal)
brown rice syrup, organic (I think everything was organic, actually)
cashews, raw
raisins
almond butter
coconuts, shredded
blackstrap molasses (lots of iron!)
cinnamon
sea salt
rolled oats, just a handful
agave nectar
These are cut into bars and I keep them in the freezer because they keep better and defrost quickly. I highly suggest throwing together like I did, everything you have in the house that sounds good together, don't measure, and you will have a fantastic treat! I love snacks! These are pretty heavy-duty and filled with good energy compared to a lot of others I make.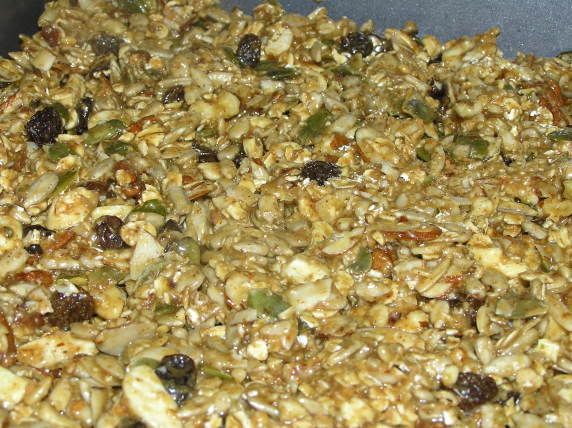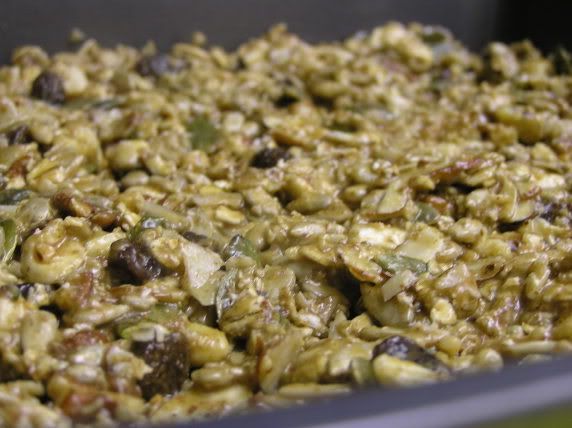 Go ahead... have some breakfast for dinner.