Happy Birthday Baby Emaline. Yesterday, Friday March 31 at 7:30am Emaline (E) was born at home, naturally, without a conventional doctor or drugs/invasion. She is absolutely full of life and beautiful! Miriam is no longer KnockedUpVegan. Congratulations to the Miriam and Todd and this is a mughlee tribute to you.

Let me tell you (well, this is a quote from Miriam's page) All About Mughlee. "When a baby is born in Lebanon, the tradition is that all one million relatives go to visit the family - and when they are there, they are served a sweet spiced rice pudding called "mughlee". This used to be my absolute favorite dessert. If you have a baby and don't offer your guests mughlee, well then, you're obviously an INCOMPETENT HOUSEWIFE.
Mughlee is cooked on the stovetop, and then poured into small glass bowls, and put in the fridge to set. Just before serving it to the guests, you take it out and top it with shredded coconut, pine nuts, pistachios, and blanched almonds. Yum."

I decided to sort-of follow Miriam's veganized version of traditional mughlee. The ingredients, but no exact recipe follows:
Brown rice flour, rice milk (I used soy), agave nectar, cornstarch, caraway, cinnamon, alspice, nutmeg, coconut, raw pine nuts, raw pistashios, raw walnuts and raw almonds.



These are my birthday cup-cakes for baby Emaline. Although I'm the only one feasting on them.

Ingredients:
tofu, silken
cocoa
vanilla
water
phyllo pastry cups (10 calories each)
blueberries
blackberries
strawberries
kiwi
mango
Yum.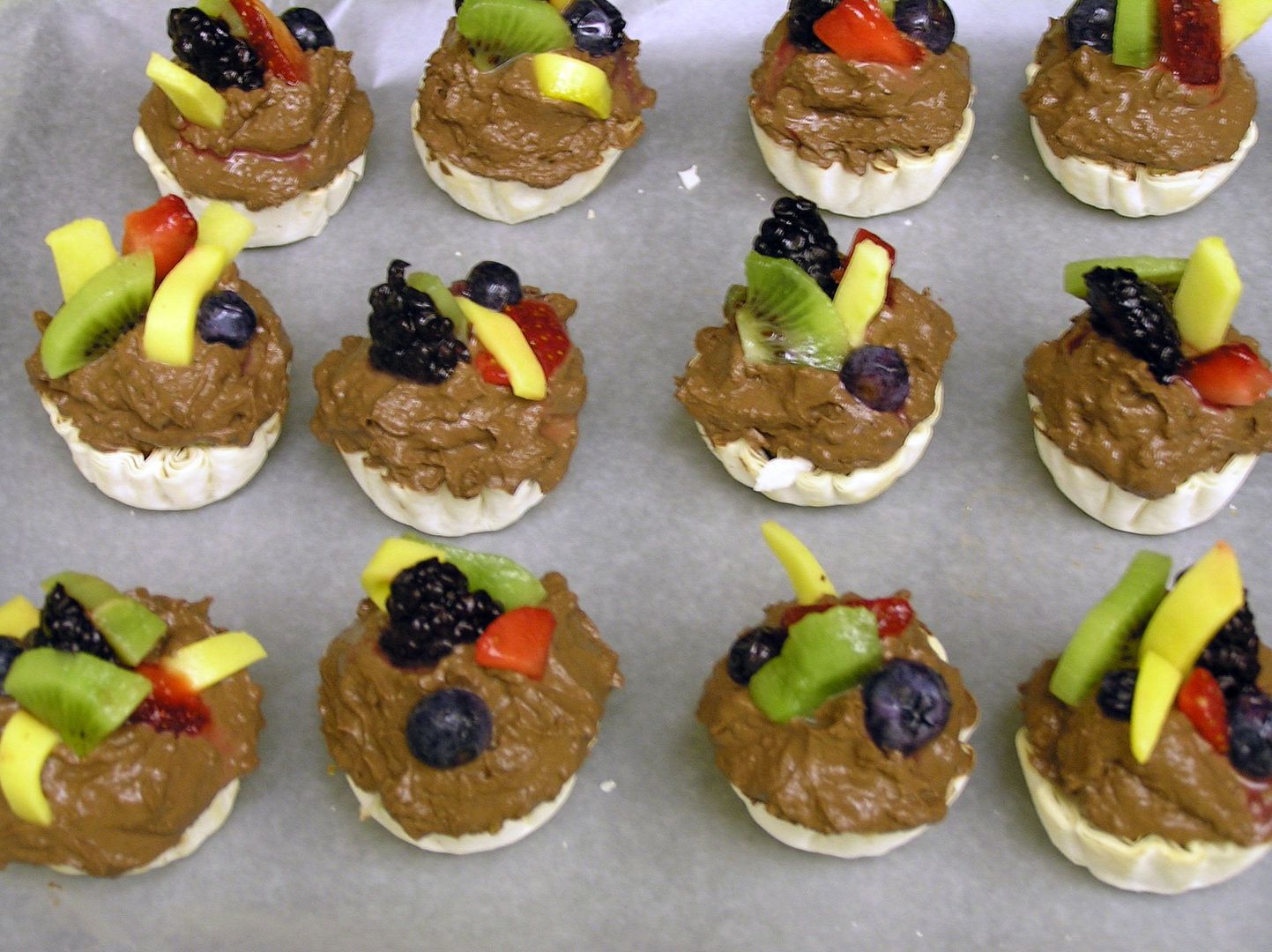 It took a long time to cut all the fruit (All frozen except the kiwi) but well worth it. Yum again.

Take a closer look and drool.